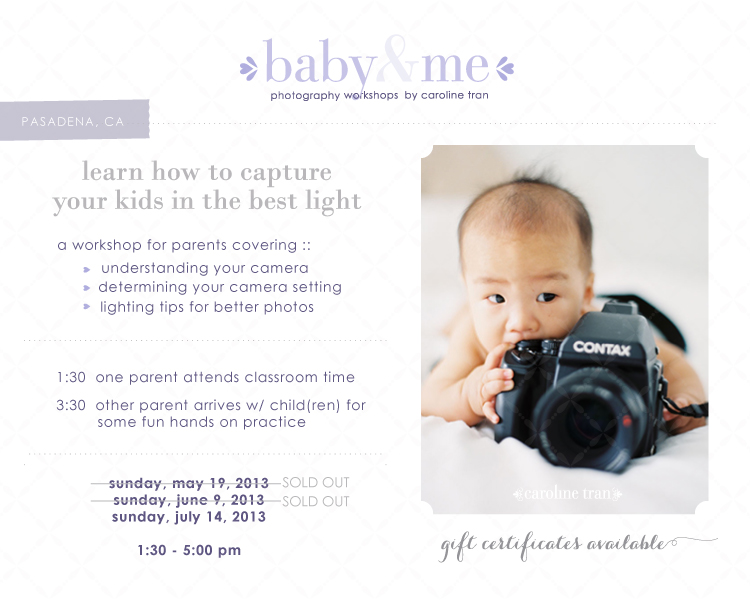 Frequently Asked Questions: Is this for parents only?
While this is marketed for parents, this is really for anyone who would like to learn how to how use their camera.
I know you usually shoot film, so do I also have to shoot film for this class?
Not at all.  I'm teaching you the basics of photography, which applies to all cameras.   I will be bringing my digital camera so that I can instantly demonstrate, so bring yours too!
Why do kids join us later in the day?
By keeping the classroom time for adults only, we'll be able to focus and get through our content more efficiently.  I also want kids to be fresh and ready for us to photograph them, so by having them join us after you have a grasp on your camera, we'll be able to maximize their energy.
What if I know nothing about photography?
I taught high school for 5 years where I routinely differentiated my instruction, so no prior knowledge is required.  If you wanted to prepare though, it would be helpful to know how to change your ISO, aperture, and shutter speed before class (just where those buttons are) – but again, it's not a requirement.
What else do I have to bring?
Just a working camera with batteries!
What is the investment and how do I pay?
Tuition is $365 and can be paid via Paypal. If you'd like to pay via person-to-person transfer, contact me directly and save $10 - caroline [at] carolinetran [dot] net.