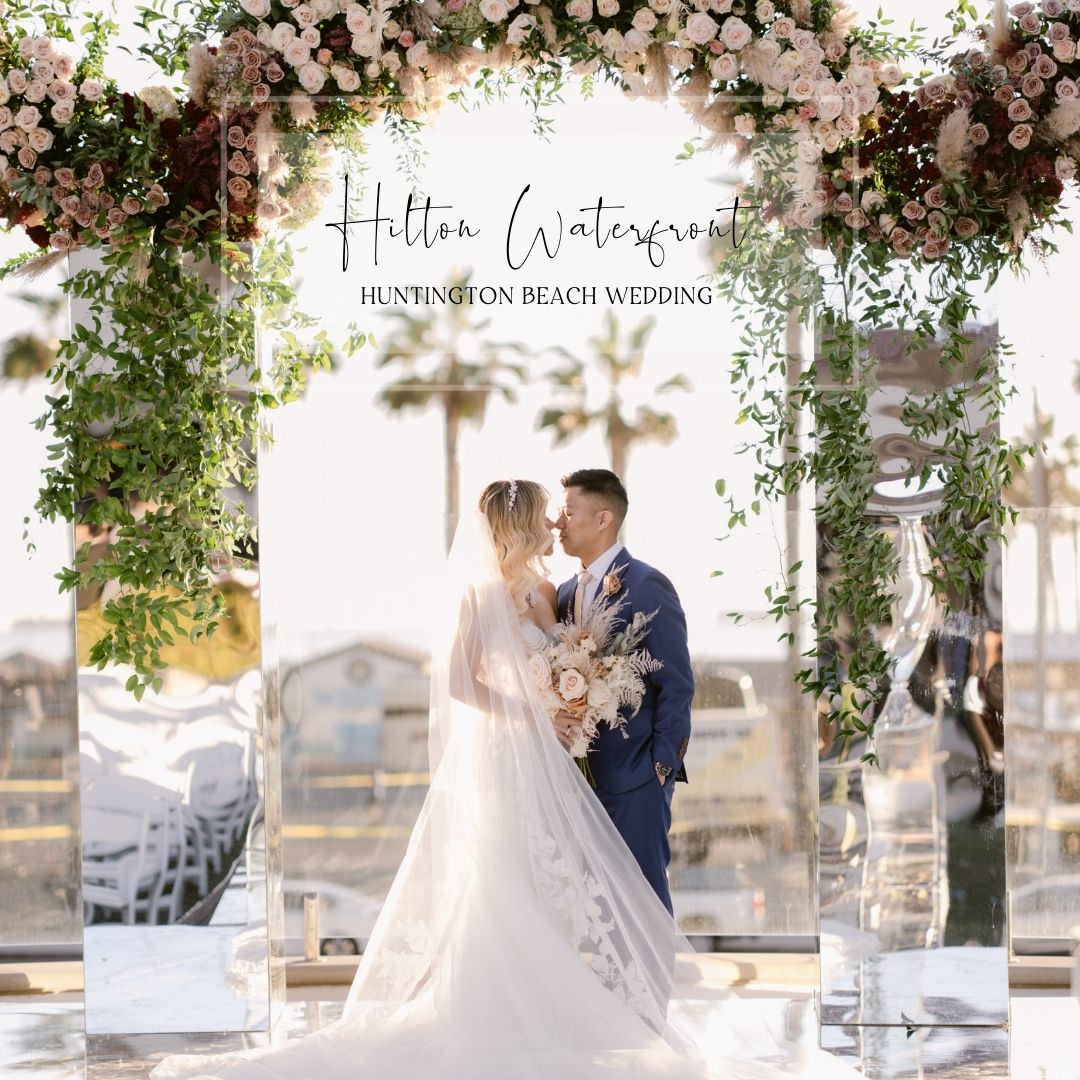 Oh, have I got a treat for you with this Hilton Waterfront Huntington Beach wedding! Diana and David pulled off a unique and glamorous beachside wedding that was a feast for the senses at every turn.
A beach wedding doesn't typically exactly exude fall vibes, but Diana and David's amazing planners, A Good Affair, brought the warm moody feels with their thoughtful design choices. Their color palate of mauve, burgundy, peach, caramel, and cream, reflected in the florals and the cozy satin and velvet textiles was so elegant.
Their florals, by Square Root Designs, were truly jaw-dropping. The flower arches framed the altar so beautifully and had double the impact in the reflective mirrored aisle runner. They really outdid themselves when it came to the ceiling floral installation—not only was it awe-inspiring, but it smelled amazing when you walked into the reception hall!
My personal favorite touch was the ice sculptures they had made of all the pets that Diana and David have had together (and some who couldn't be there that day). What a thoughtful and whimsical way to include their fur babies in their special day!
Diana's refined taste was reflected not only in the design details of the day, but also in her wardrobe. Her floral lace wedding dress was stunning, although my favorite part was her pearl Jimmy Choo shoes. She went with a glittery mermaid tail gown for her reception dress that had rhinestone-studded tie-straps. I'm telling you, no detail was left untouched that day!
Diana and David's Hilton Waterfront Huntington Beach wedding was so special, and I'm so grateful to have been a part of their day, along with their amazing vendors! Are you planning your own special day? Reach out today and let's make your dream wedding happen!