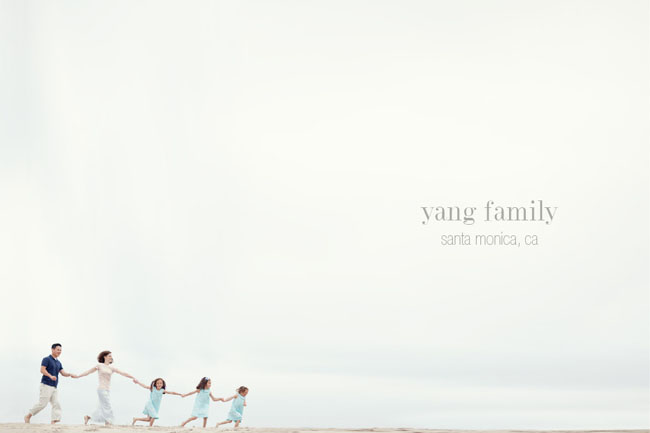 I have always wanted sisters.  I have a younger brother, but always seeked the connection that only a sister can provide.  I sought after that connection from two sets of cousins (hi mary, cyndi & aileen and "the Tran sisters" if you're reading), but it will never be as deep as actually having your own sisters.  I wanted to share clothes and shoes, gossip and chat, be each other's support system, etc etc.  I have found girlfriends to fill that void since, but after this session, I want sisters again!… and even daughters!
The Yang family was in the area, visiting from Kansas City.   We brainstormed many location and prop ideas for their shoot.  I, of course, love fields and flowers, but they reminded me that they're from Kansas and see it all the time.  LOL!  I'm so jealous!  In the end, we decided that nothing represented LA better than the beach…
So let me introduce to you big sister, Anna.  She's eight years old.  At the end of the shoot, she hugged me and said thank you, all her own doing.  She's the mature one who watches over her sisters.
Meet Keely.  She's six years old!  She's spunky and cute!  Her best friend is her big sister Anna!
And then there's baby sister, Mia.  She's independent and free-spirited!
The Yang family was made possible by these super parents!
Remember how I said Mia is independent & free-spirited?  Well, 2 seconds after the above photo was snapped, she ran off to do her own thing.   :)
I love the next photo on the left!  I love watching fathers interact with their daughters.
I also wanted something to document their age at this time, so I had them all show me how old they are.  I know they will grow fast and will soon run off and start a family of their own.  Although it will seem like they run off so fast, they will always leave memories imprinted with us, just like their footprints.
And so will their smiles!
I hope you had a great stay in LA and hope to see you next year again!!  xoxo