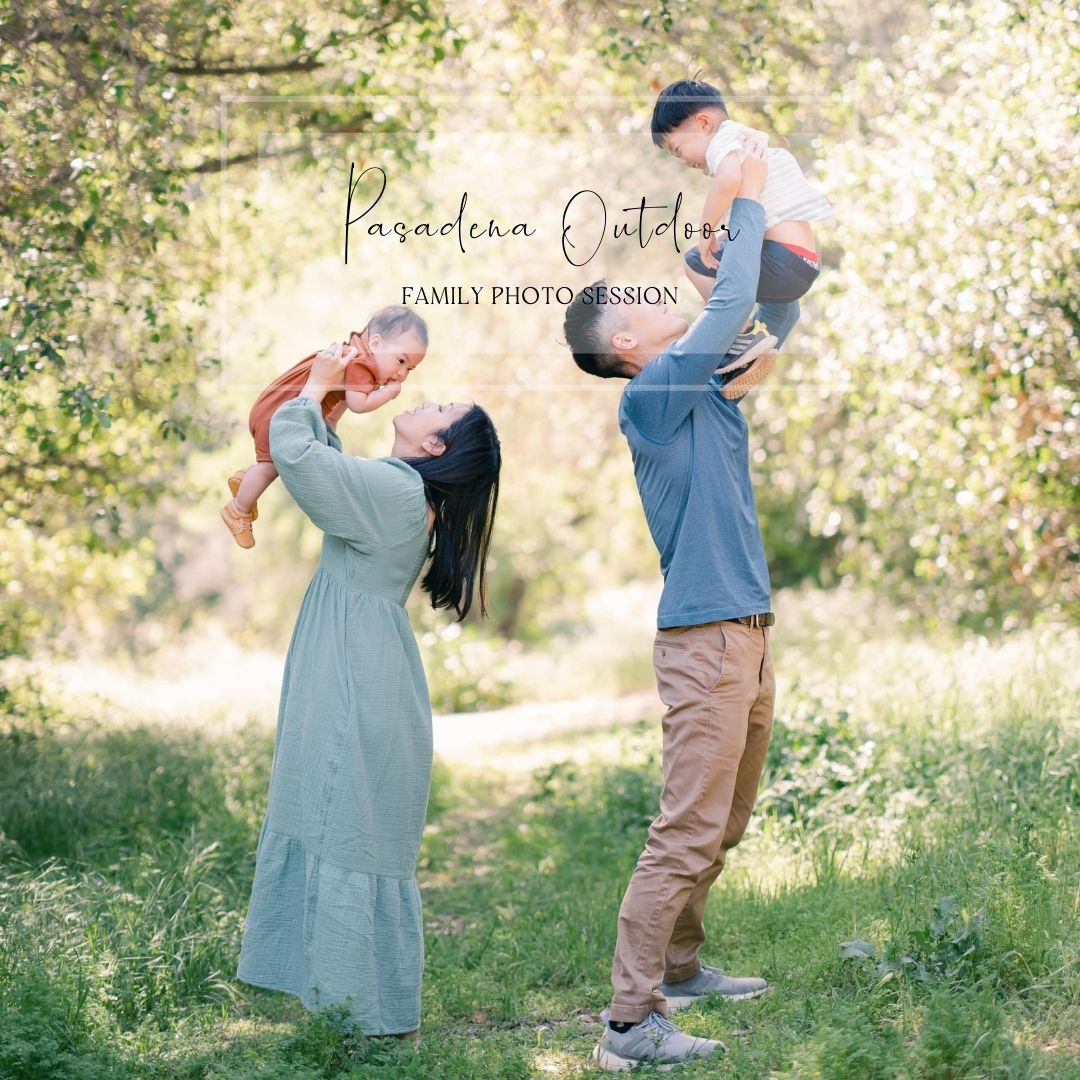 It was so sweet catching up with the Choi family at their outdoor family photo session in Pasadena. It feels like just yesterday that I had them in my home studio for Tyler's newborn session and somehow, here he is, 6-months-old already!
If you look through my photo archives, you'll see that when I photograph newborns and young babies, they're usually done in the studio. I usually recommend shooting indoors with young babies because it's more comfortable for everyone—the baby can roll around in a cozy spot, parents can easily feed the baby, etc. But since we had done a photoshoot in my home studio just 6 months ago, we opted for a change in scenery and went to a nearby hiking trail to get some family portraits in a fresh outdoor setting. We were so lucky that spring was just beginning, so everything was lush and green (although it should be noted that at most other times of the year in SoCal, we might be dealing with dirt and parched shrubbery).
If you also have your heart set on doing a family photo shoot outdoors and you have a young baby, here are some tips:
1. Bring a blanket
This allows you to set baby down somewhere clean and comfortable for those laying down/sitting up/rolling shots. The last thing you want is for baby to be cranky because you set them down on some itchy and prickly grass. A blanket is also handy for feeding and for everyone to sit on when you need a break.
2. Consider a wagon
Practically speaking, you may have to do a fair bit of walking during the shoot, so a wagon will be extremely useful for transporting all the things you'll carry with you (I often wish I could bring along a wagon for all my gear). If you've got a cute one, like the Choi family did here, it can be incorporated in the shoot as a fun prop!
3. Bring your adventurous spirit...and lots of snacks!
Let's be honest—managing young children during a family photoshoot is no walk in the park. But when you're actually walking in the park trying to get some great pictures of everyone smiling, that can be quite the feat. At some point, you've just got to accept that there will be curveballs in your day and just roll with it. Some of the most authentic and poignant pictures that I've taken have come from moments when a mom is comforting her crying child or dad is calming baby down with a bottle. We can't control everything and sometimes, all we can do is embrace the chaos. Other than that, the other tried and true tool is toys and snacks…lots of snacks.
I'd love to help with your outdoor family photo session, whether in Pasadena or anywhere you'd like—reach out today!