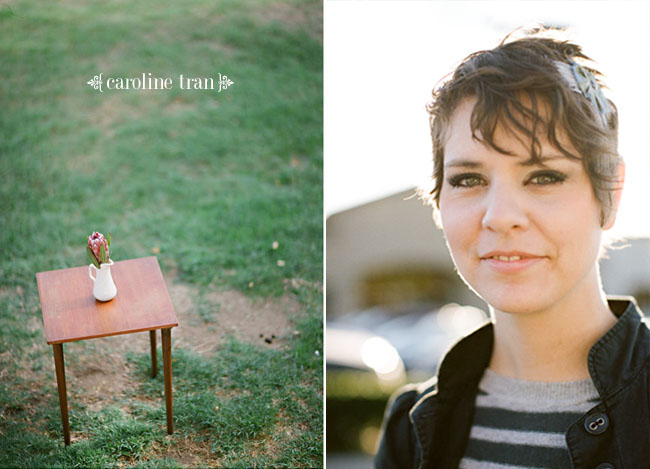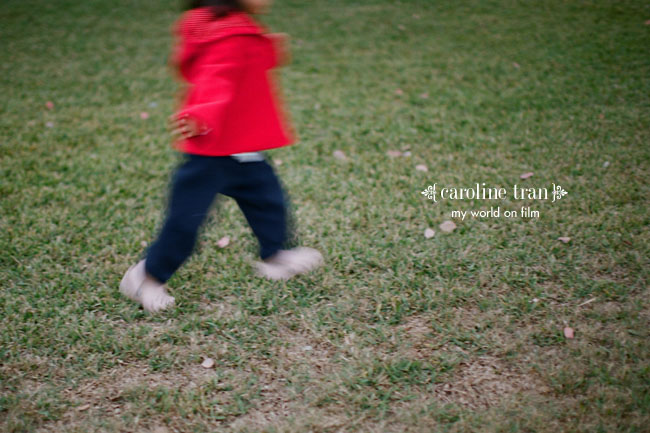 My first (and only) photo class was in my last year of college.  I had really hated my Physics classes by then (so hard!) and just needed some creative outlet to maintain my sanity and happiness.  My last 2 (of 5) years, I picked up an art minor and strategically spaced out all my Physics requirements amongst the much more fun art classes.  I'm not saying that art is easy, just much more fun.  And I guess compared to my upper division Physics classes, it was easier to comprehend for me personally.  That last year, I took a photo class and LOVED it!  My teacher, Dennis Keeley, was really inspirational.  I miss the days of developing and making prints into the wee hours of the night.  I borrowed a friend's camera for this class and returned it to him soon after – I hadn't touched film since.  Until… for my birthday last year, Jonathan bought me a Canon EOS 3.  I went around and shot 2 rolls of film.  One roll from my world, and one at a wedding.  I'll just share the one from my world first.  Theses were all with Fuji 400h and processed by Richard Photo Lab.  All straight out of camera.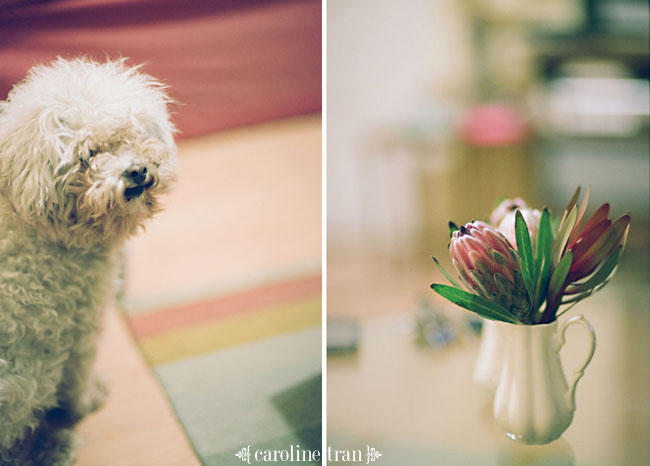 Those two above were taken at night in my house.  Probably with my 85/1.2 and probably hand held at 1/20th – I do miss having my exif data!  I kept around 2/3 of the photos I took, which is a better rate than my digital shooting.  With digital, I tend to take another, just in case.  Or look at my view finder and keep trying to make it better.  I end up with many duplicates.  With film, these were all just one shot.  I was more aware of my composition, exposure, etc before clicking.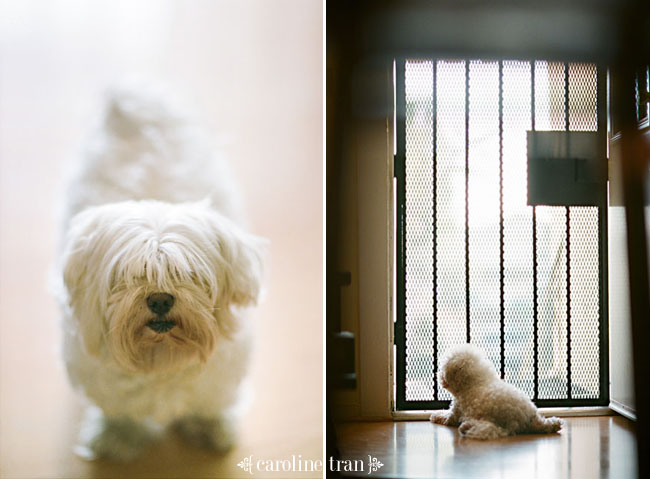 I love my doggies!  These weren't the best quality of light, so I really think if I had taken them in digital, it would not have been as interesting.  The photo on the right of her looking out the door, the outside would be completely blown out for sure in digital.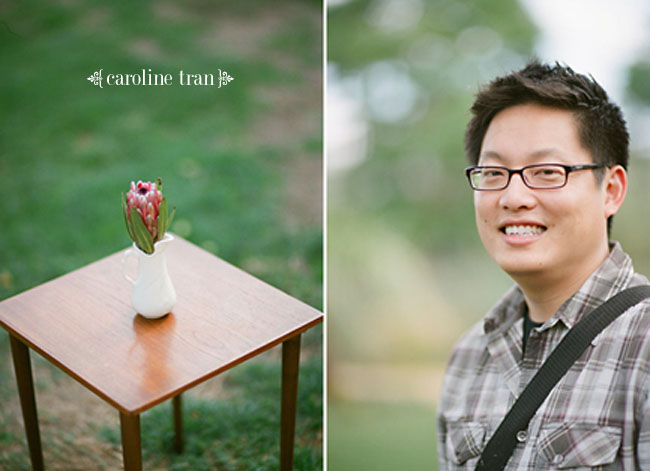 Thank you Jonathan for buying me the film & camera!  Photo above was taken during a wedding at The Parker in Palm Springs.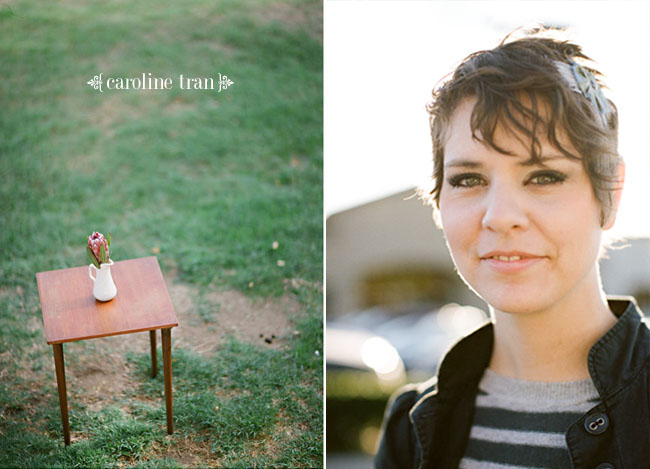 Thank you Shannon for the beautiful flower and vase (which I broke one after shooting it… good thing I have a photo of it).  And thank you for all your help as I grew my business & for helping me/inspiring me to shoot film again.  The photo above was taken in the parking lot as we were going to Aaron Brothers to buy mats.  I only took one shot, so I'm glad it all worked out!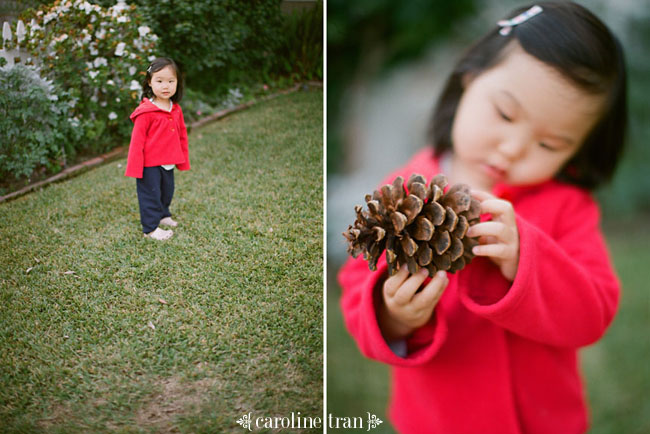 Then I went to visit one of my favorite little girls.  This set is where I had the most discards.  The sun had just set when I arrived.  The combo of my 1/20th shutter speed and an active girl makes lots of blurry shots!  I love blur though.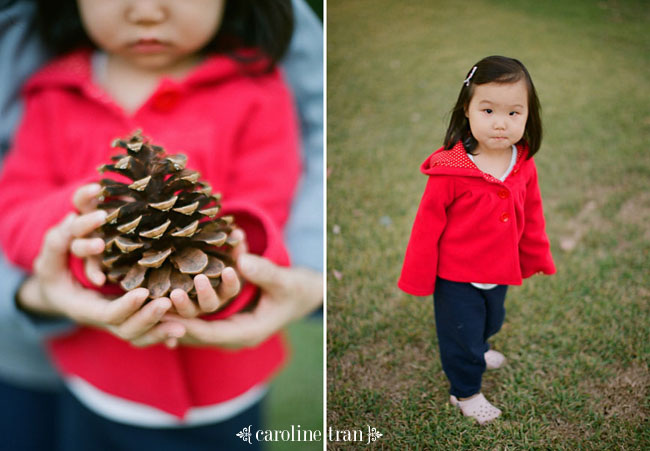 This was before Christmas, so they had these pine cones laying around.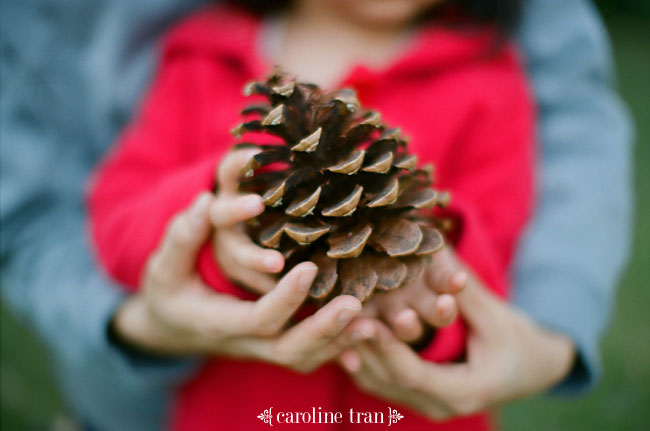 I love blur.  These next two photos would not be the same if they were tack sharp.  I'm not sure if I could achieve the same feel digitally.  I'm not sure if I'm just being biased.  What do you think?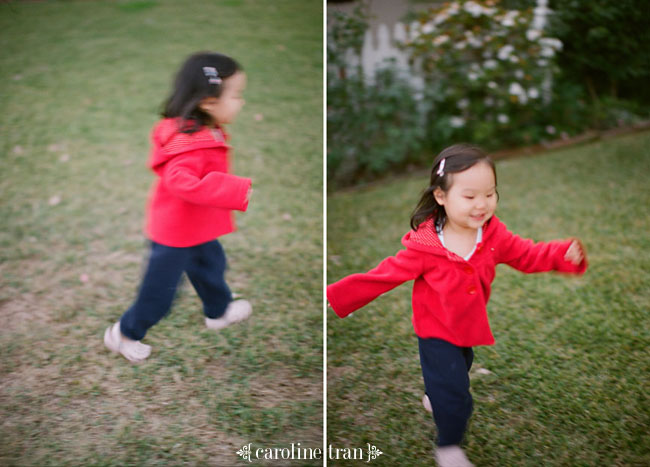 I then visited one of my favorite little boys: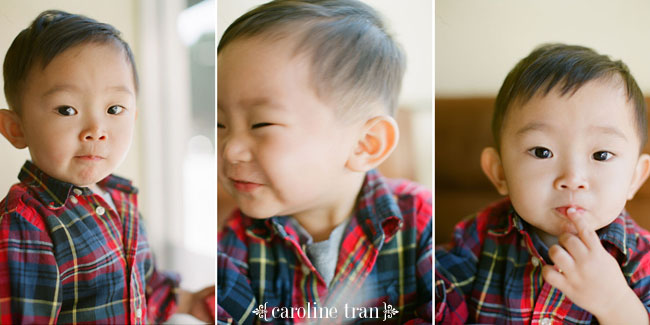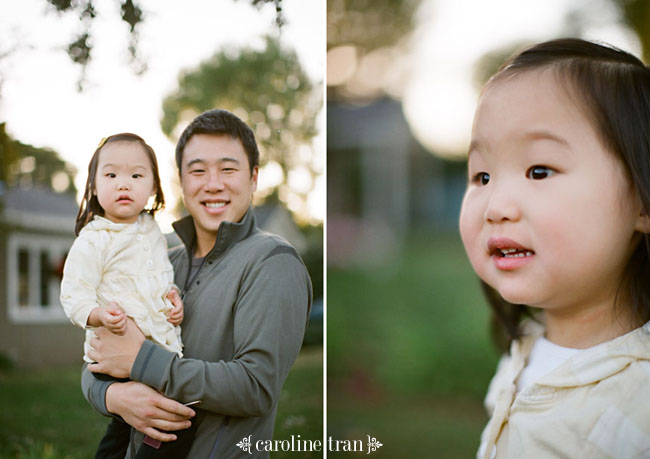 I am totally in love with the richness of these photos.  There's more depth to me.  Again, I'm not sure if I'm just biased.  I'd love to hear your thoughts!  (You can see I'm doing a lot of experimenting lately… it's fun.)