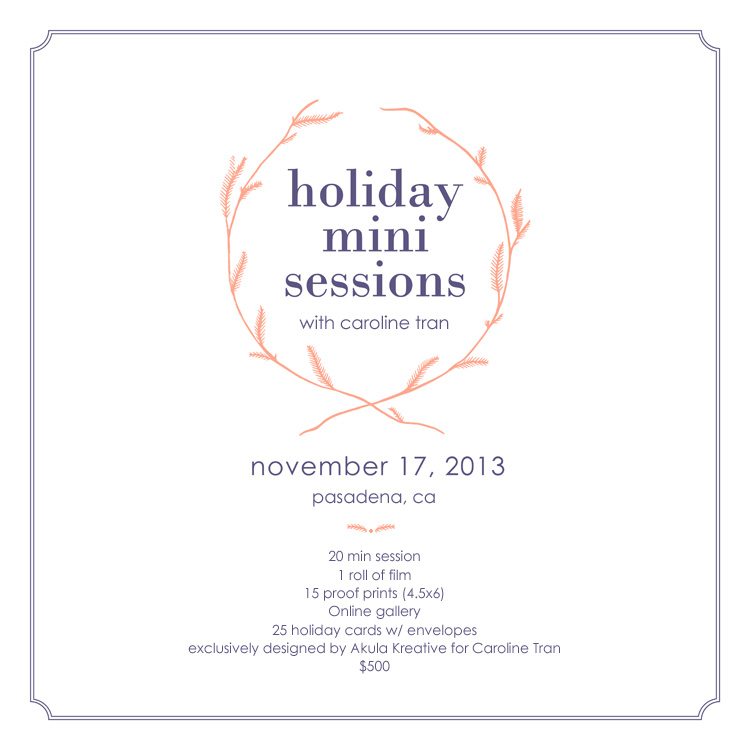 Many of you have requested that I offer Mini Sessions for this holiday season, so I'm really excited to announce a collaboration I'm doing with the talented Nikki, from Akula Kreative.  Nikki is designing some exclusive Holiday cards for us.  Each mini session will include 25 cards and envelopes.  This is a great opportunity for those who are looking for some good photos to choose from for their holiday cards, and do not need a full hour session with me.  These sessions will be roughly 20 minutes (one roll of film) and will take place outdoors in Pasadena.  A welcome letter with details will be sent to those who have a spot.
FAQ
Should I get my hair &  makeup done?
I want you to feel beautiful and confident.  Confidence radiates in photos.  I recommend getting hair & makeup done if you're not used to doing your own.
What time should I show up?
Please arrive at least 15 min before your scheduled time.  The time you reserve is the time we begin.  Arriving late cuts into your time so plan ahead and pick a time that you feel will work best for your family, especially the children.
Can I bring props?
Certainly.  Keep is simple though as we won't have time to do any elaborate set ups.  Your welcome letter will include suggestions that work well.
What is your cancellation policy?
With 48 hour notice, you'll be able to apply this as a credit towards a future shoot… though it may have to be a full session if I am out of mini sessions.
Can I purchase additional items a la carte?
Digital files, additional Christmas cards, and other prints and enlargements are available a la carte.  The most popular items will be detailed in your welcome letter.
How many people can I bring?
Since this is for your holiday cards, I recommend just your immediate family.  This fee includes up to 5 people.  Additional people can be added on for an additional sitting fee.
How do I reserve a spot?
Select your preferred time and click "reserve my spot!" above.  It will take you to paypal where you can instantly pay and reserve your spot.  First come, first serve.  Hopefully there are no glitches with paypal!  If you are having any issues booking through the button above, please email me at caroline [at] carolinetran [dot] net.