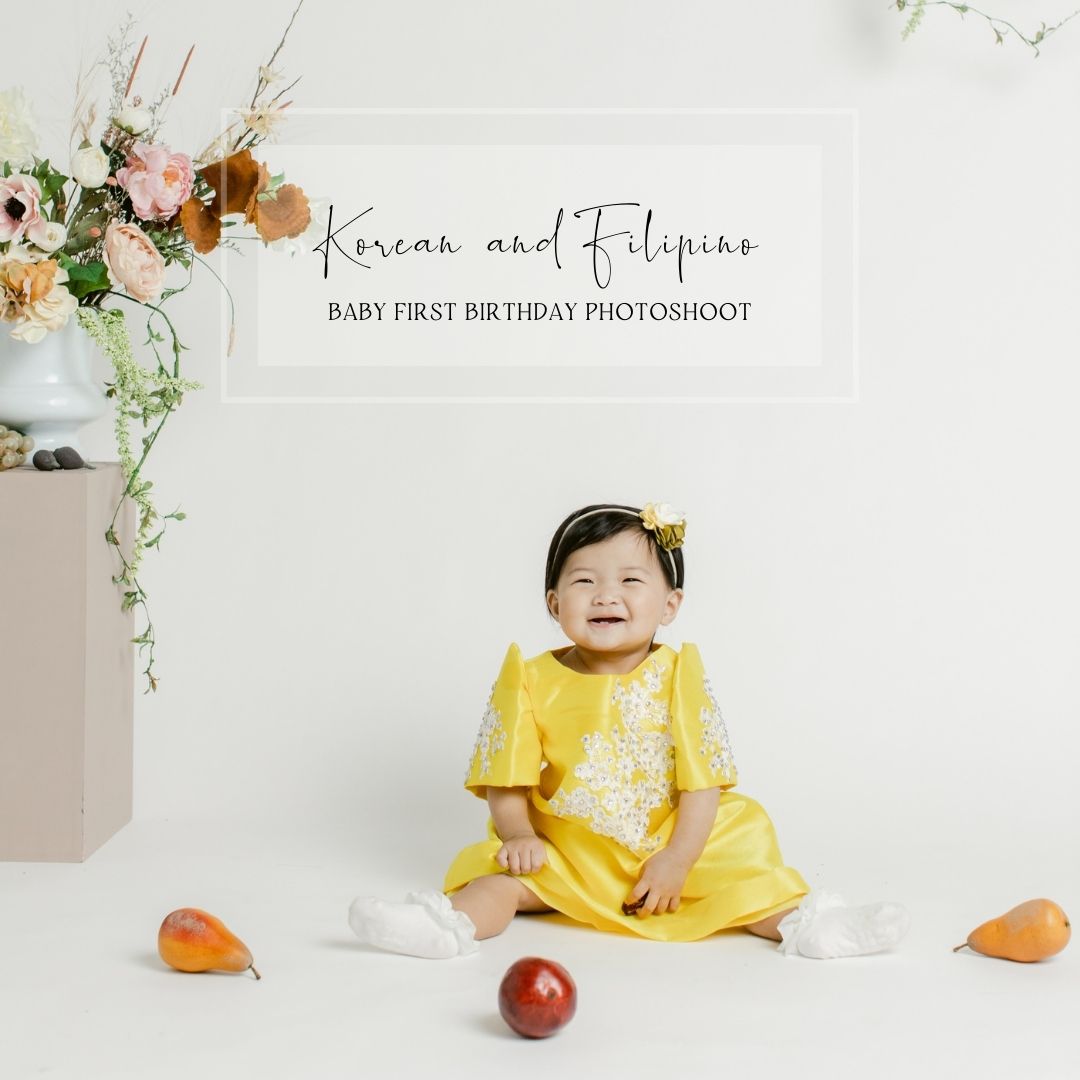 At our most recent baby first birthday photoshoot, we were delighted to get to celebrate Andie's Korean and Filipino heritage. Since starting Chook Celebrations, we've learned more about the traditions that are associated with various milestones in life—a baby's 100th day, a first birthday, wedding, etc. We started out with photoshoots involving Korean traditions, but have been fortunate enough to have clients from other Asian backgrounds who were eager to incorporate their cultural traditions in photoshoots for their babies (check out our Vietnamese First Birthday Photography in Los Angeles!).
It has been so amazing to learn more about how people celebrate their little one's growth, and our clients have also expressed to us how important it was to include their culture in their children's lives. Having children has given us the push we didn't know we needed to reconnect with and learn more about our cultural backgrounds. When you think about it, since we live here in the U.S., if we don't share it with our children, those traditions will likely get lost with their generation. In Andie's case, she is lucky enough to have two cultural traditions to celebrate! Scroll on for some sweet pictures of a seriously cute one year old!
The whole family arrived dressed in their hanboks to celebrate Andie's first birthday, called "dohl" in Korean. The photoshoot was mainly focused on Korean dohl traditions, with a table spread that included custom tteoks and delicious sweets, as well as a doljabi ceremony, where Andie picked an abacus.
During the second part of the shoot, Andie switched into a beautiful yellow Filipiniana dress to honor her Filipino side (for a Filipino boy, he would wear a traditional garment called a barong). We adored how cute Andie looked in the bright color and the butterfly sleeves. When asked about the dress, Mom said, "Although dohl is a special tradition celebrated by Koreans, we believed it was important that Andie has a photo that emphasized both of her cultures in her hanbok and her Filipiniana dress. We are overjoyed that she has the privilege of embracing two cultures as her own."
We love helping families bring in their cultural traditions in a modern and beautiful way through these milestone photoshoots. If you're thinking about your baby's first birthday photoshoot, don't hesitate to reach out to us to make it happen!