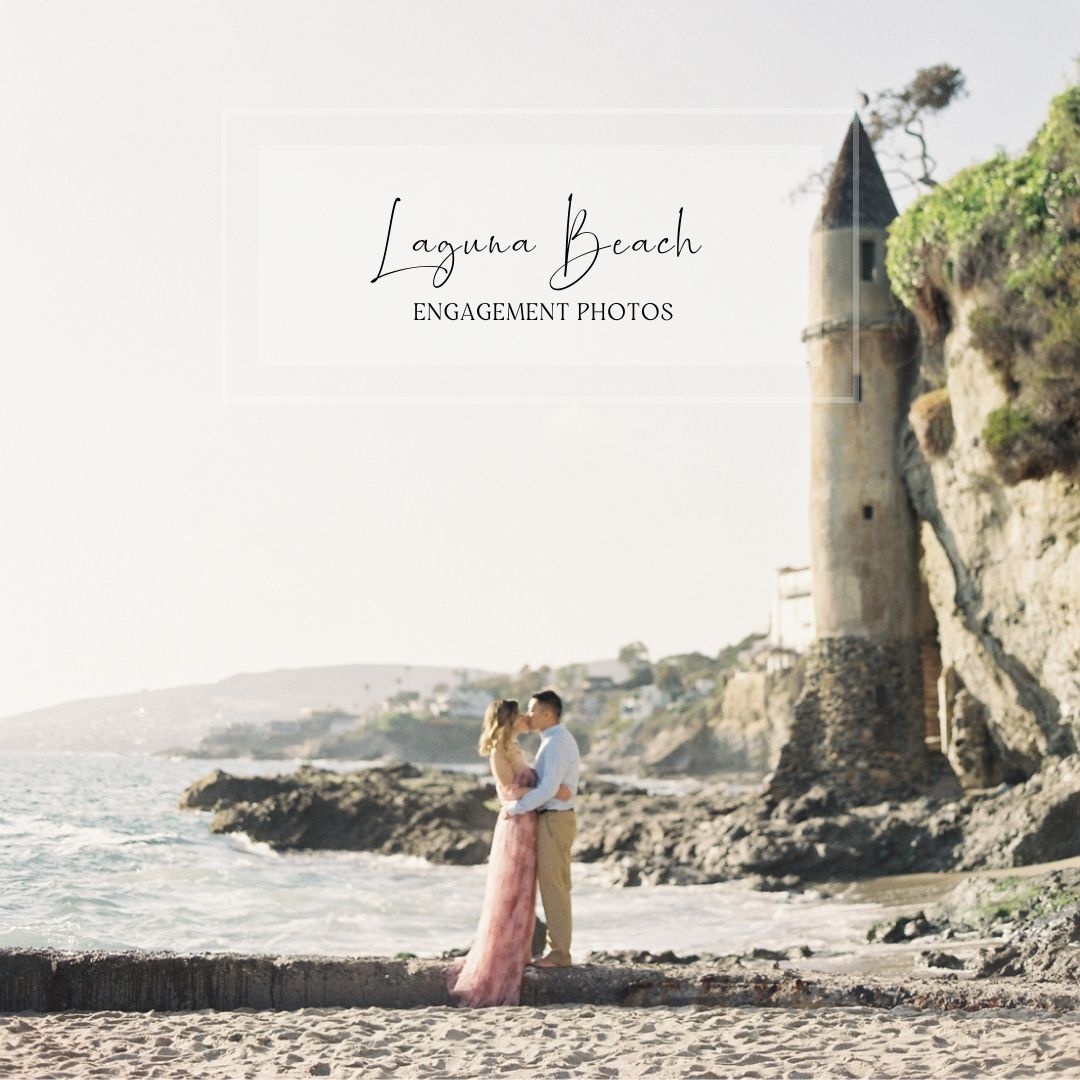 These Laguna Beach engagement photos encompass all the things I love about engagement sessions—a darling couple, a gorgeous locale, impeccable fashion statements, and an all-around good time! Diana and David were on top of their wedding planning game and wanted to have engagement photos done in time for use on their save-the-date cards. They now have so many beautiful photos to choose from—scroll down and take a look!
Planning for this shoot occurred during the pandemic, so Diana and I did all of our consultations virtually. The media sometimes likes to focus on all the complaints that people have about endless Zoom meetings, but in our case, these meetings were actually quite a blast! We even shopped for her dresses together virtually, and I dare say, they were the perfect choices! I knew that we would catch some beautiful pastel colors at a Laguna Beach sunset, so we went for dresses that would play well with those tones. Anyway, when we finally met, we had built such a rapport that it was like seeing an old friend again. I've always valued my client relationships immensely, and I was initially nervous about the effect that the pandemic would have on my business and my ability to connect with clients. However, this experience showed me that when I adapt and lean into different ways of doing things, I can make things work and strong client relationships and friendships can still be built.
This engagement session was a little longer than most because we had quite the ambitious plans. Diana and David specifically wanted both sunset and night shots, so to make the most of the longer period of time we had to work with, we decided to shoot in 3 different settings in the Laguna Beach area. We started at Pirate Tower, where we got these images that look straight out of a fairy tale—I love how it looks like they're star-crossed lovers meeting at a seaside European castle! We then headed over to some nearby gardens, and finally back to the beach again to get some romantic night shots.
I'm so in love with these Laguna Beach engagement photos and had the best time during the whole process—from virtual planning, to playing games with the couple to get the poses we needed (see my Pick Up Points course to learn how), to climbing over jagged rocks at night to get the shot! Diana even remarked that she didn't know an engagement session could be so much fun. I can't wait to make your dream engagement shoot happen—contact me today and let's get started!