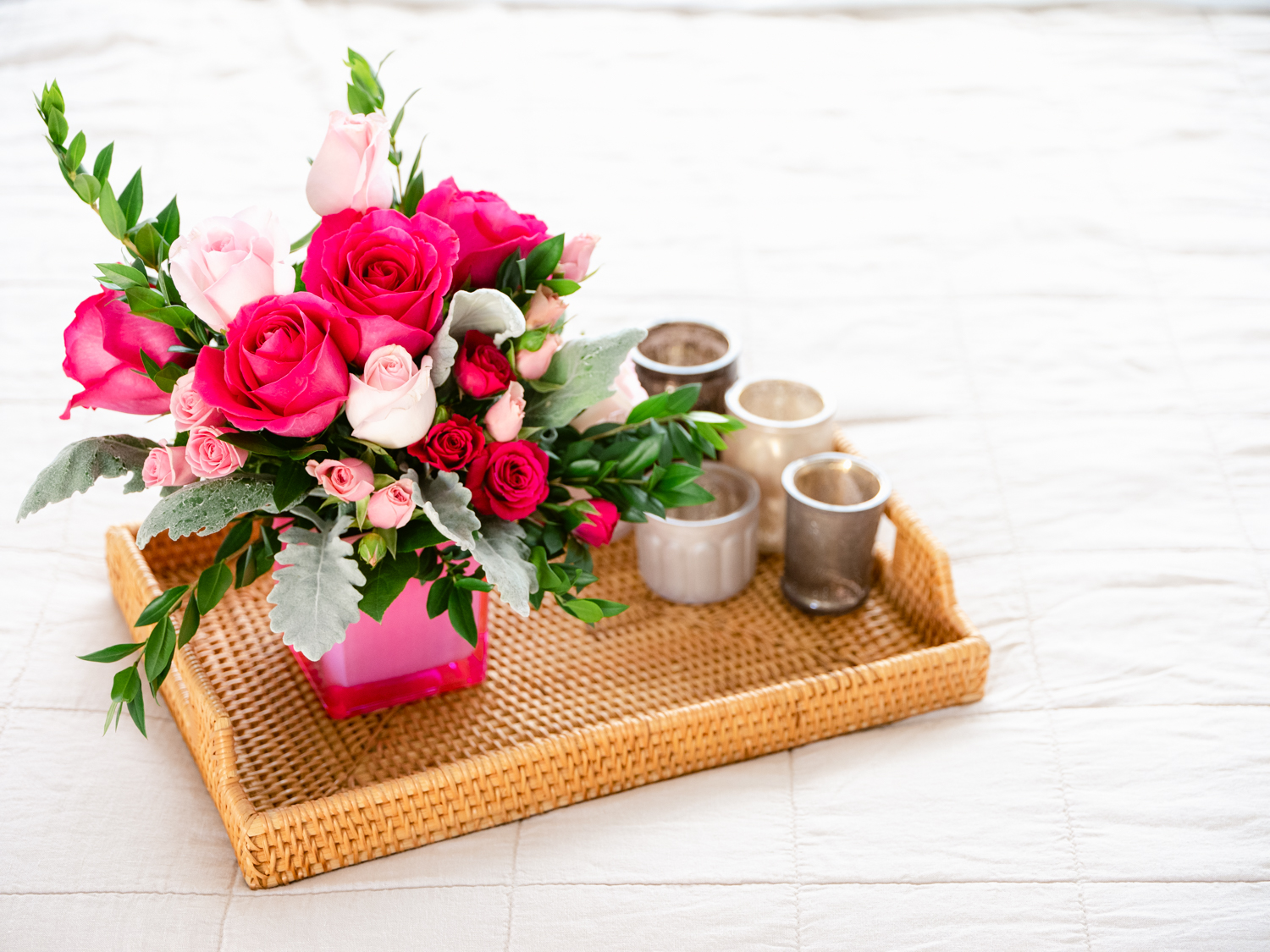 As a Los Angeles commercial photographer, I love having so many resources at my fingertips for helping businesses tell their stories. There are so many gorgeous locations and opportunities for prop sourcing in Los Angeles, not to mention the amazing talent, should we need to bring someone in from outside my team who has extra expertise. All these things combined means I get to create exactly the scene we want to showcase your products in the most impactful way. Let's take a closer look at a few of my recent commercial photoshoots to see what this looks like!
In recent years, I've been fortunate enough to work on an ongoing partnership with Teleflora (an online floral delivery service), doing a new shoot several times a year to promote their seasonal floral arrangements. We've gotten to shoot at some really beautiful houses around Los Angeles, but as a commercial photographer who values storytelling, one of my favorite parts is the creative process of making the scene work for the story we want to tell. When looking at these images, we want customers to be able to see the product working in their homes, and there's a lot of thought (and restraint!) that goes into making a scene relatable.
For this holiday campaign, we wanted to give this house have a comfy cozy feel. This house had a modern Scandinavian style, so we brought in wood accents, warm leather, lush greens, cheerful reds, and some hot drinks to drum up the hygge vibes. Couldn't you picture a beautiful Christmas morning brunch here among the festive flowers?
For Teleflora's fall campaign, we were again working in a modern house, but wanted to bring in some rustic charm to evoke a feeling of going on a trip home for a warm Thanksgiving meal.
When it came to spring and summer florals, we wanted to showcase Teleflora's beautiful flowers at the centerpiece of the fun celebrations we often find in those seasons—Valentine's Day, birthdays, Mother's and Father's Days, or just a casual dinner for friends out on the patio. We wanted these photos to be able to display the gorgeous details of the products, while also showing how they can elevate customers' real-life experiences.
Getting the right images is key to launching a successful product, and it's a lengthy process that requires a lot of thought and a wide variety of skills. As an experienced commercial photographer with a team that can handle all parts of design and production (great for small businesses that don't already have an in-house team for those aspects), let me help you get it right—contact me today to discuss your successful product campaign!