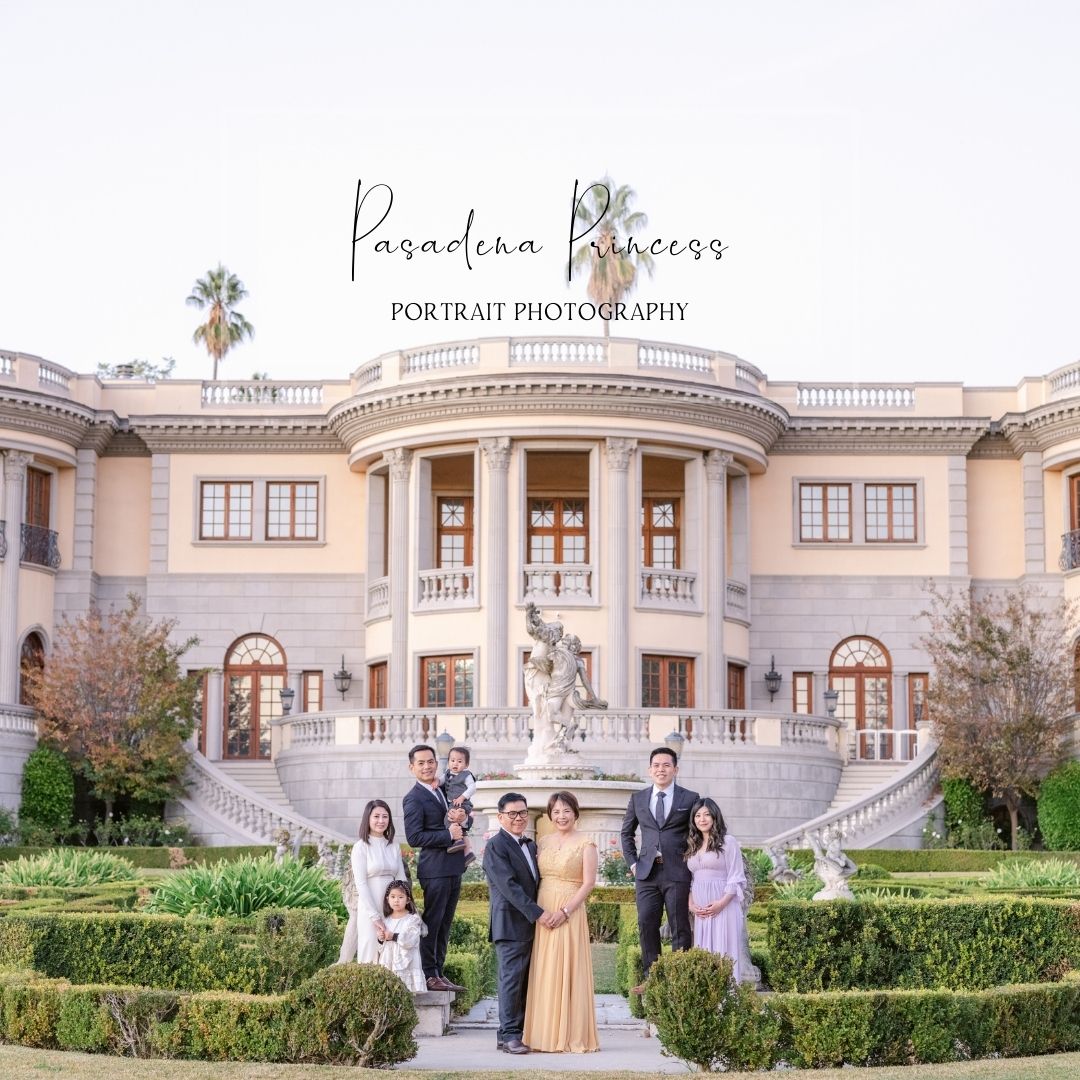 In this recent Pasadena Princess portrait photography session, I had the absolute pleasure of documenting another milestone for my longtime clients, Wendy and Johnny. I first photographed Wendy and Johnny at their wedding years ago (check it out in my post, Sunstone Winery Wedding Photography), and have documented other milestones for them since then. This was a special one, as Wendy orchestrated a special extended family portrait session for Johnny's parents' 40th wedding anniversary (daughter-in-law goals indeed!).
The family didn't want to travel very far for their shoot, so after a bit of searching, we found the perfect spot right in their backyard! Okay, not literally their backyard, but we realized that the Pasadena Princess was just down the street from Wendy and Johnny's house. The Pasadena Princess is a palatial mansion with the most elaborately manicured grounds. Just look at those maze-like hedges and beautiful stonework!
It was so special to be able to photograph a couple on their 40th wedding anniversary. As a photographer, I see a lot of couples at the start of their marriage, and while that is no doubt a beautiful thing, it is truly humbling to see couples who have been through it all and still choose to be at each other's side. When I asked Johnny's dad what the secret was to a happy marriage, and he said, "Have a big family" (I think that was a little hint to Johnny and Wendy to give him more grandkids!). His more serious answer was that it's important to include fun and laughter in the everyday, and just from seeing how this family interacted, I knew he was speaking from experience.
I'm so honored to be able to continue documenting important moments for Wendy and Johnny, and this gorgeous estate was the perfect spot for such a momentous milestone. If you'd like to have your own family or couples portrait photography done at the Pasadena Princess, get in touch with me and let's make it happen!