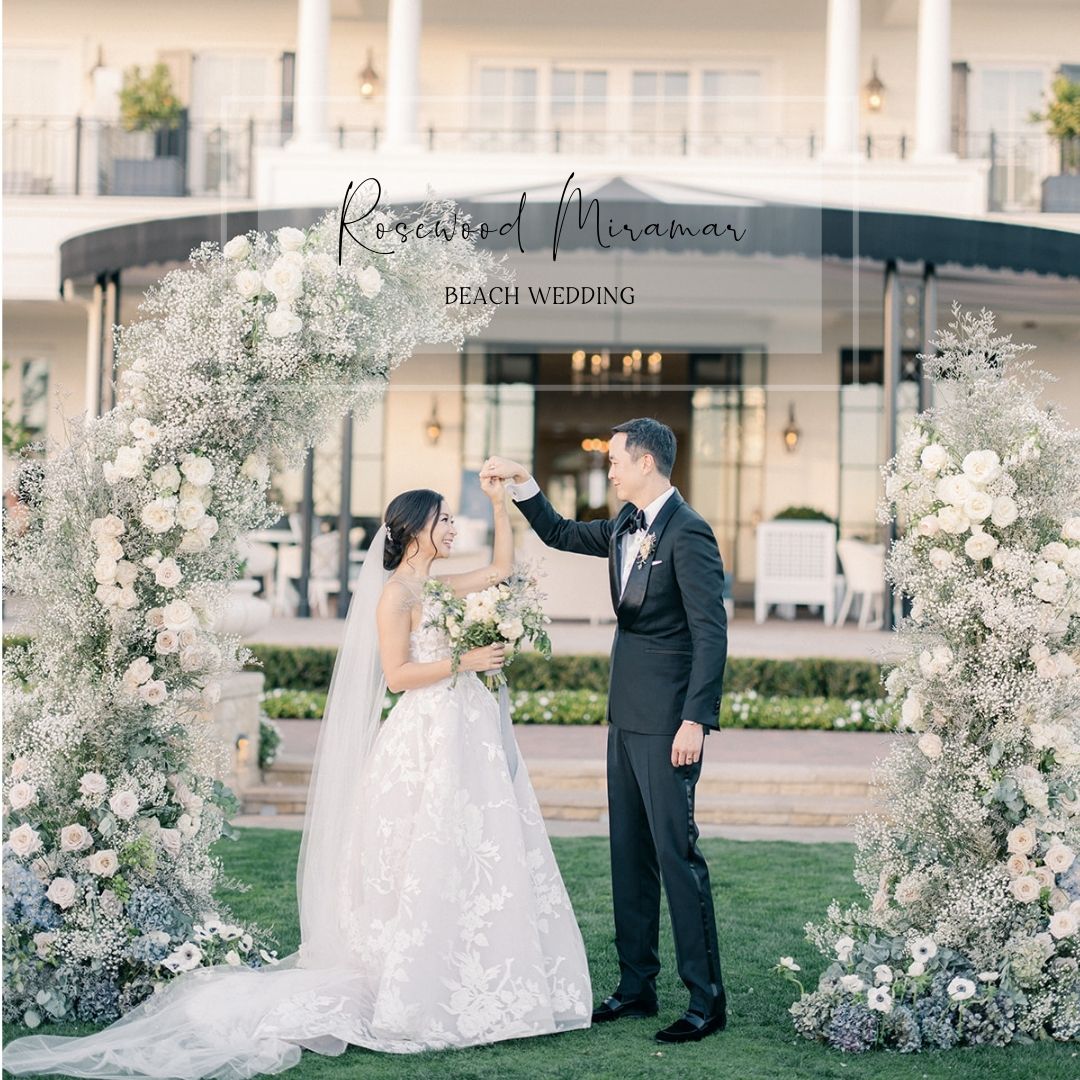 Hot off the presses—Brides just featured Grace and Devin's Rosewood Miramar Beach Wedding, and I'm so excited to share this gorgeous event with you! Rosewood Miramar Beach, located in Montecito (just outside Santa Barbara), is the perfect place for a beachside wedding that is luxurious yet laidback. For more details about their wedding, including a complete vendor list, please check out their feature.
Grace is the founder of Birdy Grey, a line of beautiful yet affordable bridesmaids dresses. She's made quite a name for herself in the wedding industry, but we actually met a few years ago. At the time, Birdy Grey was just in its early phases, but I was so impressed by Grace's energy and style and just knew that her new business venture was going to be a hit. She brought that same drive and flair for design to planning her wedding, and you can see here that the results speak for themselves!
The entire wedding was amazing, but one task that stood out to me, artistically speaking, was creating a flatlay that included slices of their wedding cake. This is not something that is typically done, as photographers usually do the flatlay earlier in the day and the cake is cut in the evening. But Grace had casually mentioned to me how cool it would be to have a picture of her sliced cake and I was up for the challenge. It took a lot of coordinating with the florist and the baker (in terms of timing and having the right materials) to make it happen, but I'm so glad we did! It fueled me creatively to take two things that you wouldn't think to bring together and make something unique that speaks to my clients.
A huge thank you to Brides for this feature—Grace has done an amazing job thoughtfully selecting her vendors to support fellow AAPI women-owned businesses and I'm thrilled that the publication of her beautiful wedding can now inspire brides-to-be everywhere! If you're considering Santa Barbara for your wedding, be sure to check out Rosewood Miramar Beach, and don't hesitate to reach out if you're ready to start planning your beachside wedding!