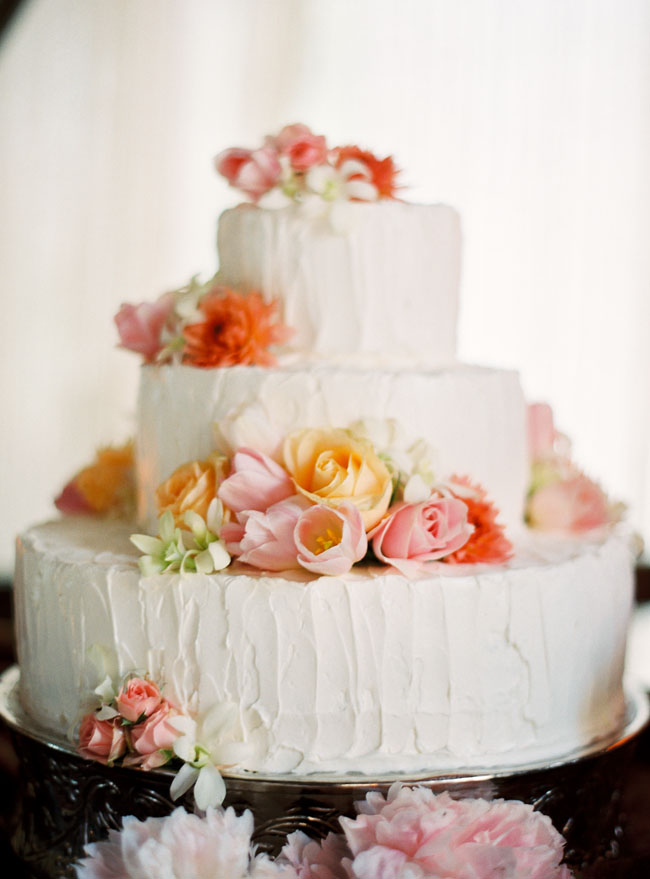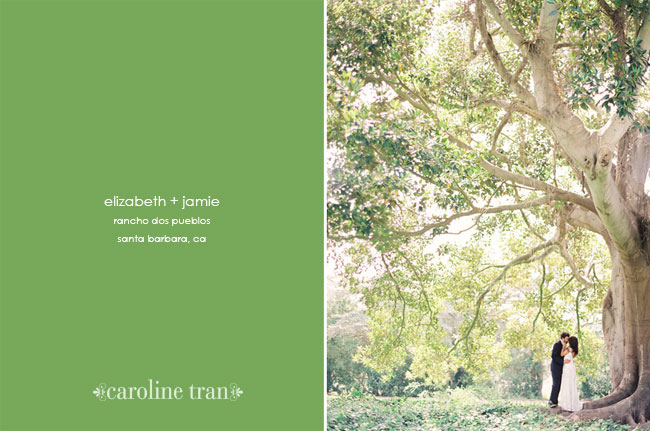 Ready to be overdosed with gorgeous details?  That's how I felt shooting this wedding.  Every nook and cranny had some beautiful detail with an equally beautiful story behind it.  I met Elizabeth & Jamie a year before their wedding and it was instant chemistry.  I still remember swooning over their description of their wedding… and you know what?  It was even more beautiful than anyone could ever describe in words.  Good thing we have photos!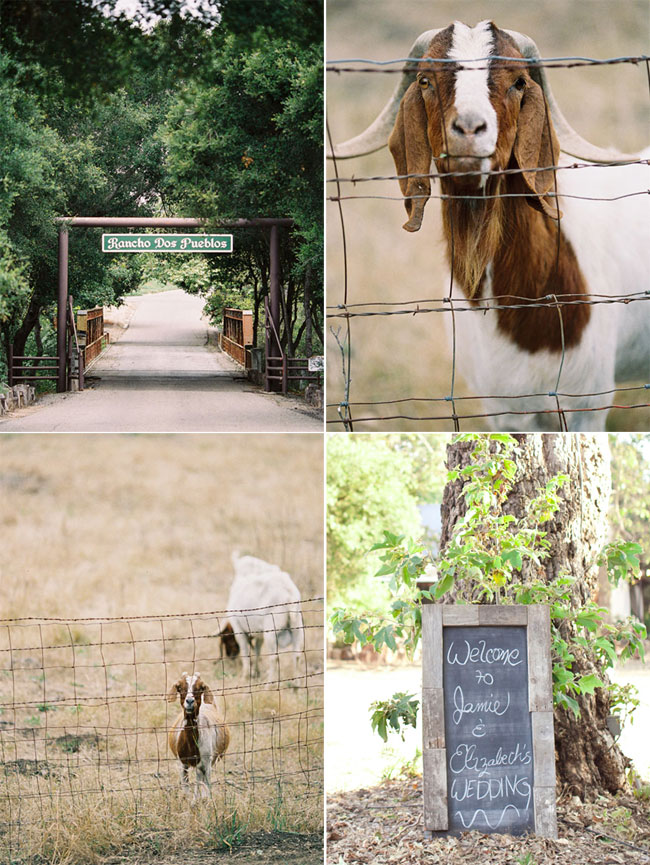 This Santa Barbara wedding took place at the majestic Dos Pueblos Ranch.  Like what you see?  It's for sale!  Only $95 million, last I checked.  Tricia Fountaine is the genius behind this.  She rennovated much of the ranch, including these three horse sheds.  I love "The 3 Piggies" sign.  So appropriate.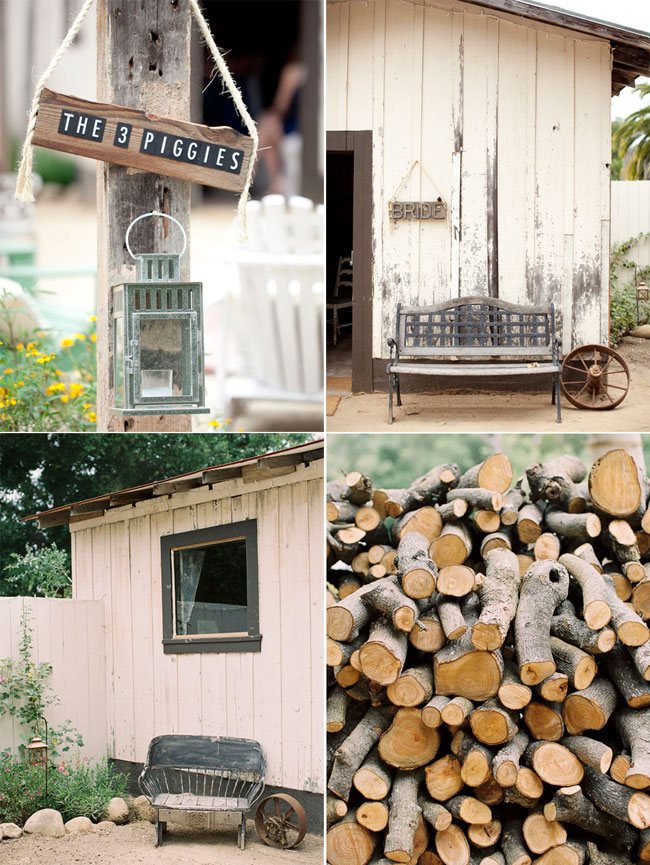 One of the sheds was transformed into the Groom's quarters: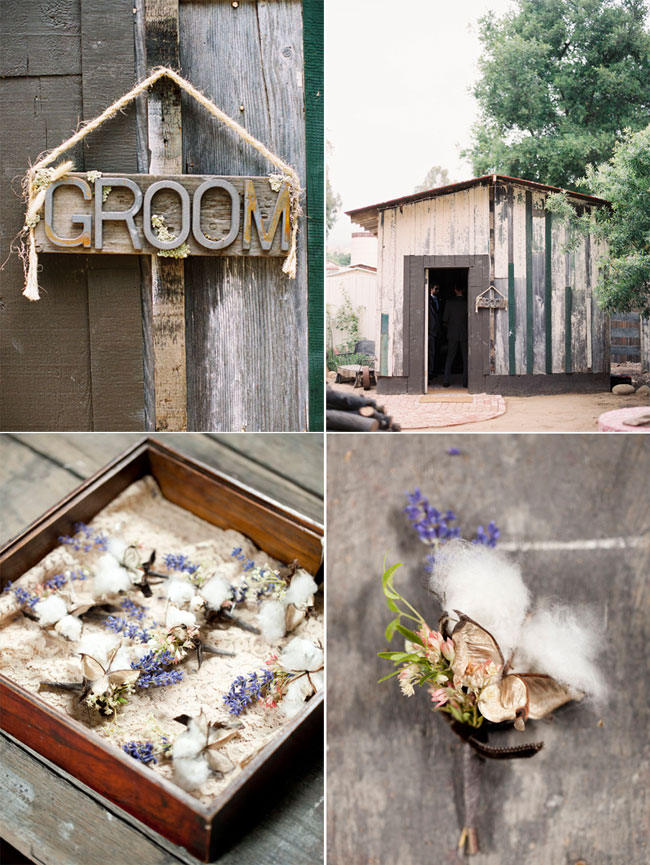 The other shed was converted into a photo booth!!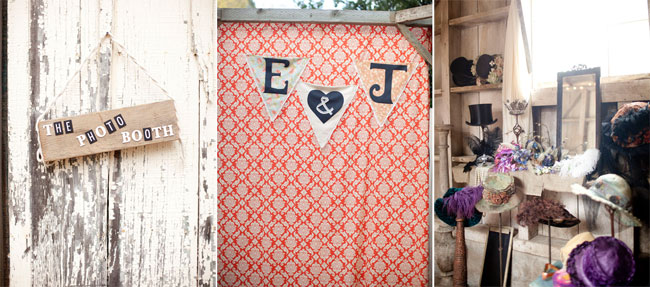 And last but not least, a shed became the bride's dressing room.  Tricia even decorated the place so cutely!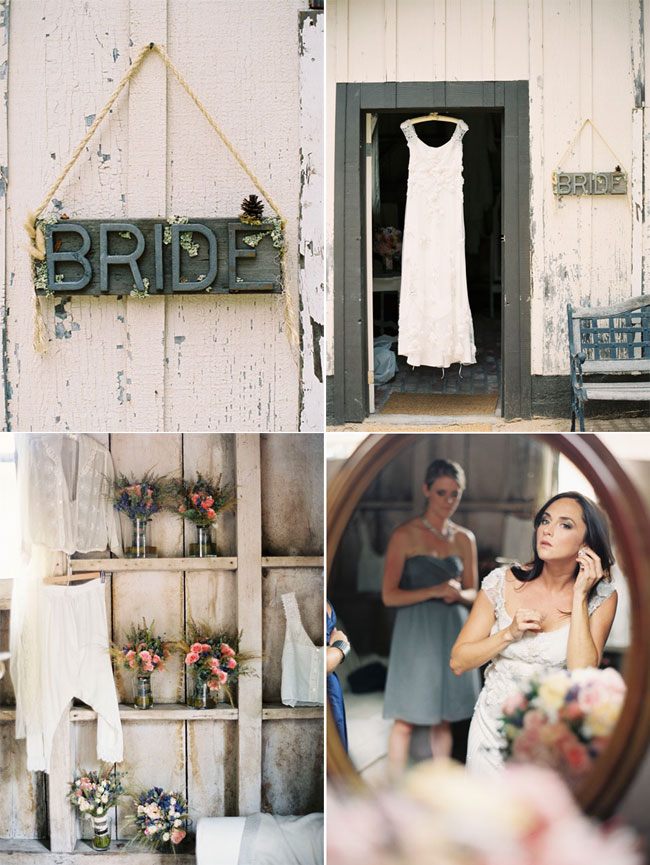 Gorgeous shoes by Poetic License: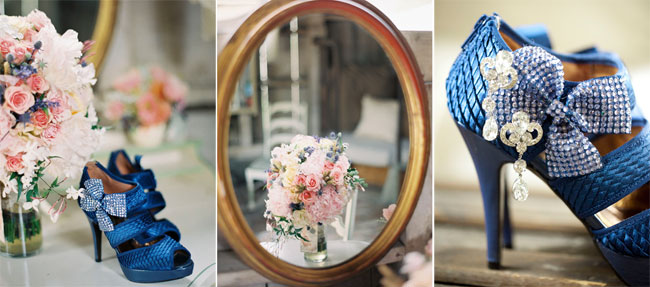 I love this cozy vintage lounge area, adorned with vintage furniture & a chandelier: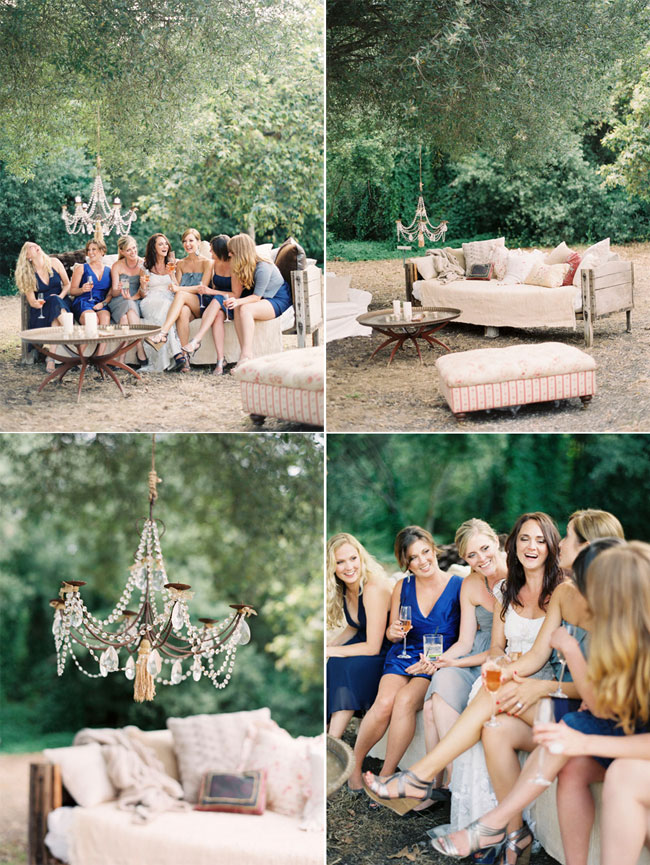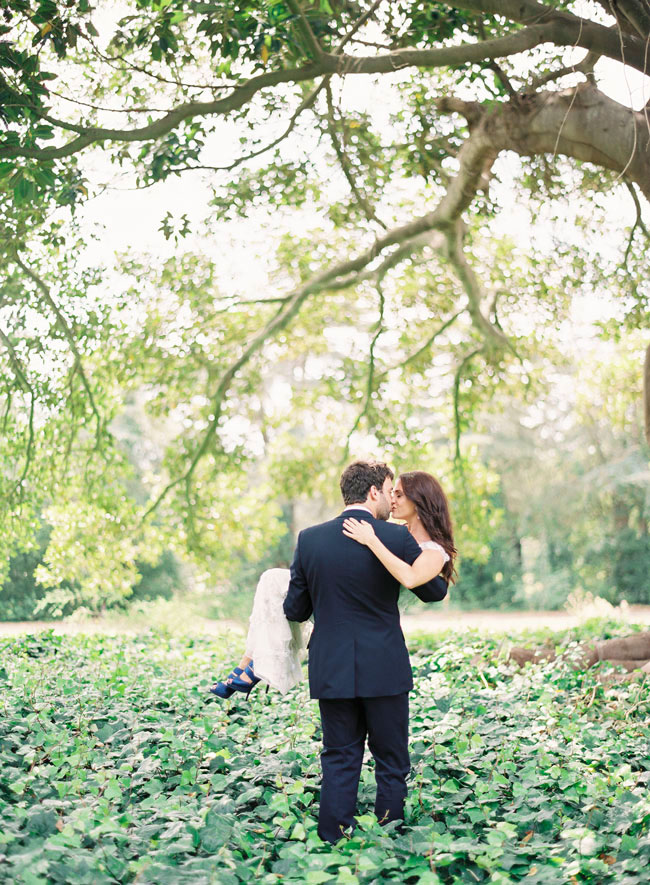 What I love most about this wedding is how the styling fits the venue so well.  It's seamless!  I had a hard time telling what was added just for the wedding… everything looked like it was just supposed to be like this all the time.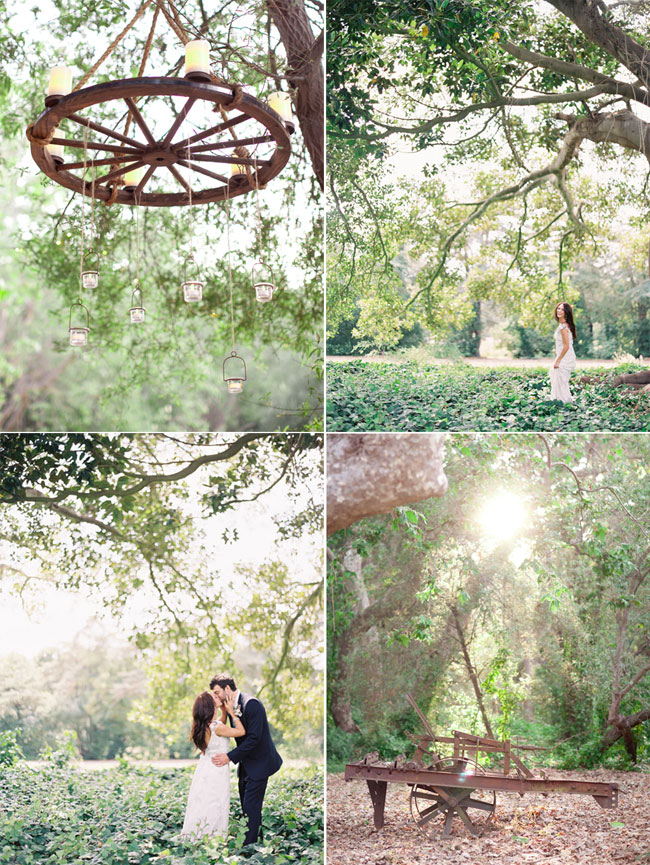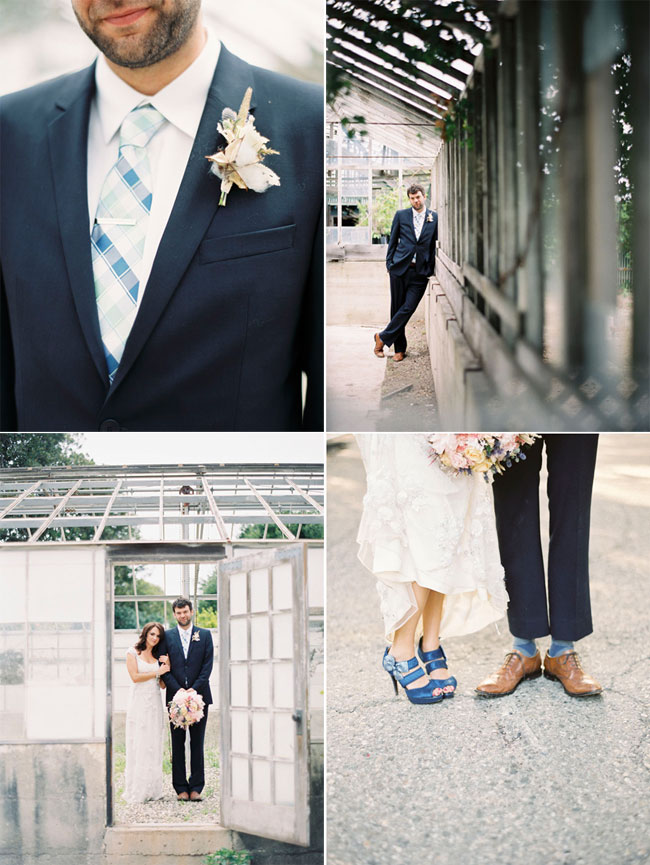 I love Elizabeth's gorgeous Claire Pettibone dress.  Look at that detail!!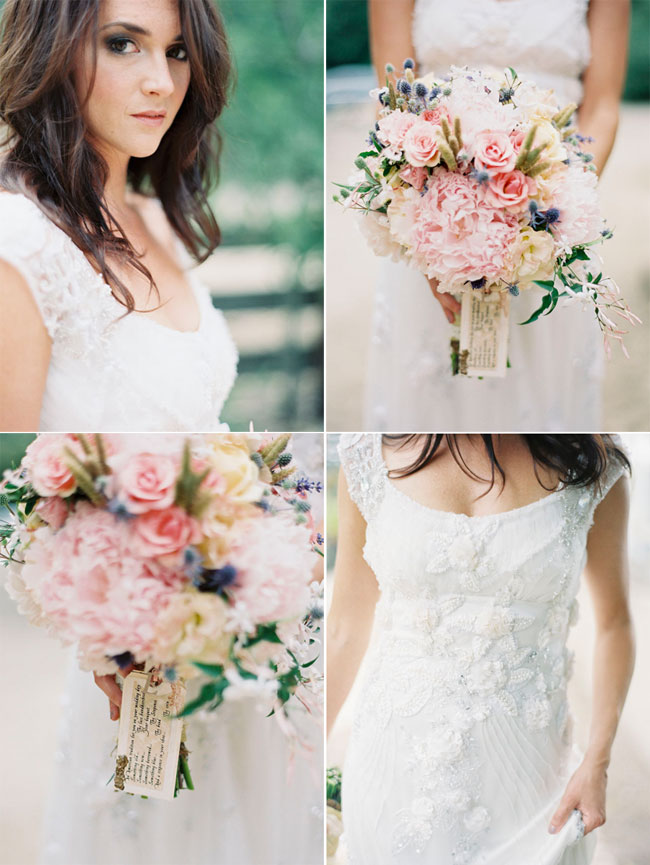 Tricia did all the florals & event design. Amazing, right?  Just wait till you keep reading…  Elizabeth & Jamie brought the church into the woods, under a 200 year old sycamore tree.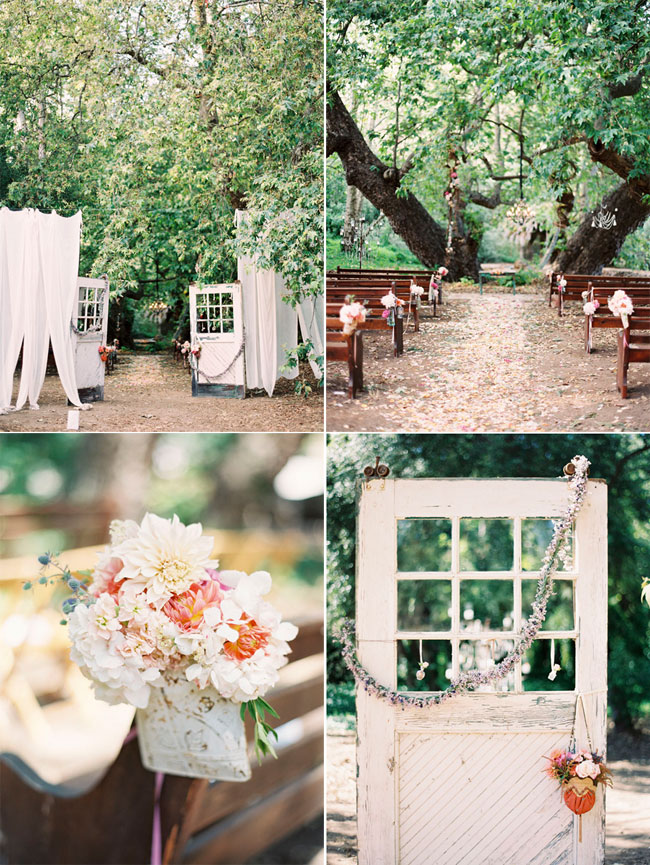 Love the old barn doors and old church pews.  This next image is one of my favs photos ever: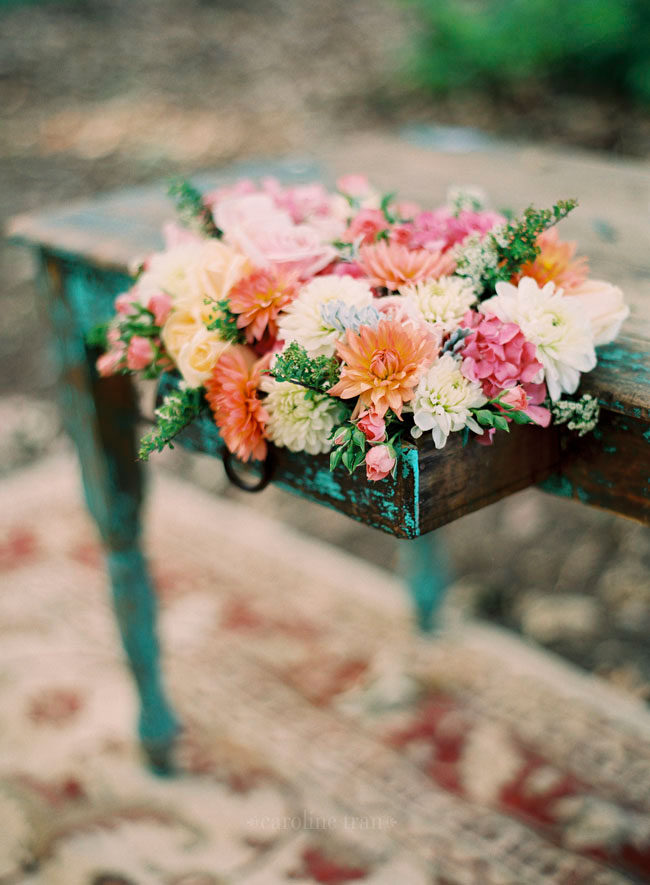 I also love the wedding party's attire: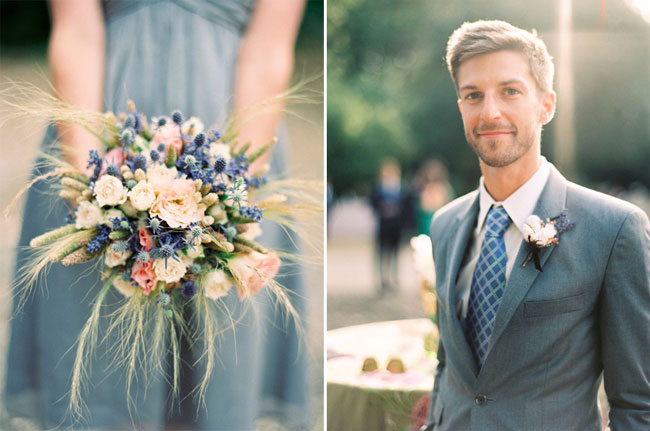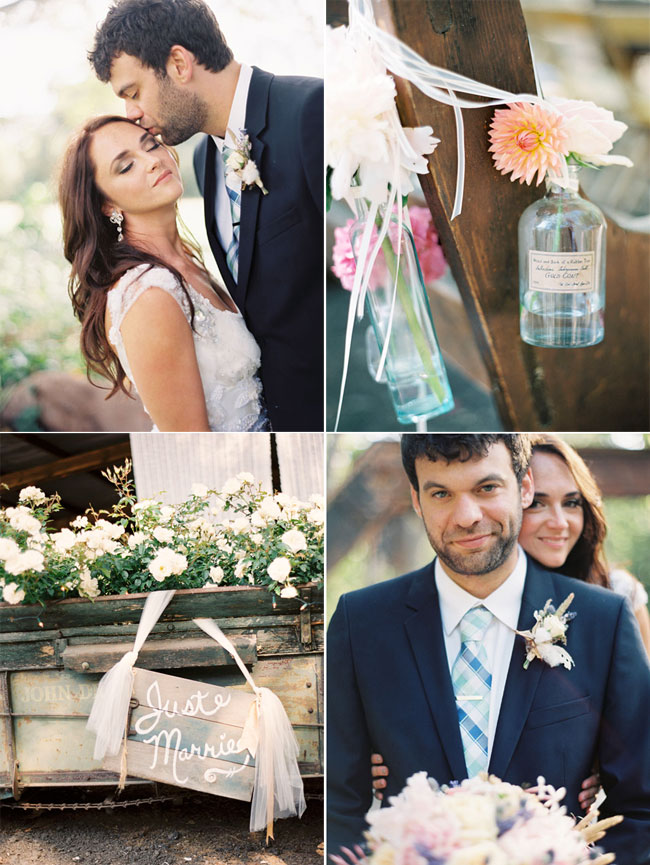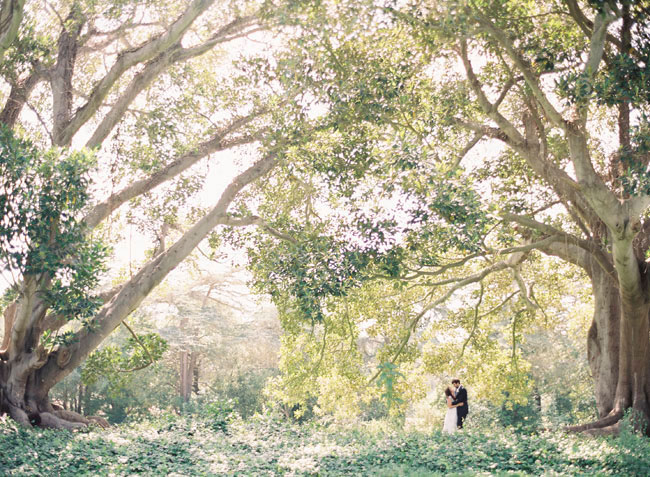 …and it gets better.  (Yeah, I didn't think it could either!)  Elizabeth made personalized scrolls for each guests as their escort card.  Each scroll had a unique quote that the couple chose for each guest.  The scrolls also had the prettiest table to hang out on: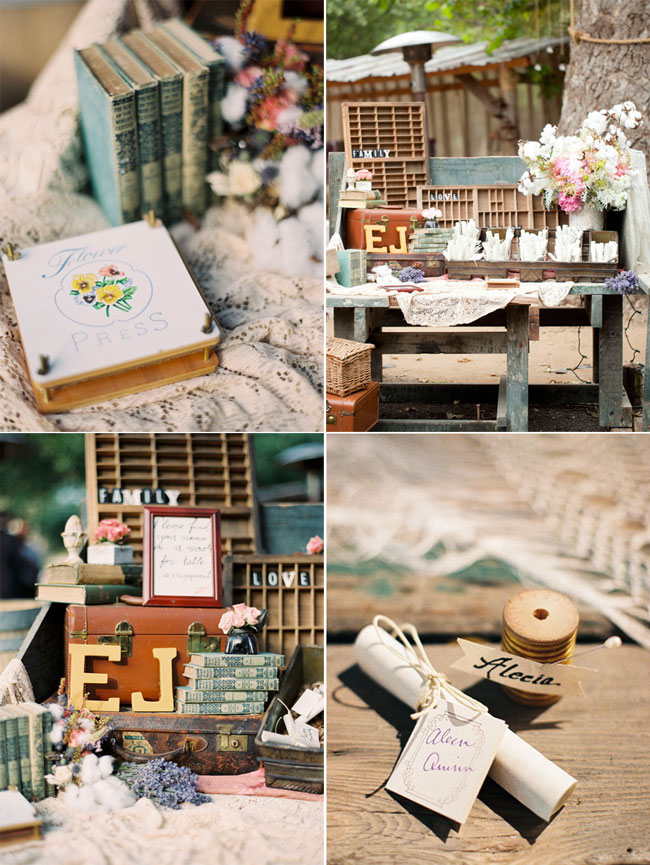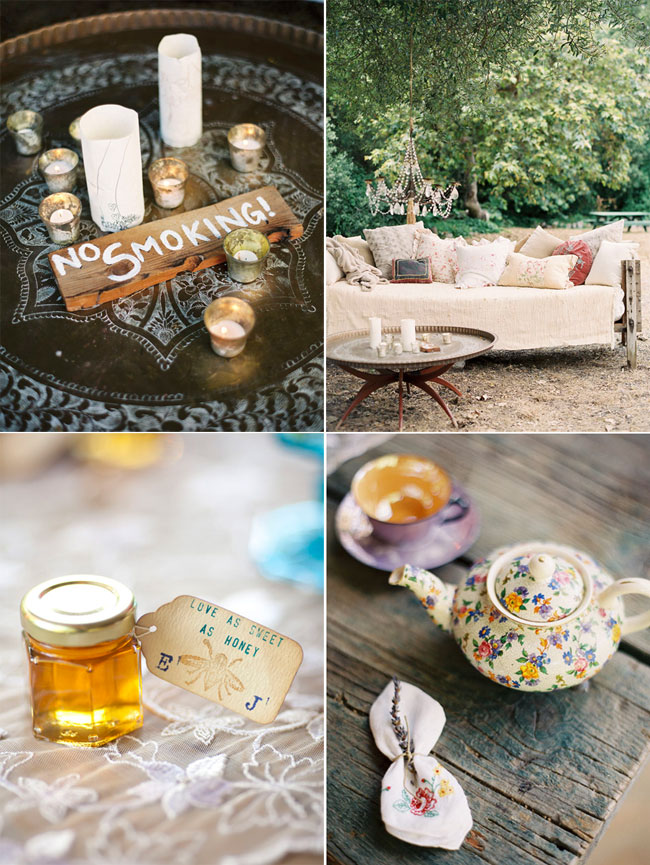 The honey is from the ranch!  And here's another cool lounge: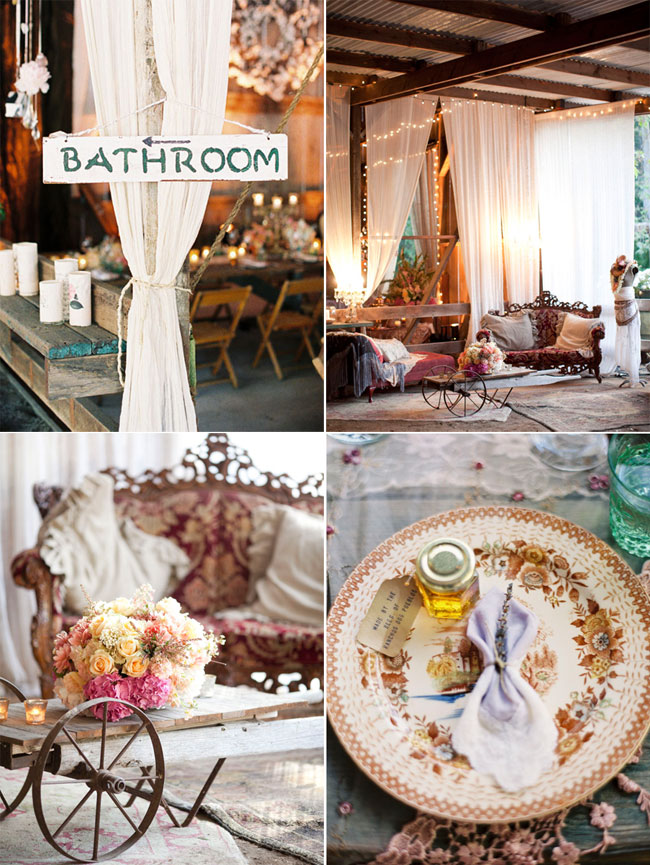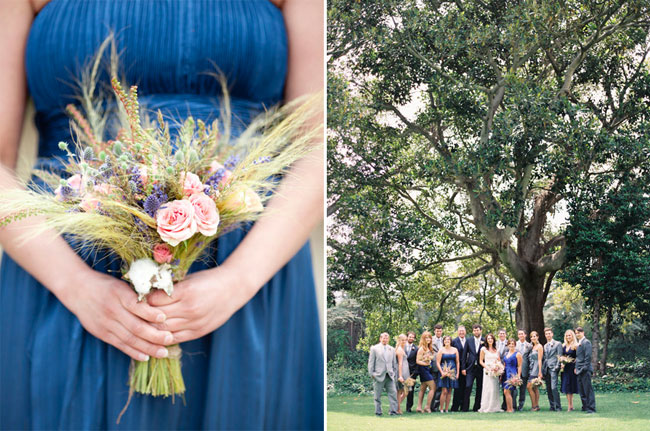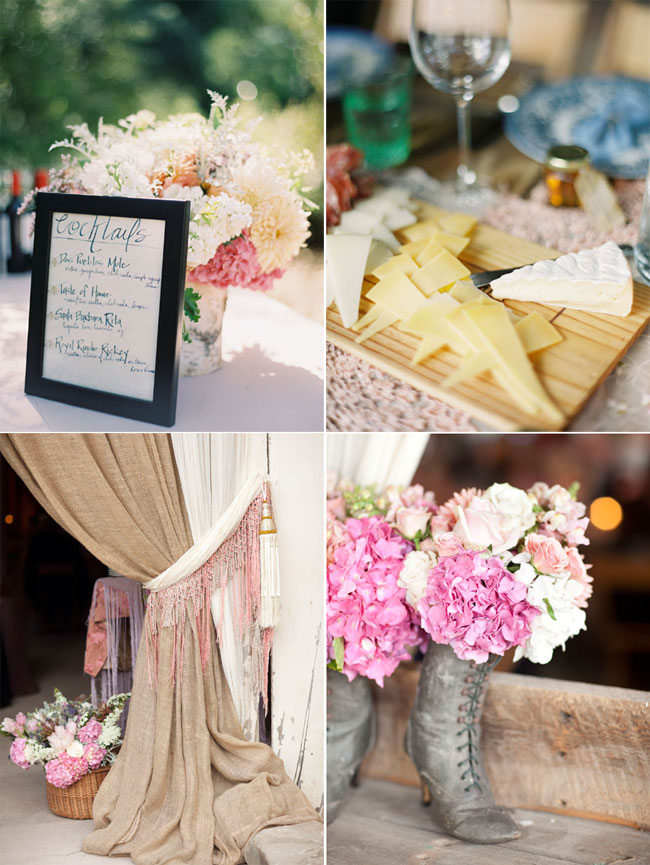 Flowers in boots!  ha!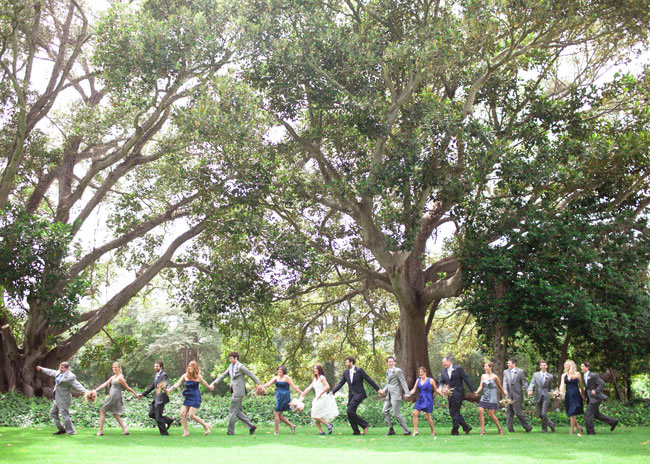 I just LOVE the table settings.  It's entirely vintage China!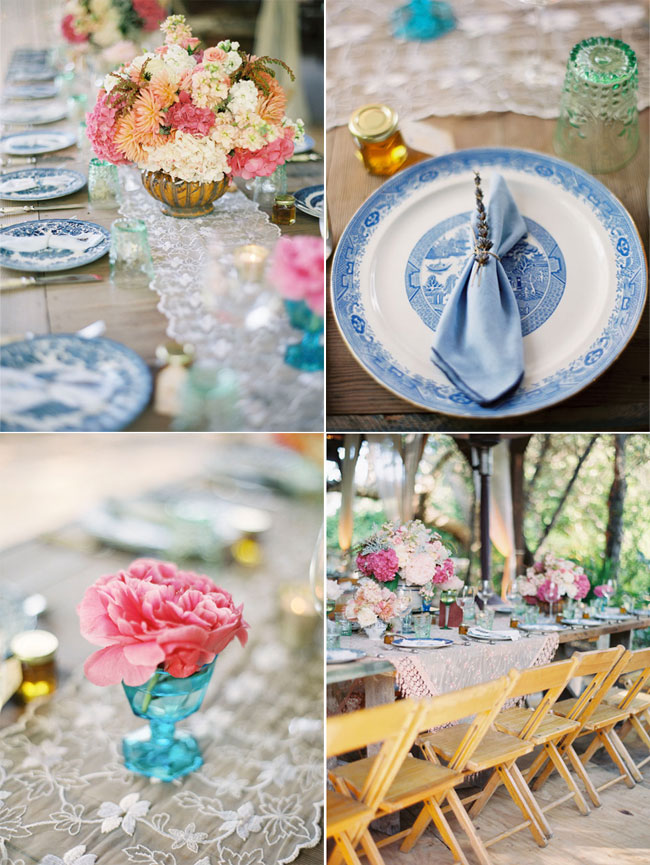 And I just love this cake.  So rustic and elegant: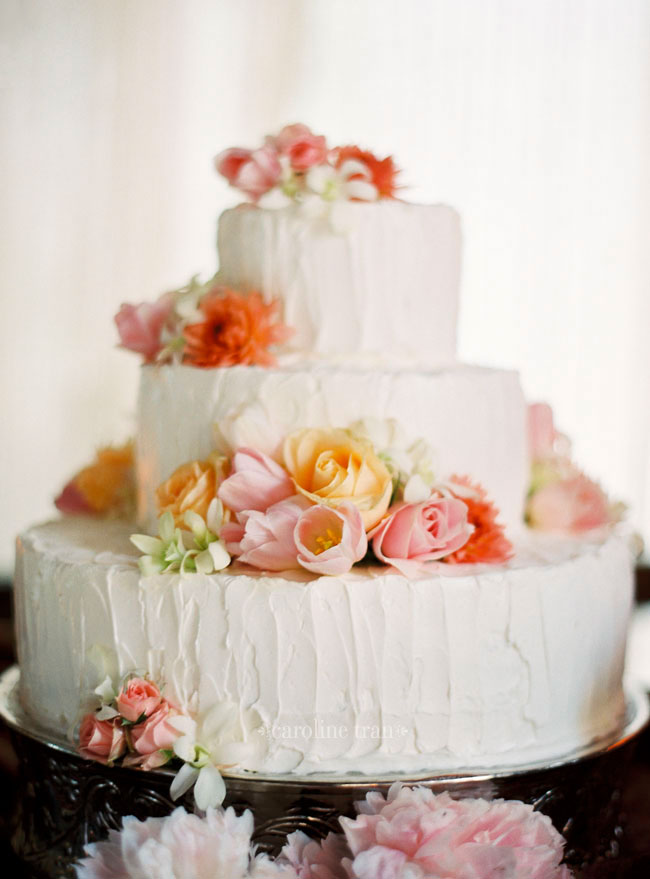 Elizabeth is a clothing designer, so you'll notice lots of vintage sewing notions in the decor, such as these old thread spools: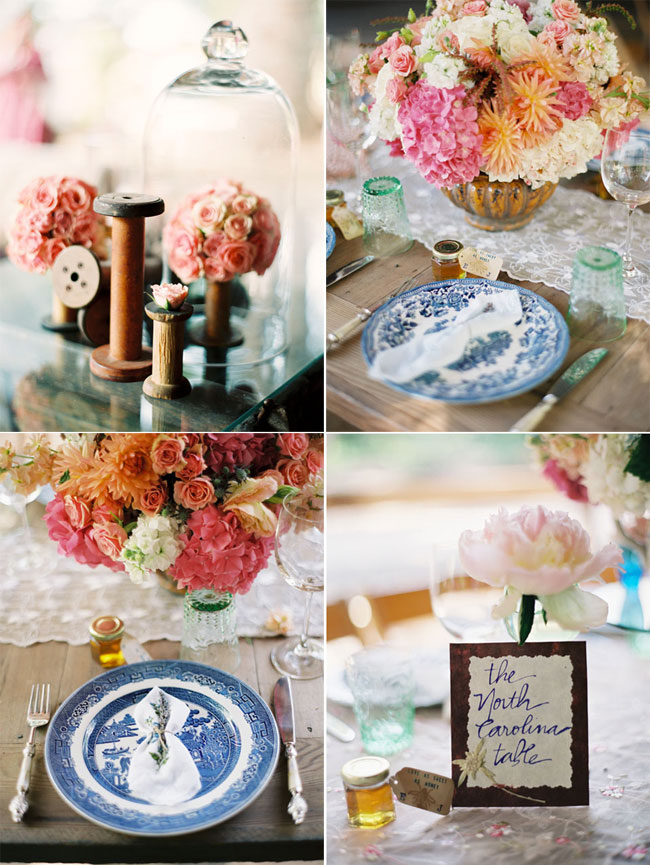 Jamie is a writer, so Tricia decorated a vintage typewriter for their head table.  And Elizabeth had a decorated vintage sewing machine!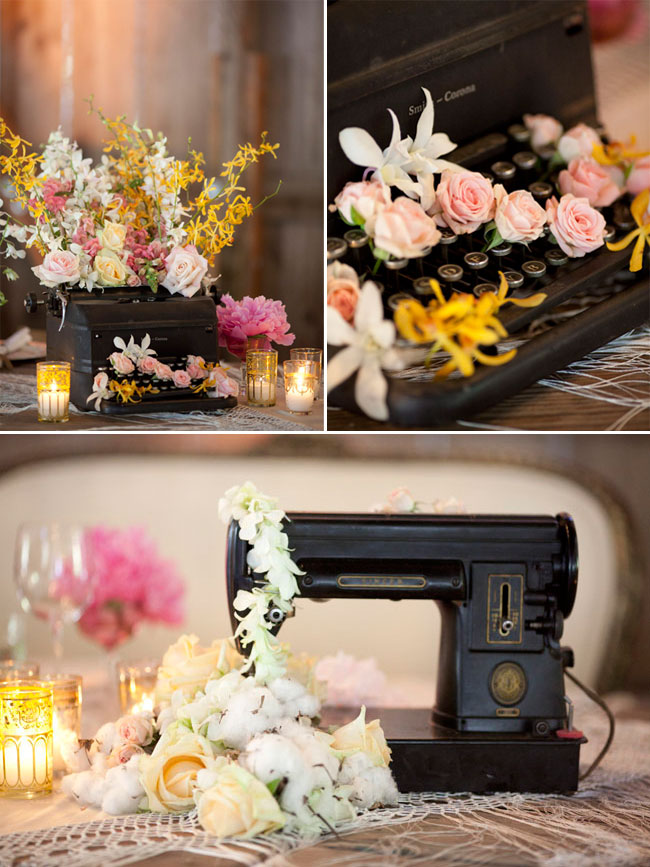 One of my favorite touch is the "make your own pot of tea" station.  Each guests got their own vintage teapot too!  And I also love the vintage handkerchiefs, with a spig of lavender.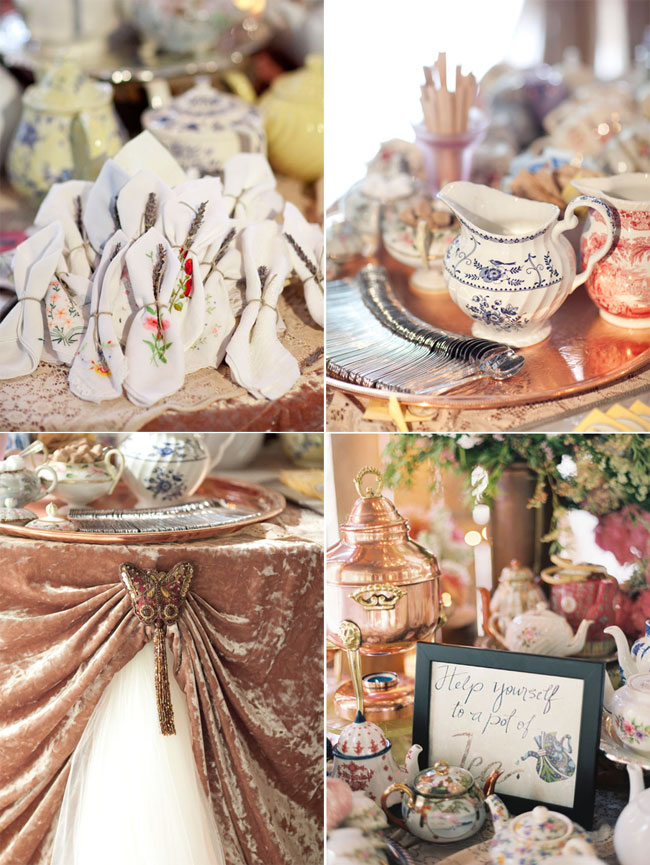 Have you noticed the use of raw cotton throughout their florals?  Well check out this wreaf made up of entirely raw cotton!  Elizabeth's mom HAND PICKED all of the cotton from North Carolina and shipped them for Tricia to use.  This wedding was really a labor of love from everyone!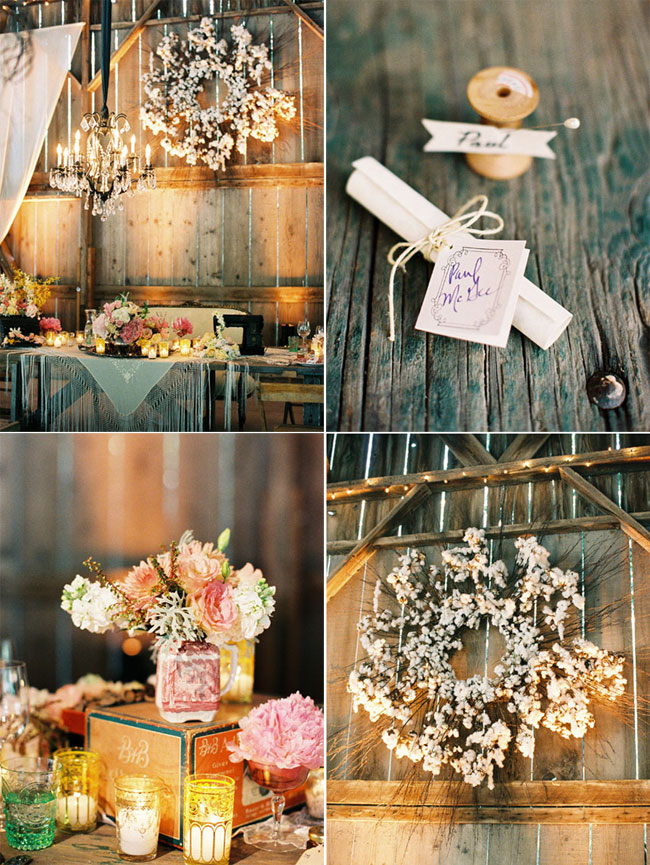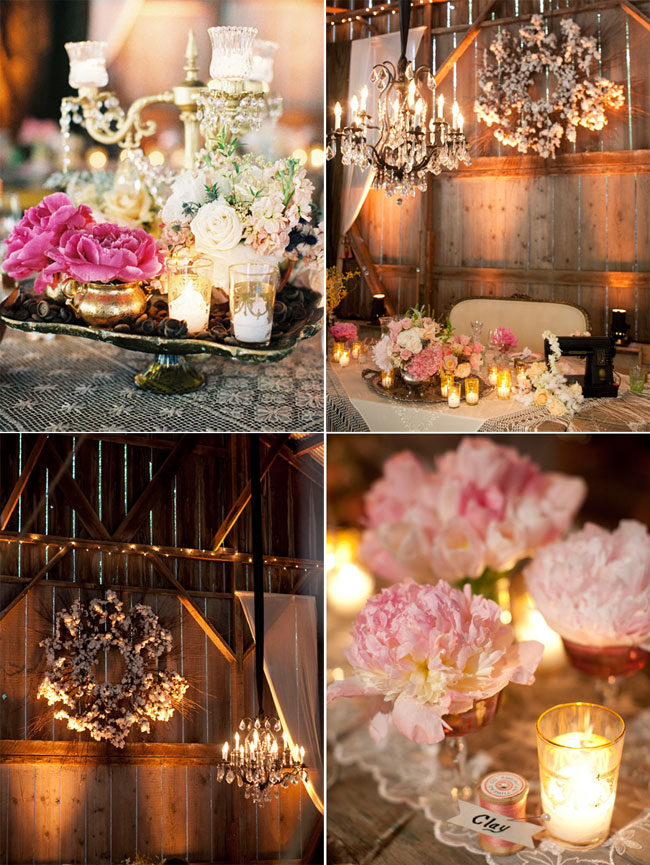 As if hand picking cotton for your daughter's wedding isn't pouring enough sweat, she also made these little chocolate mousse for the dessert table: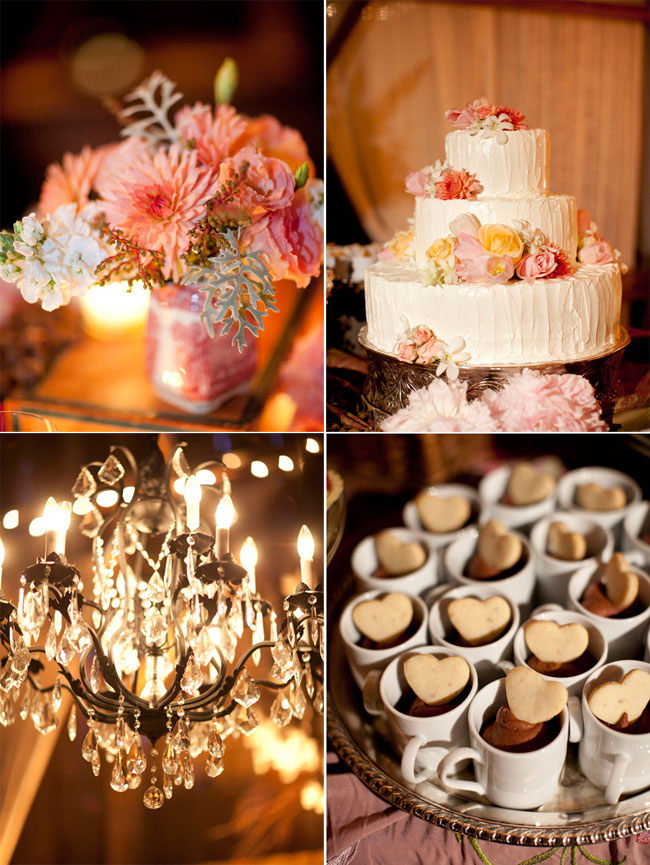 This was really such an amazing day to be part of.  The whole day went off without a hitch, thanks to  Kelly Oshiro.  Other fabulous vendors involved include Ambient Event Design, Bread + Wine Catering, & Christine Dahl.