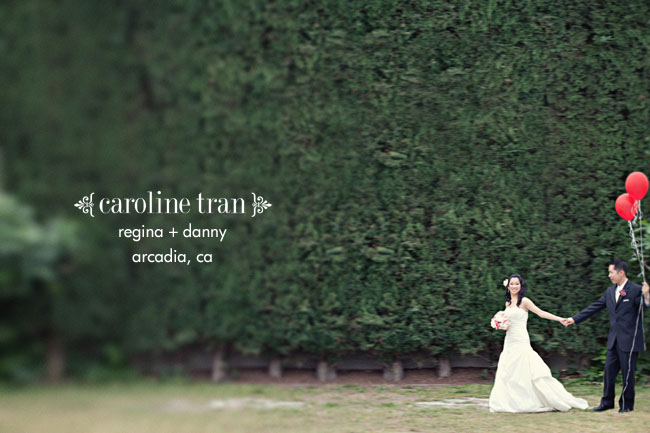 Weddings are so fun.  I love how so many friends and family come together to celebrate a couple's union.  It's a day full of love, happiness, laughter, and tears of joy.  I love forming relationships not only with my couples, but with their families too, especially their parents.  Like I mentioned in a previous post, one privilege I have of being a wedding photographer is being able to witness a couples most intimate moments because really, how many people can get a couple to kiss on command, right?  Well, turns out my power can be extended to their parents as well!  I love watching parents show affection to their children and to each other.  Being Asian, I rarely, if ever, see my parents get affectionate.  So I especially love pushing parents to see how much PDA I can get from them.  Lets see if I was successful this time!
…
You may recognize Regina & Danny from their engagement session.  The cute couple is now married!  …and she has another pair of red shoes!
Isn't Regina such a beautiful bride?  Her flawless hair & makeup was done by the awesome Kelly Zhang.
We started with some portraits in Regina's backyard.  Regina's parents did some amazing landscaping in their backyard.  Her mom was especially proud of her grape vine.  I think the little grapes are so cute!
I saw this cool fruit in Regina's backyard and just had to get a picture with it!  I think it's such a funny fruit that always gets a reaction from people – both positive & negative.  Anyone's nose wrinkled at the thought of the smell?  First person to comment with this fruits name gets an itunes giftcard from me!
Danny's backyard was cool too!  He had these super tall hedges that surrounded their property.
Then we were off to Pacific Palms Resort for their ceremony.  I love these next pictures because it makes me want to say, "The wedding is this way."  *crisscrossed arms*
And yay, first kiss as husband and wife!  Even the kids are excited!  And then during the family formals, I thought I'd test my power by making the parents and grandparents kiss.  Of course they were shy and reluctant, but I think the results are adorable!  Look how cute & happy Regina's mom is!
And then for the beautiful details at the reception…
Congrats Regina & Danny on such a beautiful and fun wedding!  You two are so great together and I look forward to seeing little babies in the near future!  ;)