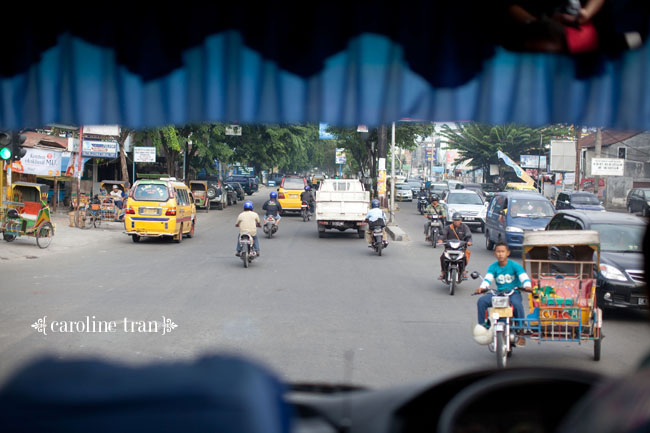 This July, we traveled to Indonesia for Jonathan's best friend's destination wedding.  We went to Medan, which is the 3rd largest city in Indonesia, on North Sumatra.  It was such a fun trip because everyone flew in for this wedding, so their family had tours planned for us each day.  They rented a big party bus for all of us and drove around North Sumatra together.  It was such a fun way to get to know everyone.  Photos to come.
As we drove around, I was inspired by their simple way of life.  It made me grateful for the simple things I have in my life.  It also made me appreciate the luxury things in my life, but more importantly, made me realized that I don't need them.  This was the first place I've traveled to where I was told to not drink their water.  Even when I brushed my teeth, I used bottle water because the water that came out of our hotel sink was yellow/tan, and we stayed in a relatively nice and new hotel too.  As we drove around and saw the kids playing around their huts, I wondered about the water that they drink.  I'm sure they weren't drinking bottled water all the time like we were.
This Thanksgiving, I would like to donate to charity : water.  As a way of counting my blessings, I will donate $1 for every comment I receive today until Thanksgiving!
charity: water is a non profit organization bringing clean, safe drinking water to people in developing nations. We give 100% of the money raised to direct project costs, funding sustainable clean water solutions in areas of greatest need. Just $20 can give one person in a developing nation clean water for 20 years.  (Visit charity : water for more info.)

I encourage you to consider charity : water as your choice in charity too.  So lets get the comments rolling in!  Nothing to say?  How about share with me some of your favorite charities and why.
And now I leave you with some photos from my Indonesia trip.  Most of these were taken with our 50L, on a moving bus.  I was doing a drive by shooting!  get it?  haha
This is the city of Medan.
I think below is a bakery on a cart?  Their version of a food truck.
I think below is one of their public buses.
We were on our way to some mountain resort that I don't remember the name to, but there was a fantastic view of Lake Toba from there.  This is a lake that resulted from a volcano.
We took a stop for food.
When I was done with my corn, I asked the shop owners for a trash can.  They pointed to over the balcony/down the mountain.  I thought they were joking, but when I looked over the balcony, I saw all this trash at the bottom of the mountain.   I felt guilty, but they didn't have a trashcan anywhere.
Of course, I wanted to try Indonesian food!  Very popular there is fried chicken, which was very good.  Below on the right is Nasi Lemak (maybe?).  It's nasi something.  :P  Nasi means rice.
And here's all of us aboard the tour bus!
And on with the drive-by shooting.  This next scene caught my eye.  I'm not sure what it is, but that baby sitting in the homemade high chair, alone, but content.  He was just people watching.
This kid saw our bus drive by and eagerly grabbed his plate of satay, hoping to make a sale.  It's an amazing feeling to me to get smiles from total strangers.  There's something about the connection that's made from a simple smile.  I realize this is the same feeling I get at weddings.  I love making connections with the guest as I make my way around the event.
People sit on TOP of the buses there!  I love this next photo of a group of boys we drove by.  It looks like they're having so much fun cruising on top of the bus.  It reminds me of what my father's childhood must have been like in Vietnam.
More photos of people cruising on top of a bus.  This following one makes me sad though.
This next one looks like grandpa + grand-kids.
On the way home, we stopped by a farmer's market like place.  They have ginormous horse flies there!  We saw this horse fly on a window.  That's my finger on the window for perspective.
The happy (now newly-wed) couple!
This next fruit is currently my FAVORITE fruit of all time:  mangosteen!
This next one is also a favorite fruit of mine:  passion fruit.  The seeds resemble pomegranate seeds, but soft like a kiwi.  the black part inside is like the black part of kiwi seeds.
What is this next fruit??
Left is an avocado.  Looks so different, doesn't it?
Left is called salat.  The inside resembles garlic clovers, but sweet.  Right is some "new" hybrid produce that's a cross between some kind of melon and I forget what.
There were also bunnies at this farmer's market.  I hope it was for pets.
And I love this last photo.  So simple, happy, and innocent.