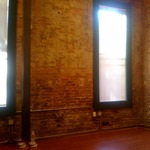 For those of you who follow me on twitter, you already know that I got an office space and probably have seen some updates from my iphone.  If you aren't following me on twitter, follow me and get random food updates in addition to random stuff like my office space!
I'm sharing this space with Sky Box Events and Muse Makeup Artistry.  We talked about sharing some office space together.  A week later, we were looking at spaces, and a week after that, we were signing a lease!  So fast!  So this is the studio when we got the keys.   We had them change to wood floors for us.

Later that evening, our first piece of furniture was delivered!  A coffee table from Craigslist… with over priced shipping!  The table was a great price, but the shipping was more than the table.
And then with the couches & arm chairs delivered!  I found the couch & armchairs at Salvation Army and then we got them reupholstered.  Yay!  I want to furnish everything with used pieces.  Go green!
I'm going there right now to check on 5 more items that another thrift store just delivered.  And then we gotta paint and restore the pieces.  After the restoration, our big pieces should be done.  Then it's time to accessorize!  Stay tuned for more updates!
And just a reminder, I'm still doing a buck a comment.  We're at $60 to charity:water already!