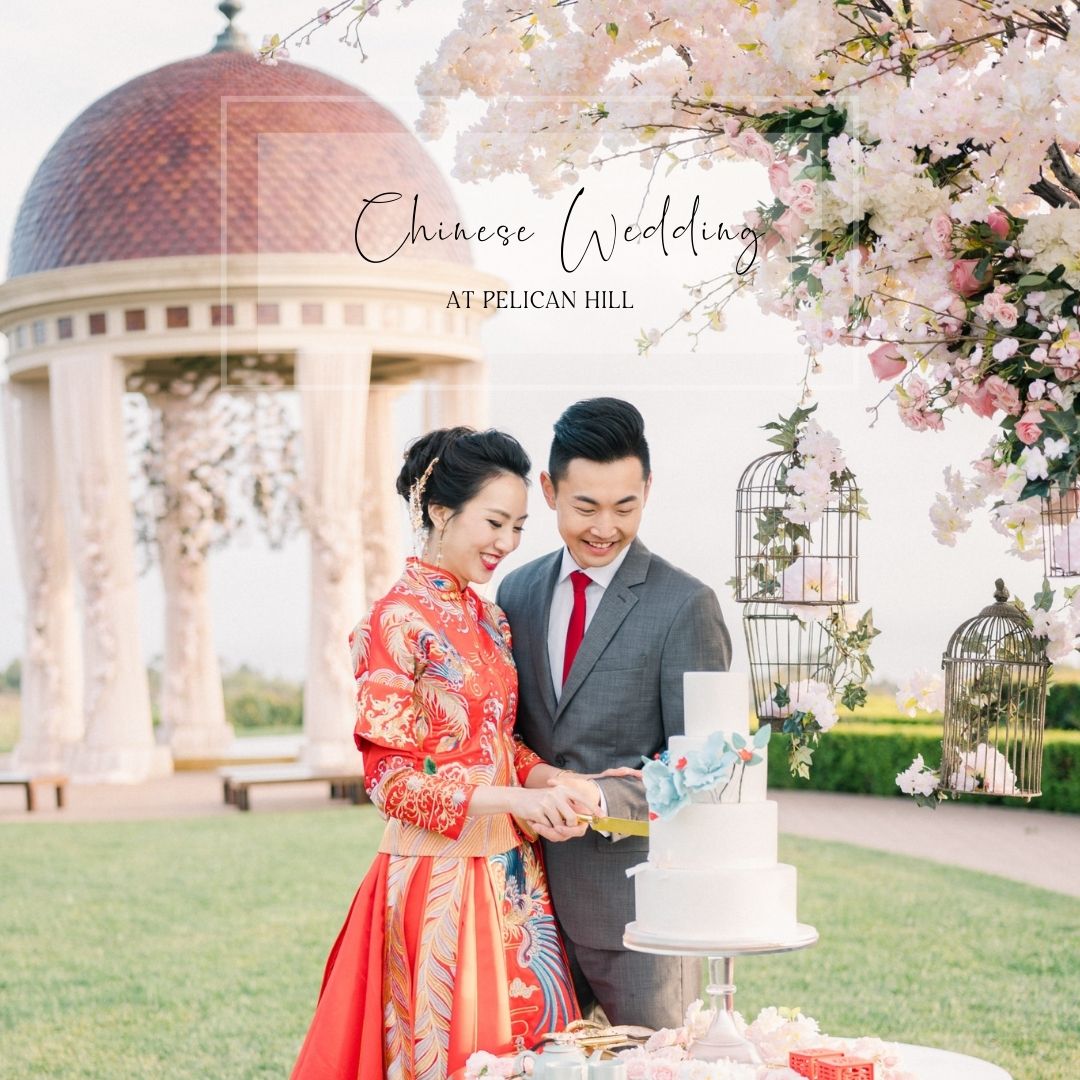 It is tradition for the Chinese bride to wear a red, a color that symbolizes good fortune, happiness, and love in Chinese culture. White, the traditional bridal gown color in Western culture, is associated with funerals and thus typically avoided on the wedding day in Chinese culture. The widespread impact of Western culture has urged a transition from the red qipao (dress) and veil to white wedding gowns.
The actual Chinese wedding ceremonies are intimate and quiet, but the wedding banquet (in Western culture, the reception) is filled with hours of eating, celebrating, and the Chinese bride making many wardrobe changes to show off multiple gowns.
Since most marriages were arranged, the bride and groom would first meet on the wedding day when he was picking her up! Upon arrival, he would give gifts to the bridesmaids and prove himself worthy to be with the Chinese bride. Afterwards, the couple returns to the groom's house and crosses the threshold into the house, with traditions like from stepping over a saddle or stove lit by fire.
After the Chinese wedding ceremony with only the immediate family comes the tea ceremony. The family is served from oldest to youngest starting on the groom's side and each family member takes a sip of tea before offering the couple red envelopes with money or jewelry. The Chinese banquet, in comparison, was for friends and family, where it was common for the Chinese bride's parents and the groom's parents to host separate feasts. Analogous to the Western wedding receptions, the banquet was an extravagant feast of symbolic food that could last a few days. For example, a whole fish would be served to represent abundance abundance, since the Chinese word for fish (yu) sounded similar to the Chinese word for plenty. Even in modern day Chinese weddings, the couple may choose a Western-styled ceremony, but maintain a traditional banquet out of respect for their families.
Traditionally, there are no photos of the wedding ceremony, but that is quickly changing. Nowadays, the Chinese bride and groom will have their engagement shoots at beautiful and popular landmark locations, as well as a wedding photographer on the big day (someone like me!).
Venue: The Resort at Pelican Hill // @PELICANHILLRESORT @PELICANHILLWEDDINGS
Floral Decor: Nisie's Enchanted Florist // @NISIESENCHANTED
Photographer: Caroline Tran // @CAROLINETRAN
Makeup & Hair: Studio MM&B // @STUDIOMMB
Planner: Sunny California Weddings // @SUNNYCALIFORNIAWEDDINGS
Videographer: Elysium Productions // @ELYSIUMWEDDINGS
Cake: Mr and Mrs Creamery // @MMCREAMERY
Stage rental: TMMPRO // @JACK_TMMPRO
Dinnerware & chair rentals: Signature Party Rentals // @SIGPARTYRENTALS
Stationary: Jackie Chen Design // @JACKIECHENDESIGN
Models: Willow Model Management // @WILLOWMODELS
Table rental: Oceanic Flowers // @OCEANICFLOWERS
Draping: Finishing Touch Weddings // @FINISHINGTOUCHWEDDINGS