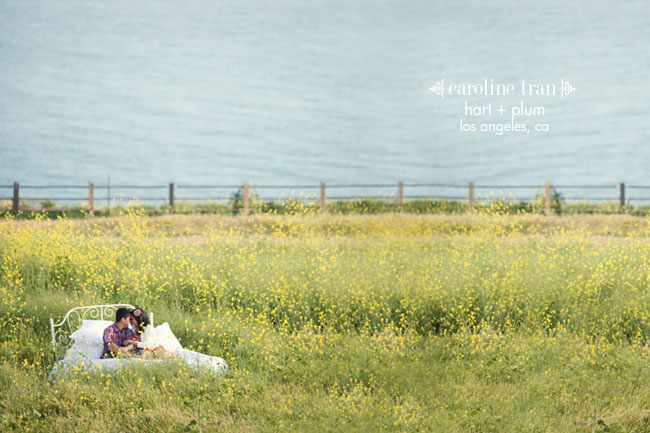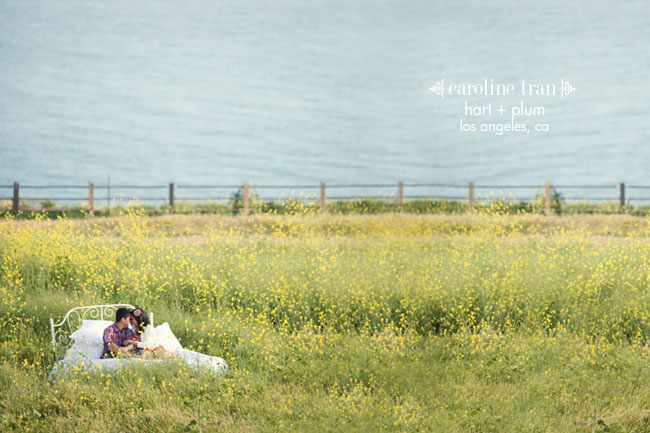 This was just featured on one of my favorite wedding blogs, Green Wedding Shoes!  I got an email a few months back from a very enthusiastic couple.  Their emails to me seemed like they were singing!  I could tell immediately how cute they are – I mean, how could they not be cute with the names hart & plum, right?  Hart travels worldwide for his job a lot, so we never met until the day of the shoot.  However, that doesn't mean there wasn't a lot of planning involved!  Plum and I had exchanged emails back and forth with all sorts of idea.  A few ideas down the line, she threw out the idea of a pillow fight, with feathers flying all over.  I started to envision a pillow fight and immediately saw a wrought iron bed in the middle of a flowery field.  Luckily, we're right in the middle of wild flower season, so they're everywhere!  The bed in the middle of the field is just so romantic & peaceful to me.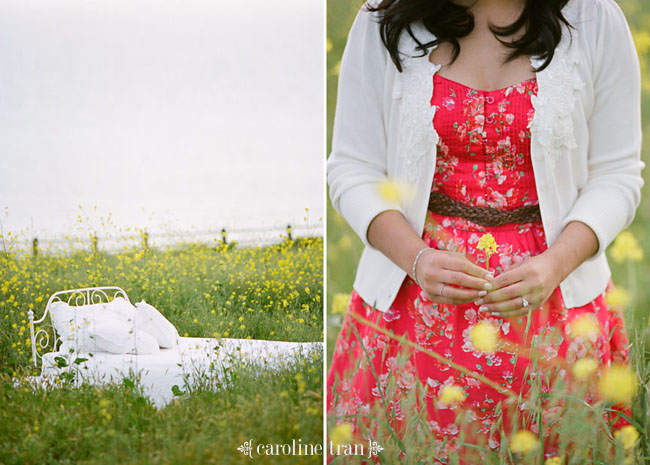 I love how the red in their outfits pop with the yellow.  And I love the all white bed in the yellow field.  The colors could not have worked out any more perfect!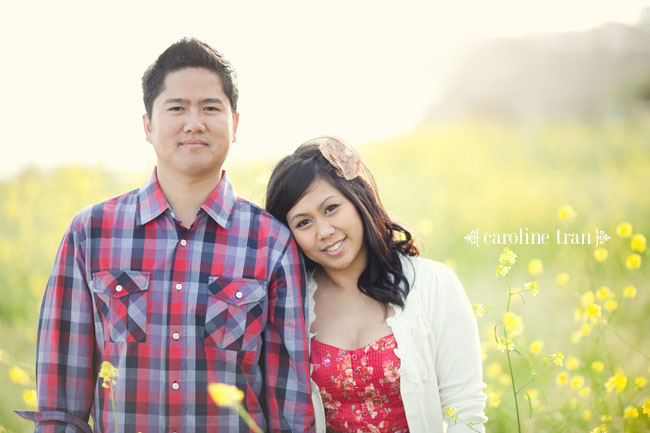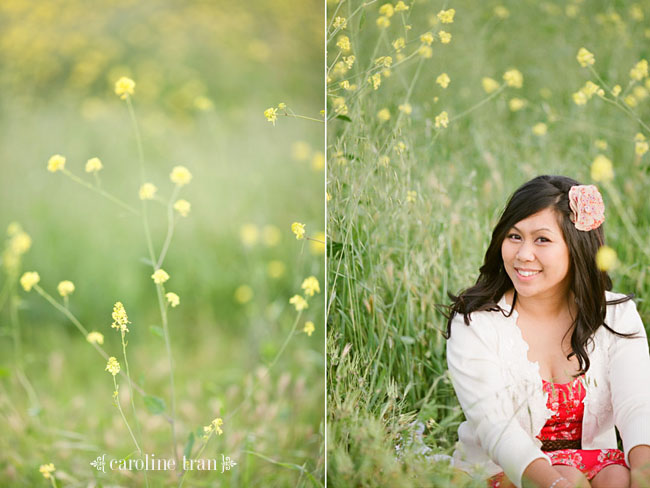 This was an especially inspiring shoot for me because not only was there an amazing concept, great light, and cute couple, but I also changed up my gear to push myself.  Most of you know that I LOVE my 85L and shoot with it 90% of the time.  Well, for this shoot, I didn't use it at all.  I used my 135L instead, just to change it up.  I also shot part of this session in film.  Can you tell which is film and which is digital?  It's all mixed in here.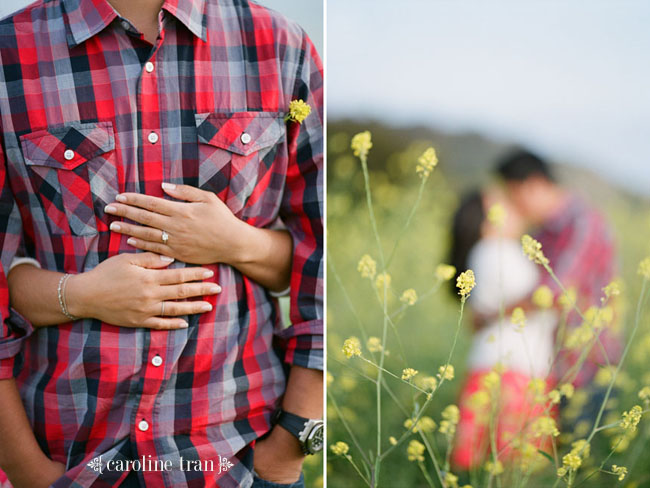 Note, that kissing photo above is the only kissing shot from the entire shoot.  Plum told me that they're not a kissy couple and didn't want kissing photos.  I had to beg for that above image.  lol.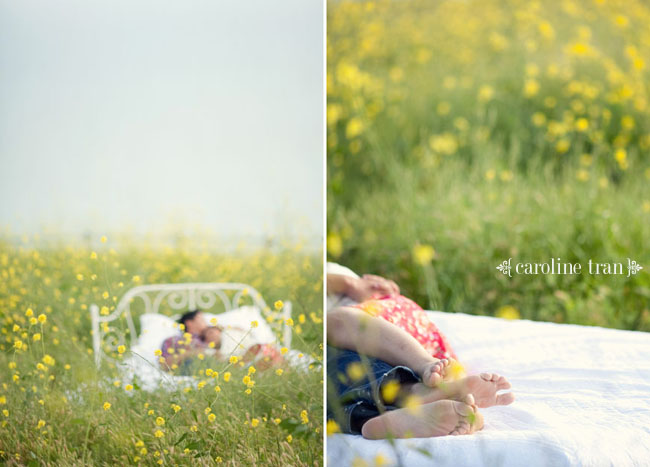 Doesn't laying in this bed just look so heavenly??   And I love that photo of their feet intertwined…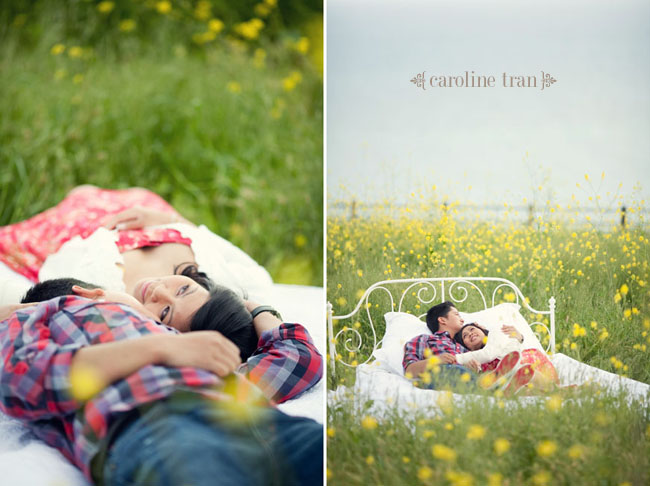 I gave my friend, Dorothy, a sneak peak of this session and was telling her what an amazing experience this was for myself, and she said something that I had totally overlooked.  She said, "Well, it must have been an amazing experience for them too.  It must have felt so nice to lay in the bed, out in the open flower field, and listening to the sound of the ocean."   When they first jumped in the bed, I did give them some time alone to enjoy it.  I ran off into the distance and took some photos of them enjoying the moment.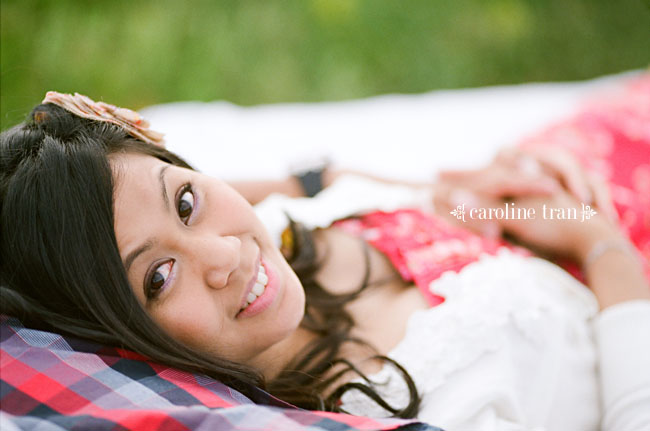 I wish it looked like this all year round, but I guess we wouldn't appreciate it as much, huh?  Scarcity is a powerful thing.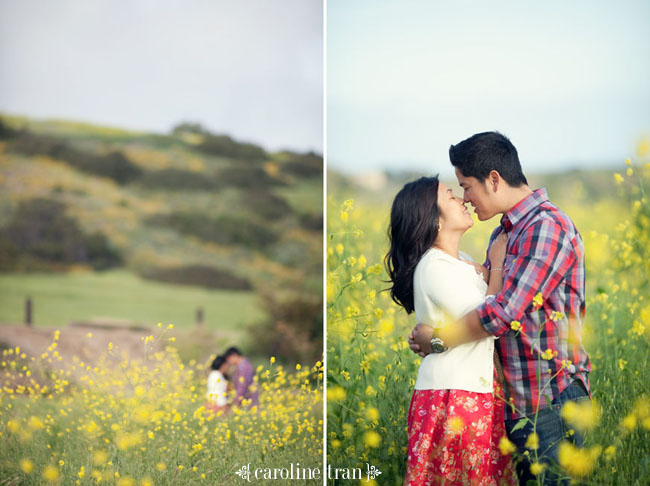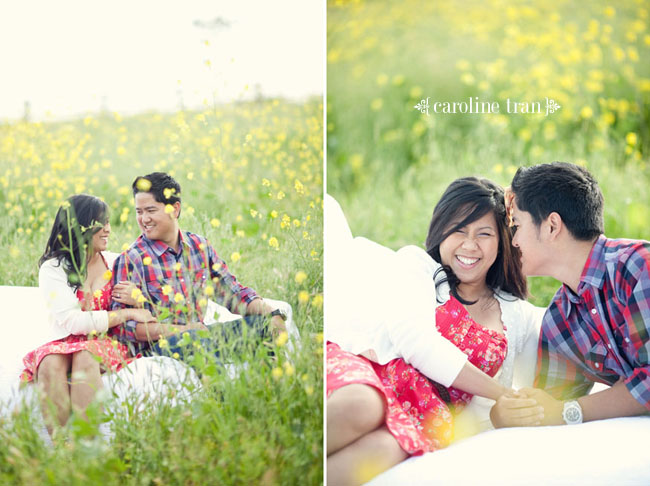 The sun did make a guest appearance at the end of our shoot, which gave us some nice variety.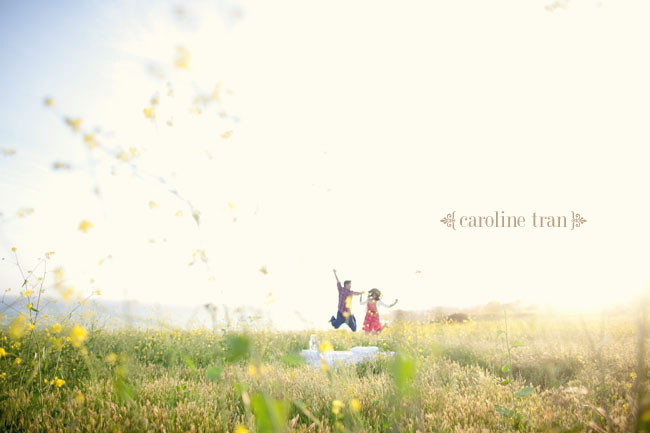 Can you tell they are a very playful couple?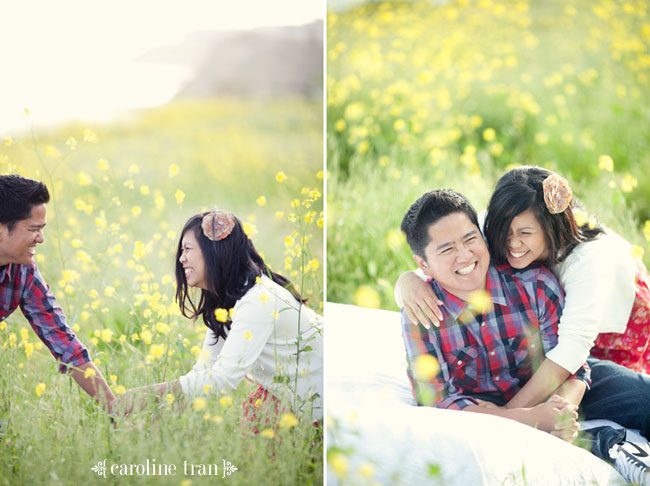 Pillow fight!!!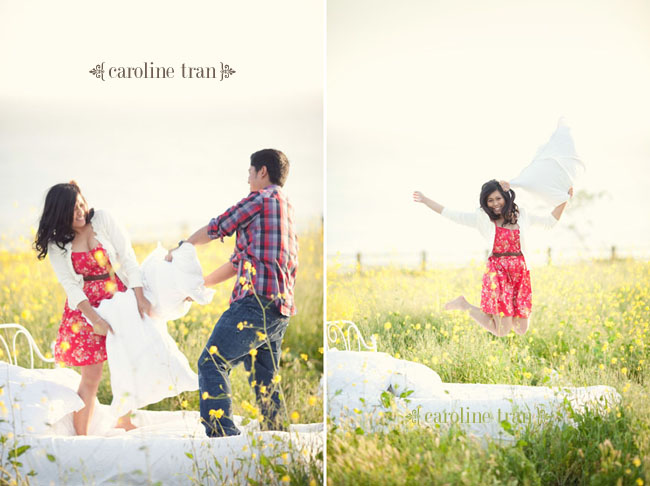 I loved that the sun came out for a bit.  I LOVE the next image on the right of Plum: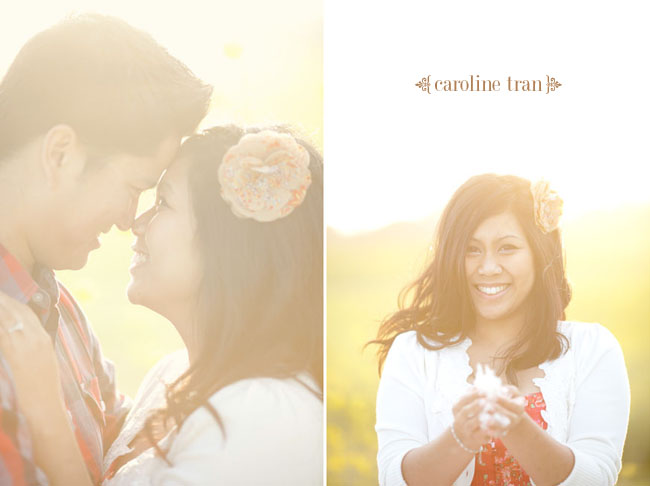 Us trying to pick up all the feathers after: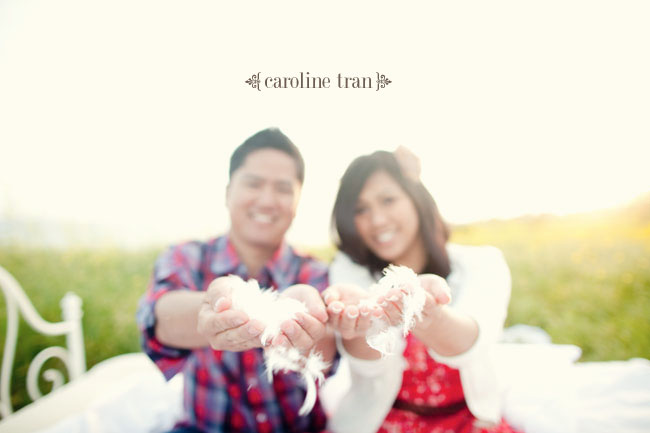 Looking at these photos of them pillow fighting in the field, by the ocean, makes me feel like I'm in a dream… or on vacation, at least!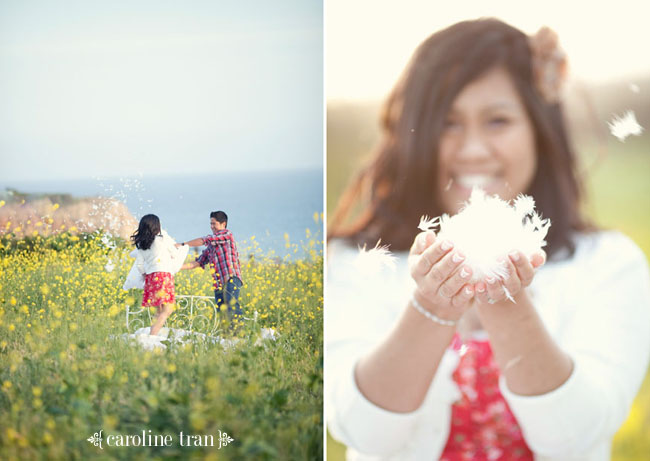 Them sharing the feathers with me:  hehe.
And I love this last image of the single feather on her nose: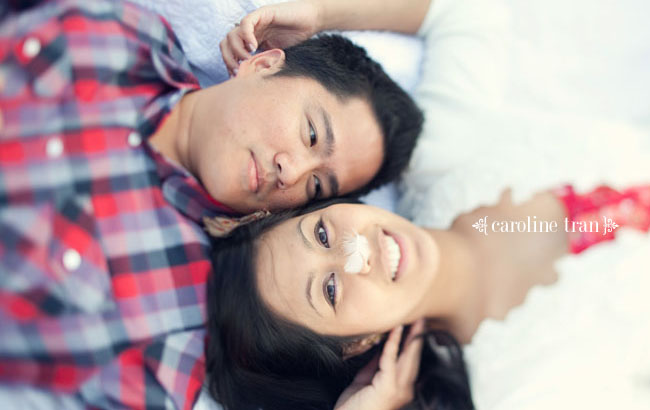 Shooting film makes for SUCH an easier work flow!  All the film stuff here is how I got them from Richard Photo Lab.  I did the best I could to match my digital to the film, but it's A LOT of work to do so!