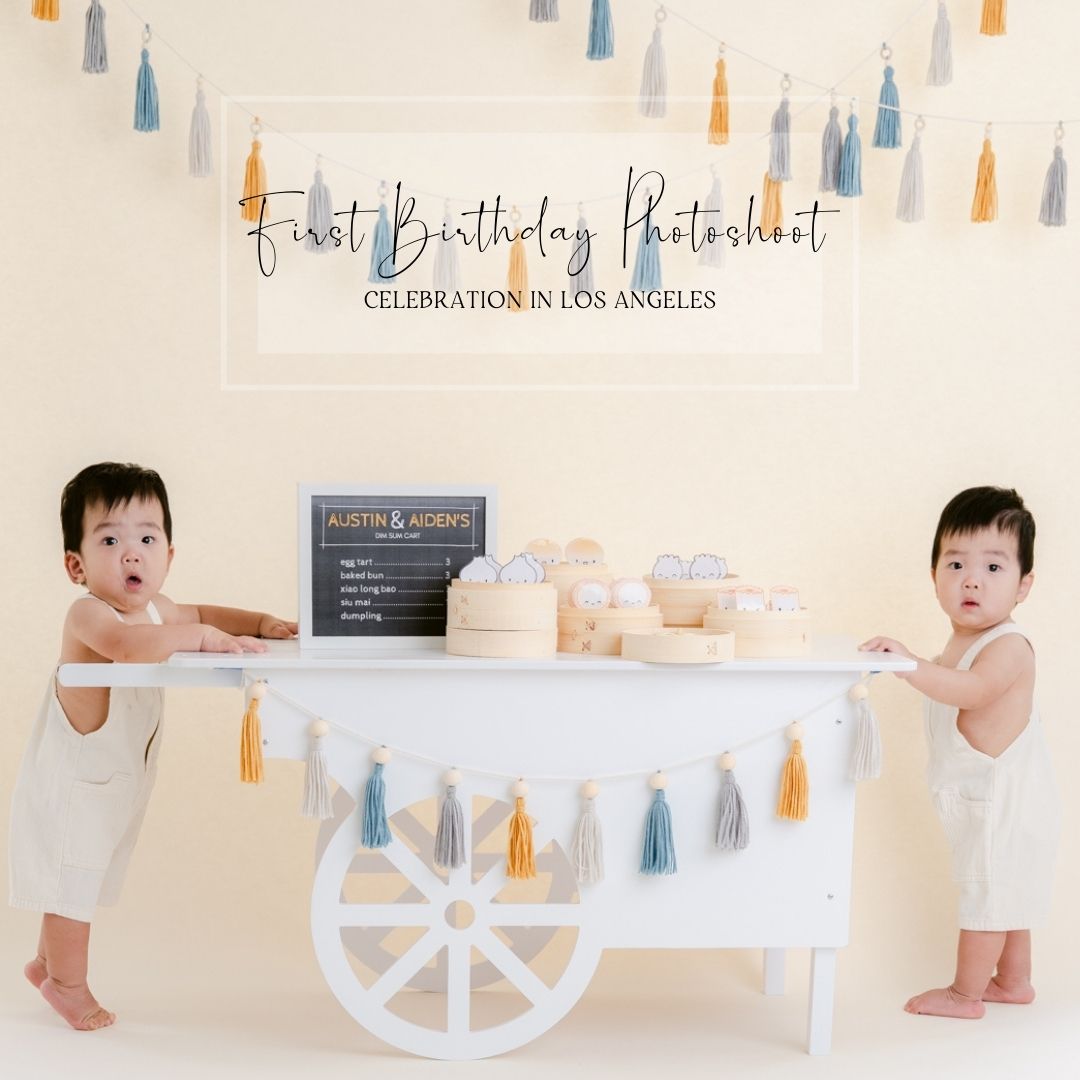 Get your taste buds (and baby fever) ready to dive in to this first birthday photoshoot celebration in Los Angeles! I've been photographing twins, Austin and Aiden, since birth (see more of these cuties in my posts Newborn Twins Family Session and 6 Month Twin Photo Ideas), so we wanted to wrap up their year with an extra special photoshoot!
Our photoshoot theme throughout the year was food, so of course we had to stay the course for their first birthday session. As a nod to the family's culture and their two growing dumplings, we chose to focus on dim sum! My team designed and built this custom set from scratch—yes, even that fun dim sum cart! It was an excellent interactive prop, as the boys enjoyed pushing it, climbing on it, and even eating it!
The highlight of this first birthday photoshoot celebration was definitely the cake smash. In all my years of being a baby photographer, I have never seen babies go for their cake with such gusto! They were so cute and we shared many laughs watching them dive in and enjoy their dessert—cake was literally flying in the air! They definitely deserved it after being so cooperative with their photoshoots this past year!
Luckily, we were shooting in my home studio, so a quick rinse in the sink was just steps away.
I'm so proud of this cute custom set that we made by hand, and thought it was the perfect way to celebrate Austin and Aiden's transition into toddlerhood. I can't wait to create more amazing sets, and if you're thinking about a first birthday photoshoot celebration in Los Angeles, I'd love to hear from you and help make it happen!