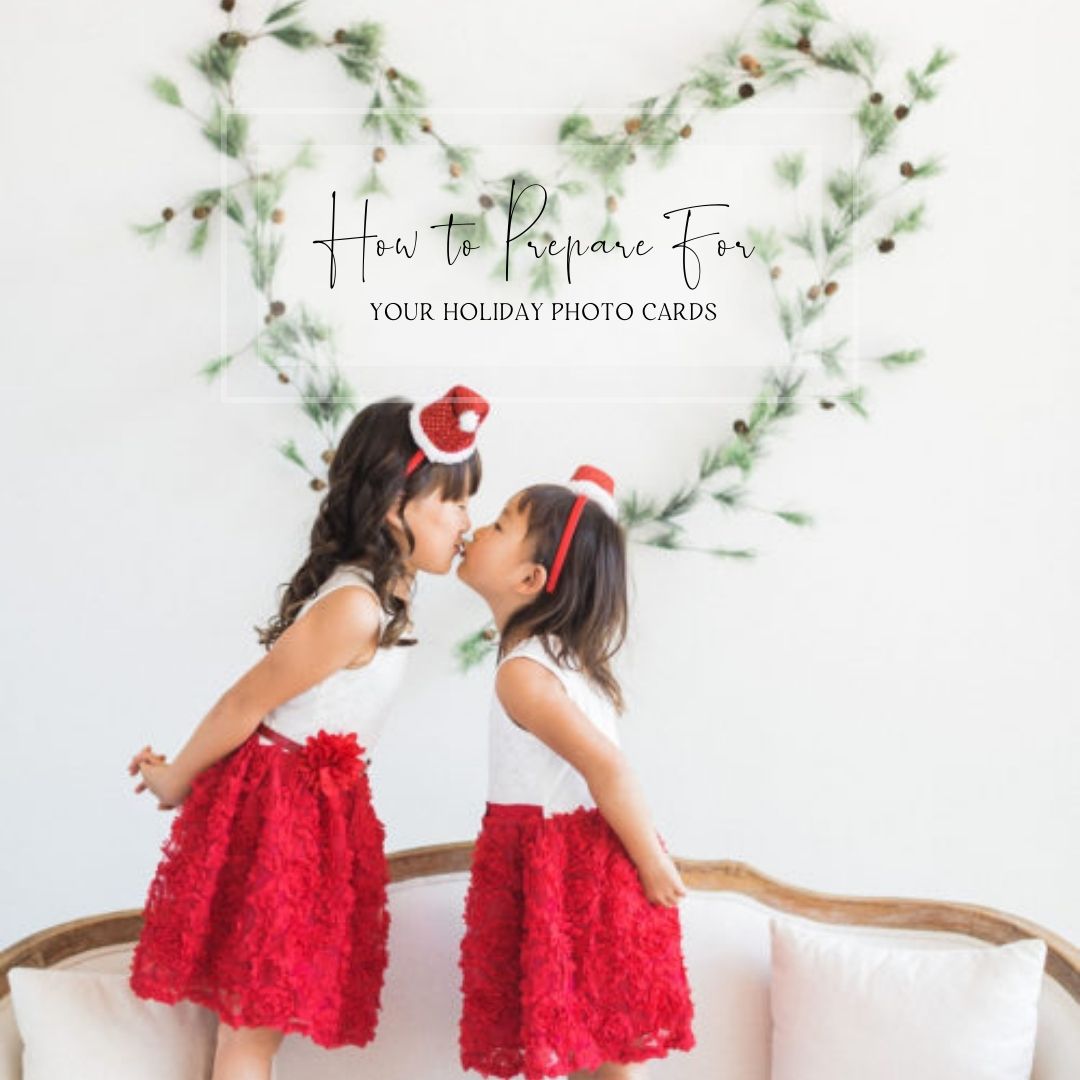 I know what you're thinking—"The leaves have just started to fall, and you're already putting up a post on how to prepare for your holiday photo cards?!" Good things take time though, and I'm here to tell you that it's really not too soon to begin thinking about this process, even if the holidays seem far away. If you're choosing to include professional photos in your cards, you'll have to decide whether you want your pictures to be holiday-themed or not. I know some families like to have their annual family portraits taken in the fall, so they'll have pictures for their holiday photo cards ready to go—two birds with one stone! Alternatively, you could have photos taken in a festive holiday theme, like what we're offering in-studio this year.
1. Start Early
Fall is a popular time to have photo shoots (because who can resist those beautiful leaves and cozy wardrobe options?), and photographers book up quickly. To be sure you get a spot, reaching out to your photographer in late summer/early fall is highly recommended.
2. Consider Your Location
As discussed above, you'll have to decide on the setting for your family photo session. Do you want it to be in a studio or outdoors? There are benefits and drawbacks to both—studio shoots are more predictable in terms of having photos come out the way we want them to, since the set and lighting are all under our control, while shooting outdoors allows you to have a beautiful background, but can be more tricky in terms of weather. Many photographers offer mini-sessions specifically tailored to producing photos for holiday cards (check out our mini-sessions here!) both in-studio and outdoors, but those do tend to be popular so again, I suggest you book early!
3. Plan Your Outfits
Once you've reserved your photo session, it's time to plan your outfits and go shopping! You'll want to keep your location and backdrop in mind as you do this. I've compiled some tips in my blog post, What to Wear to Your Fall Family Photoshoot, so check that out for more details. If you're doing a studio shoot, it's especially important to check and see what the set will be like. You'll want to know what colors will be in the backdrop so you can choose outfits in colors that will complement it. If you're curious about what our holiday sets look like this year and how I would think about coordinating outfits, check out my 2021 Holiday Mini Sessions page.
4. Have Your Card Design in Mind
This is not a must-do, but you might be glad you did it. I recommend browsing some holiday photo card designs beforehand, so you can tailor your photos to work with your card. Just like we thought about coordinating outfits to the backdrop, you may want to think about whether the color scheme of your photos will match the card's design. Layout also matters, because if you're in love with a card that has writing on the bottom overlaid on the photo, you might need to mention that to your photographer so he/she can adjust the composition of at least some photos to allow for that.
---
Now's the time to prepare for your holiday photo cards, so you'll be all set to send them out in time with minimal stress! I'm so excited to see clients, new and old, at our upcoming holiday mini sessions, and I hope that includes you! Check out the details and book your session here.