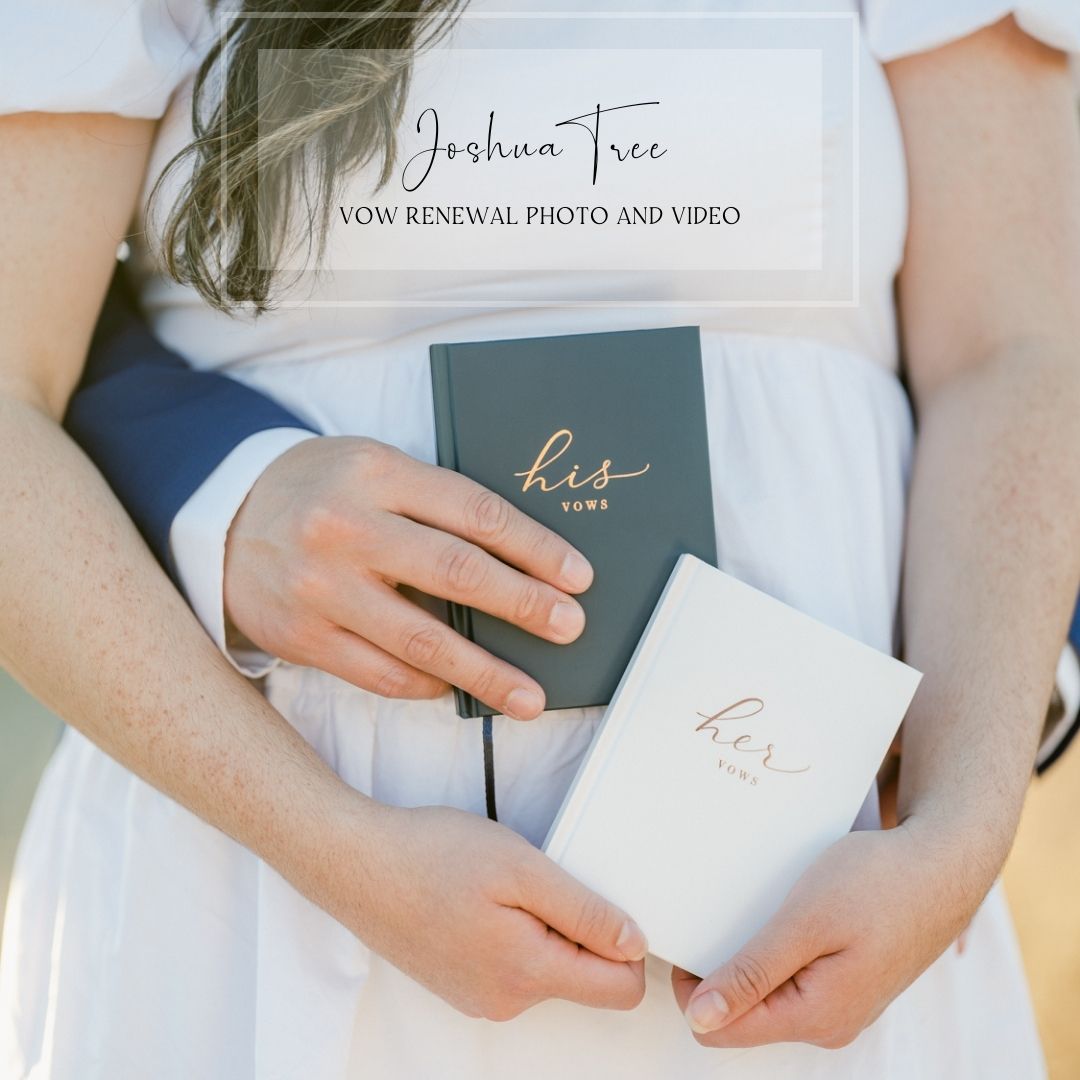 It was such a treat to be a part of this amazing Joshua Tree vow renewal photo and video shoot. Stephanie and Peter were coming up on their 10 year wedding anniversary and reached out to me to help them plan a vow renewal ceremony in Southern California (they are from Oregon). If you've been around for a while, you'll know I absolutely love Joshua Tree (see my post Reasons to Shoot in Joshua Tree to see why) and couldn't resist using that magical place as the backdrop for their vow renewal!
There's a cute little backstory here though, as this actually was not my first time meeting Stephanie! Two years ago, I was in Oregon attending a business dinner, and on my way out of the restaurant, a very nice woman stopped me and asked if I was Caroline Tran. It turned out that she recognized me because she had been following my work on social media (and had even virtually offered me restaurant recommendations in the past!). She was the sweetest, and it was one of those cool moments when the internet and real life intersect. Fast forward to a few months ago, when I was pleasantly surprised to hear from Stephanie again and thrilled to be able to work with her in planning her vow renewal!
I'm pretty well-acquainted with shooting in Joshua Tree and was all set to go, but on the morning of, Stephanie asked if it was too late to include a video as well. It was a bit of a scramble, but we made it happen and I'm so glad we did! For vow renewals in particular, the words are the centerpiece, so with a video, we were able to capture them in a way that more fully encapsulates the experience. While wedding vows are important and no doubt sincere, I think most people who have been through the ups and downs of marriage might agree that perhaps they were a little naïve when they made their initial vows.
With a vow renewal though, couples have actually gone through the experience of living out their vows and are making a conscious recommitment to stick with each other. The words carry so much more weight and meaning—how amazing is it that your partner has seen all sides of you and is saying that they still want to be with you? Stephanie and Peter have seen their share of great joy and tragic loss in their 10 years together and it was very moving to see them vow to continue to go through whatever life has in store for them together. And how awesome is it that their son was able to witness their parents doing so?! I'm so glad that they will be able to relive their words and feel the love all over again every time they watch their video.
If you've been thinking about planning something like this with your special someone, I encourage you to take the plunge! I hope these Joshua Tree vow renewal photos and video show that it doesn't have to be fancy or complicated—it can actually be a fun, restorative, and memorable experience. We are more than happy to help, so get in touch today and come celebrate your next anniversary or vow renewal with us!