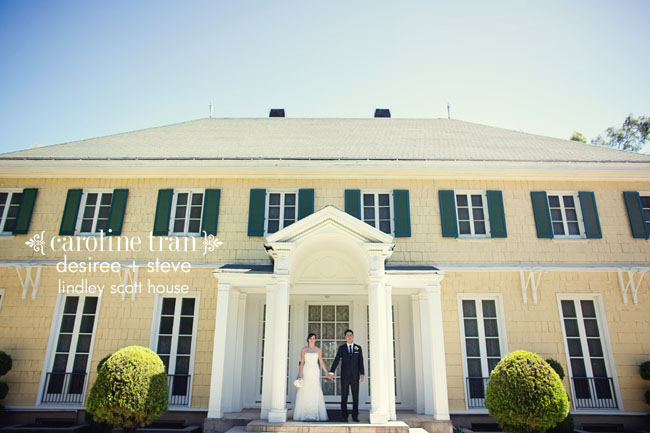 You may remember Desiree and Steve from their engagement session in the Hollywood hills.  I dormed with Desiree during our first year in college.  I always admired how smart, beautiful, and likable she is.  The thing I envied the most about her though was that she studied abroad the following year.  I loved meeting up with her after she returned to hear about her adventures.   A few years down the line, one of her study abroad friends threw a party and invited Desiree.  Desiree attended and that's where she met Steve.  It was instant chemistry!  At our initial consultation meeting, that's when I learned that Steve is actually really good friends with one of my best friends from high school.  This wedding was one of the most fun weddings for me personally because I was able  to reunite with my college dorm-mates & high school buddies.  I love what a small world this is.
…
Desiree is really such a beautiful person inside and out, and she is really lucky to have found Steve.  They are so good together.  We started the day in Pasadena.
Jonathan stylized the shot above.  Cute, huh?  I love what he did with the curtains.  Below was my original stylizing.  I just LOVE LOVE LOVE Desiree's dress!  The little swiss polka-dots, the lace, the fluffiness… It's just so romantic AND cute at the same time!  Her dress is by Pronovias.
And I just LOVE LOVE LOVE her blue shoes!!  I love the puffy flower at the front!  Her gorgeous shoes are by Moschino.
Isn't she just so gorgeous?  I love how her look is so simple, but yet so romantic and stunningly beautiful.  Her colors are that dark blue and peach, which I think goes so beautiful together.  I just really love that diptych above because it's so peachy, which I feels represents Desiree so well.
So where does Desiree get her wonderful sense of style from?  And her great taste in shoes?  Well, none other than her grandma!  Check out how adorable her grandma is!  I love Grandma's lace dress and red shoes.
That little flower girl looks like a little doll!  so cute!  And I love their programs!  Check out their cute kid pics!
I love that picture of them above enjoying some alone time during the cocktail hour.
This was the Yoo-Sayther wedding, so as favors, they gave out Yoo-Hoo's and Sather's candy.  Get it?  :)
And of course a photo of Yoo with the Yoo-Hoo and Sayther with the Sather Peach Rings.
And here's a shot of a bunch of my freshman dorm-mates!
Clothes pins work FANTASTIC for the money dance!  So if you're planning to have a money dance, skip the straight pins, saftey pins, etc.  The clothes pins were efficient and effective!
Everything about this wedding was just so perfect for Desiree and Steve, from the location to the colors.  Congrats on a beautiful day you two!!!