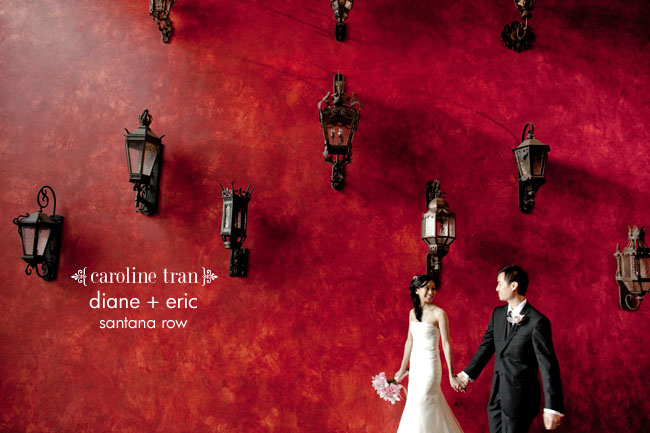 Since Diane and Eric both live up north, I didn't meet the two of them until they came down to LA for their engagement photos.  Right from the start, I could see how genuinely they admire, love, and care for each other.  And at their wedding, I was reminded again how perfect they are together.  They both have an amazing love for each other, life, the people in their lives, and God.
…
They met through a mutual friend while Diane was visiting New York and it was instant chemistry.  A few years ago, they moved to San Jose and here's the beginning of a new chapter in their lives…
Their wonderful day took place at Hotel Valencia.  Diane's beautiful dress is by Vera Wang.
Eric's a car fanatic, so it was only appropriate to have carbon fiber cuff links & tie clip from Mont Blanc.
They are so sweet.  They met up beforehand to share a prayer together.
I love the hand folded cranes that Diane hung from the trees.
I love these huge group shots!  Roll call!
Anyone looking for an alternative to your traditional cocktail hour?  How about a Pinkberry hour!  To cut cost, Diane and Eric decided to cut the alcohol and do something more fun.  Everyone loved the Pinkberry and it was enjoyed by everyone of all ages!
While guest enjoyed their Pinkberry, we ran around Santana Row for some fun couple photos.
I just love her pink against the blue!
And I love this dramatic red wall!
And a giant chess board!  There was actually a game going on at the time, but they were so nice to pause their chess game for us to take a few wedding photos.  King and Queen!
Their escort cards were all hand folded cranes.
And I absolutely LOVE their cake topper!!!  Custom hand painted wooden dolls from Etsy.
Even the back of the doll matched Diane's Vera Wang dress!  So darn cute!  Congrats to Diane and Eric on a gorgeous wedding!  I look forward to seeing you write this next chapter!