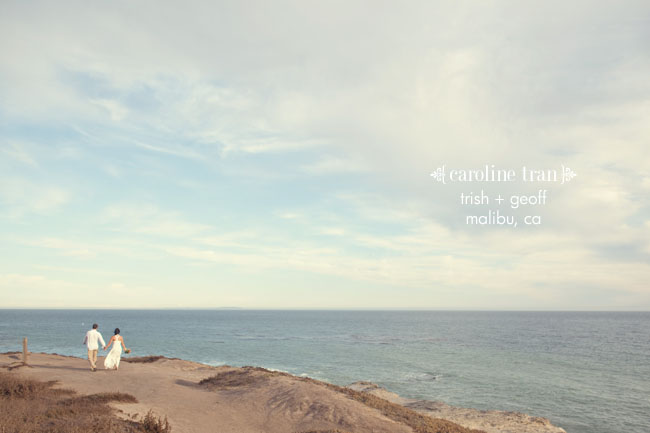 When planning our wedding, we seriously considered eloping and/or having a destination wedding.  However, the look on my dad's face when I told him there would be no big party was enough to guilt me into planning a huge wedding.   I ended up loving the wedding planning process and would totally do it again, but I've always dreamed of doing a cool destination wedding too.  Perhaps for our anniversary.  :)
…
Trish and Geoff packed their bags and brought their cute doggy along for a road trip.  They drove from Canada (Calgary), stopping along the coast and eventually resting in Santa Monica.  They rented a cute apartment and lived by the beach for a month.  At the end of their month stay, they had a very intimate wedding in Malibu, and then drove back to Calgary, stopping by Yosemite on the way home.  Romantic, isn't it??  So this is their day…
Isn't Trish so gorgeous?  I love her blue shawl and her tropical/exotic orange bouquet.
We headed down to Leo Carillo State Beach in Malibu.  In case you're wondering, yes, we did need a permit to shoot here.
It was a beautiful partly cloudy day.  We got there early (just in case of traffic).  Geoff immediately wanted to play on the rocks.  They kicked off their sandals and ran onto the beach while Chris, the officiant, prepped.
And then it was time for their ceremony!
When I said intimate wedding, I meant the 4 of us – Bride, Groom, The Officiant Guy, and the photographer.
No witnesses needed if you have a thumb print to notarize it!
And then you even get a handy guide to marriage after – Your Future Together.  I heard part of the book explains why domestic violence is bad, amongst other things.
I love that diptych.
Her beautiful bouquet was made with orange calla lilies and bird of paradise.
Looks like a beautiful calm beach, doesn't it?  It actually was a really scary climb to get here.  And the waves were crashing really hard so we had to time the waves before running across the rocks.  On the way back, I did slip and in trying to protect my cameras I fell on my bum (I was wearing a dress) and slid a quarter of the way down.  My bum got scratched up!  Was that TMI?  But the scenery was all worth it!
And we found a poor shark washed up shore.  :(  Made me sad.  A seagull was picking at it, so Geoff picked it up and threw it back into the water.
There was no intention of getting wet, but the waves were really violent that day.  I love this photo of them running back to shore.  Trish & I were freaked out but Geoff was loving it!
And I love this photo of Trish jumping in front of the sunset.
And then the sun came peaking out at the end of our evening.  So romantic!
I love watching the sky change as the sun sets.  There was this big rock that Geoff and Trish climbed and the rock was totally dry when they climbed it – suddenly, this HUGE wave totally came out of no where and crashed onto them!
Since they were soaked anyway, I had them stay on for one last photo.  I love the sky in this last photo.
Congrats you two an a beautiful marriage.  I loved sharing this adventure with you and yes, you do hold the title for most adventure shoot to date.  May your lives be filled with more adventures together!