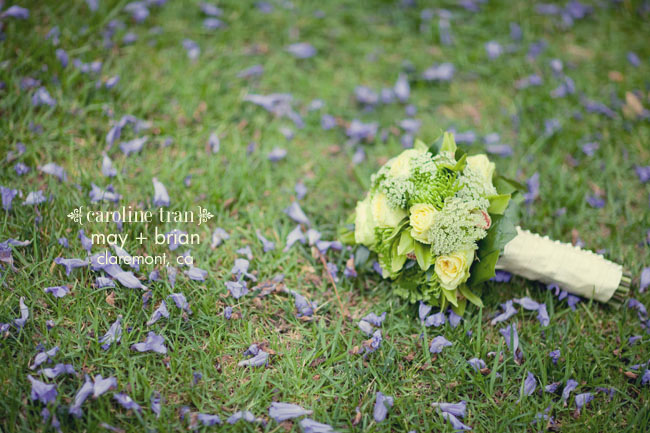 During the beginning stages of our wedding planning, Jonathan and I entertained the idea of getting married on our college campus.  I thought it would be so meaningful and cute because we could DIY everything!  The thought then became overwhelming because I didn't know how to pull it off with style.  I wish I knew May & Brian then because they DIY'ed almost everything on her college campus and everything was amazing!  You may remember them from their engagement session.  They're fun, adventurous, and super cute together.  They hosted the perfect wedding on the Harvey Mudd campus.
I love the little lanterns they hung down the aisle.
Eco-friendly tip:  instead of printed programs, they used sidewalk chalk and wrote their program on the floor at the entrance.
All the music was also performed live by their friends.  amazing and touching!
I love that image above on the right.  I love the way they looked at each other as they were just about to have their first kiss as husband & wife.
They had their reception in the dining commons!  Check out the transformation!
They came in the night before to decorate the dining hall.  They all manually set up the table & chairs, including the chair covers & sash!  They also hung up all the lanterns themselves!  They tied the lanterns to magnets (neodymium?) and stuck them on the ceiling beams.  So smart!  Of course, they're both engineers.
Check out their skills!  Brian was a cheerleader in college and did several back flips that night!  He's also an amazing dancer!
Their cake was also DIY!   And SUPER yummy too!  I think it was a berry trifle.
Brian can jump!!!  And I love May's green traditional Chinese dress.
Congrats you two!!!