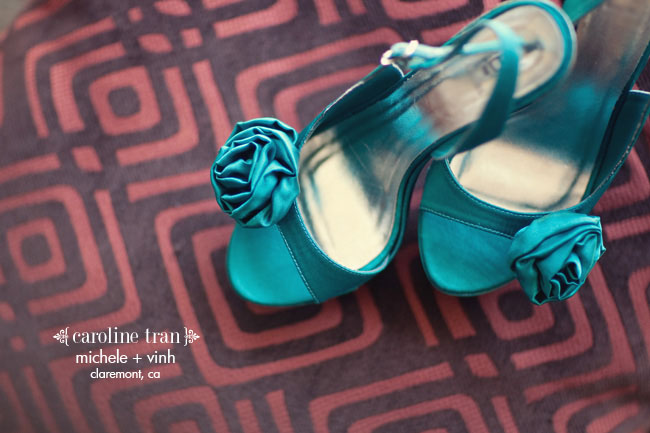 Michelle and Vinh got married at the historic & newly renovated Padua Hills Theatre in Claremont.  Michelle booked the theatre before they even began construction!  I did a site visit with her last year and knew it would look gorgeous.  The big trees, the spanish style architecture… we didn't get to see the theatre itself, but trusted it would look good, and we were totally right!  This was actually my first wedding shooting without Jonathan (who had to go to his brother's bachelor party). I must've been really anxious about it because the night before the wedding, all I could dream about was things going wrong.  I dreamt that everything ran off schedule, and when the ceremony started, I didn't have my 70-200 on me!  I ran to get it from my luggage, which happened to be in the center of the crowd.  As I rummaged through my luggage, I look down and noticed that I forgot to put on pants that morning!  In reality, I had the very awesome Shannon Renee shoot with me.  Everything ran so smoothly and it was so much fun shooting with her.  Every time she asked me what I needed, I would jokingly reply, "make sure I have pants!"
Makeup & hair was done by the fabulous Joyce Luck.  It was so great working with Joyce!  She's such a sweetheart, and so calming!  I loved watching how well she took care of Michelle.
I love that shot Shannon got top right of the dress & bridal suite.
they had the sweetest first look!
they are so sweet together.  you can just feel how happy they make each other.
gorgeous trees, right?
padua hills added this gorgeous gazebo to their courtyard.
michelle is Japanese-American, so they incorporated some traditional Japanese traditions to their ceremony, including a tea ceremony.
Jill from Jordan Events did a fabulous job on the whole event!  I love all the designs she did!
I forget the meaning, but they had to drink tea 3 times each 3 times… so 9 sips total.  Correct me if I'm wrong please!
such a gorgeous setting to exchange vows, isn't it?
Padua Hills did a great job with the renovations.  They preserved the old theatre charm.
again, I love the design work Jill did!
their cake was so beautiful too.  everything fit so well together.
after the first dance, vinh's guys all rushed in and lifted him!  what a fun surprise for him!
congrats to michelle & vinh on a gorgeous wedding.  everything was perfect!