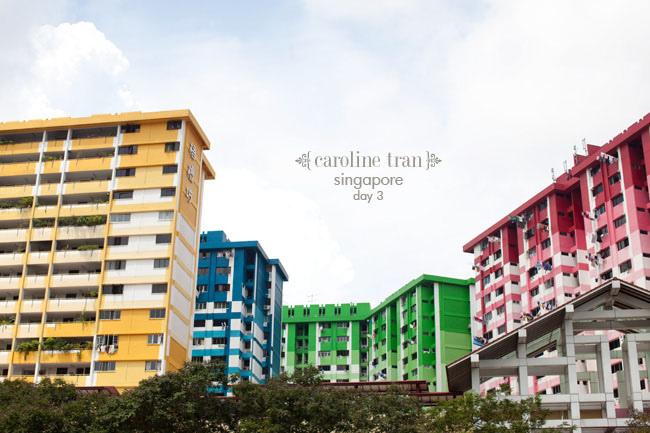 This week ended up being full of meetings and not much editing/shooting, so I thought I might as well take the rest of the week off and blog something fun today.  I have just one more day of Singapore left to blog, then Indonesia!  Check out day 1 and day 2 if you haven't.  Jasmin's walking tour during day 2 really familiarized us with the city, so on day 3, we ventured on our own.  We realized that we never walked the area we live in, Orchard Road, so that was our morning adventure.  Orchard Road is like the Beverly Hills Rodeo Drive of Singapore.  Full of high end designer shops; however, instead of showing you the Louis Vuitton & Cartier shops, I'd rather share the random things I saw.  The sign on the right below was places in random places through Singapore, like on a tree in the middle of the road, or on this letter "O".  It was catchy, but I still don't know what it's about.
The street was full of cool buildings, and that sign on the bottom right just made me laugh.  haha
One thing our hotel concierge told us to try was Kaya Toast.  It's a Singaporean breakfast item.  They get two slice of toast and slice them in half.  They then fill it with some sweet butter spread (I think it's some butter & coconut spread), and then served with a soft boiled egg.
You can pour soy sauce, salt & pepper in it.  It actually just reminded me of eating sunny-side up eggs with toast – and the toast was just like spreading butter & sugar on it.
One thing I do love about Singapore is all the bright colors.  Their buildings are so colorful!  Bottom right is the Red Dot Design Museum.
And I love the row of colorful, spiral, staircases!
In Singapore, there are no parking meter, but you do have to pay for parking.  People buy these parking cards ahead of time, and then you just punch out the date & time you parked, and leave it on your dashboard.  We saw this car who's dashboard was literally filled with them.
The first day we went to Maxwell food court, we went early so there was no crowd.  On our way out, we saw a LONG line for this Tian Tian Hainanese Chicken Rice stand.  In Singapore, you can tell which place is good by the line it has.  After seeing the line here, we knew we had to come back to try it.
Their Hainanese Chicken Rice was good.  I didn't think it was anything over the top, but it was a very simple and clean meal.  Something we could have over and over and still enjoy it.
Next we had rice noodles with fish.  It was another very simple & clean dish.  Simple flavors, but very good.
After lunch, we walked by this cool building!
Turns out it's an art school.  Very cool building.  Below, that guy in the brown shirt is Jonathan.  :)  In case you're curious, everything above was shot with our 50L.  Below was the 16-35L.
Really cool walkways/bridges and I just love the all floor-to-ceiling windows.
Then we head back to our hotel.  I loved going back to see what treats they left us.  Today was little chocolates.
We then headed out to the Night Safari.  It was neat seeing all the animals in the night.  It was suuuper dark in there though!
Okay, so this may gross you out.  We first saw this on I Survived a Japanese Game Show last season – a fish spa.  They're called Dr. Fish.  The fish basically nibble off all your dead skin.  I included a photo that describes it below, so I'll just let you read about it.  This is actually some stranger's feet.  We did not do it that night.
That was the end of our day 3.  Day 4 was short because we flew out to Indonesia that afternoon.  We said goodbye to the St. Regis hotel, which I absolutely loved.
This was the valet guy who helped us everyday get a taxi and guided us where to go.  Thanks dude for telling our taxi drivers where to go!
Singapore was fun and the food was fantastic!   I would go back for the food – the flight was super long though.  Still to come is Indonesia!  Totally different than Singapore.
…
On a completely different note, what are you wearing for Halloween?  I just bought 2 potential dresses at Aardvarks (a thrift store) and need to fix it up.  I can't wait to jump back on the sewing machine today!  I mended a dress today and it felt so good to sew.  Have a great weekend!!