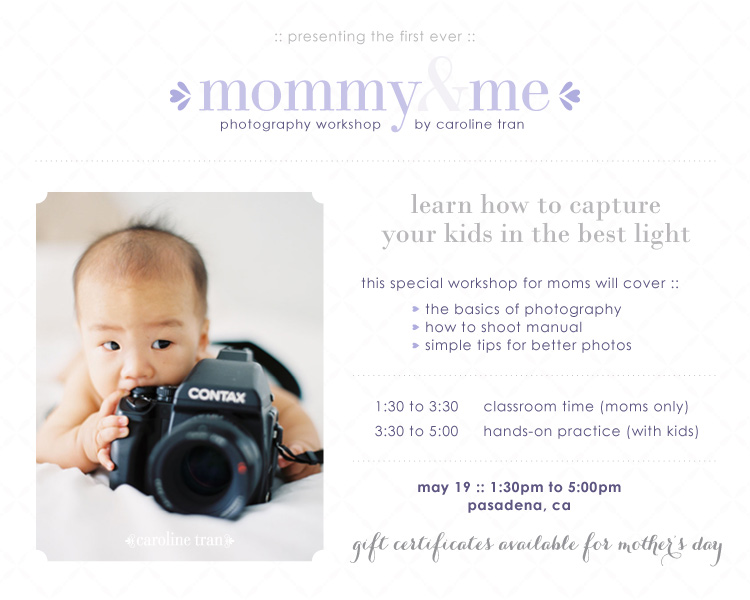 This year, give mom (or yourself) the gift that keeps on giving.  Bring your SLR and I'll teach you simple strategies I use to make  radiant portraits.  I will show you how to use your camera to make the photo you want, including how to adjust your ISO, aperture, and shutter speed.  I will also share easy lighting tips that will make a big impact.   You'll receive a cheat sheet of all my tips so that you can reference back and continue to practice after the workshop.  For those who are purchasing this as a gift, select "mail a gift card" below and a handmade gift card will be mailed to you so that you can surprise mom on mother's day – It will be beautifully wrapped for you!  At the end of class, moms will have photos of her family and the ability to make more lovely photos.
SOLD OUT within a day! Get on the list if you'd like to be notified of future dates.

Frequently Asked Questions:
Do I have to be a mom?
No… this would be a fun treat for moms, but this workshop will benefit anyone who's looking to learn how to use their SLR, and/or make photos with prettier light.
I know you usually shoot film, so do I also have to shoot film for this class?
Not at all.  I'm teaching you the basics of photography, which applies to all cameras.   I will be bringing my digital camera so that I can instantly demonstrate, so bring yours too!
Why do kids join us later in the day?
This is a treat for mom, so I want mom to concentrate on learning in the classroom.  I also want kids to be fresh and ready for us to photograph them, so by having them join us after you have a grasp on your camera, we'll be able to maximize their energy.
Can dads join too?
Dads are encouraged to bring the kids by for the hands on practice part and stay to get some family photos taken.
What if I know nothing about photography?
I taught high school for 5 years where I routinely differentiated my instruction, so no prior knowledge is required.  If you wanted to prepare though, it would be helpful to know how to change your ISO, aperture, and shutter speed before class (just where those buttons are) – but again, it's not a requirement.
What else do I have to bring?
Just a working camera with batteries!
Will there be a workshop for dads too?
In the works is a Dad & Me workshop tentatively set for Sunday, June 23rd.  If you are interested in gifting dad this workshop for father's day, or if you're interested in this for yourself, please get on the mailing list above.