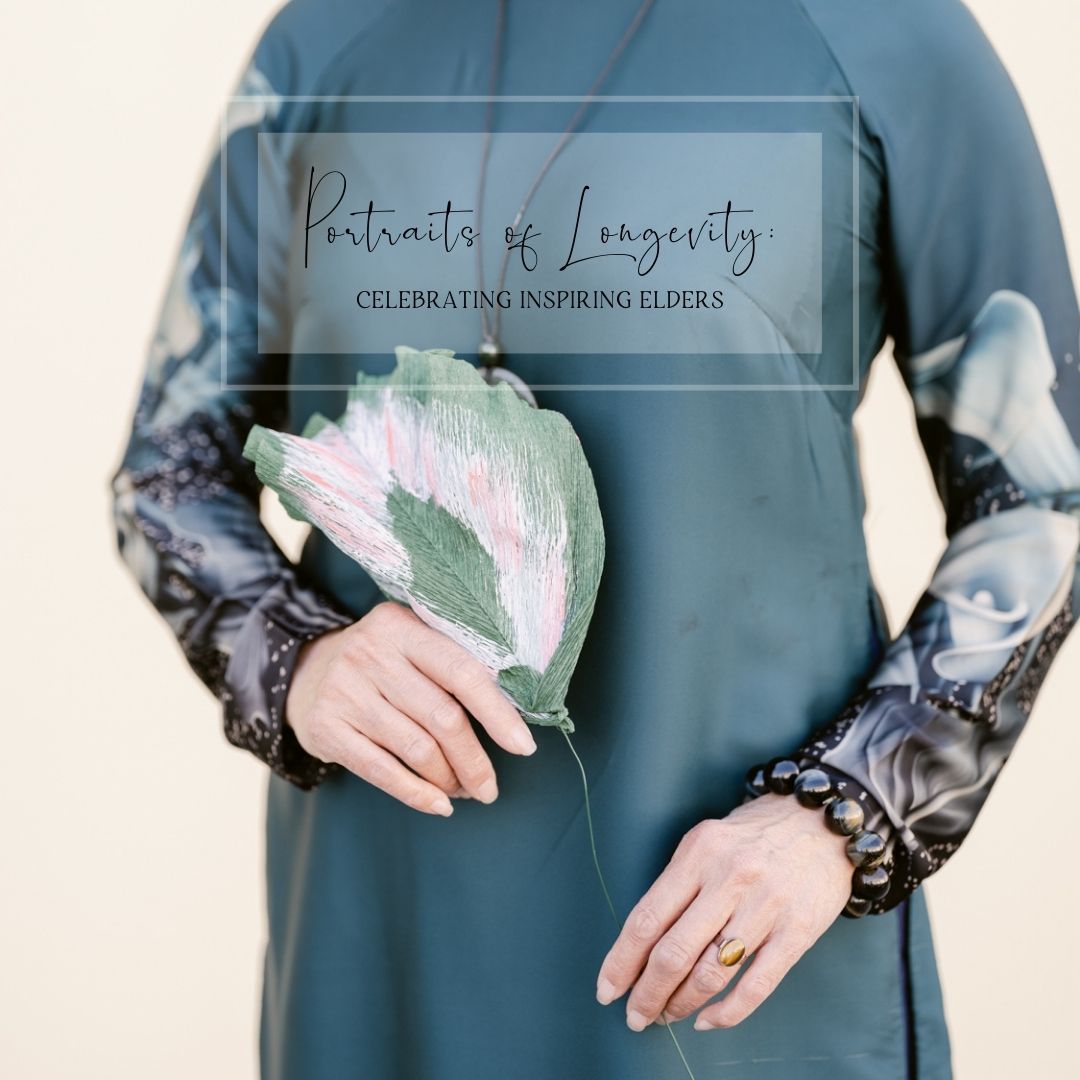 I am so thrilled to introduce you to a new line of photography that I will be offering—Portraits of Longevity: Celebrating Inspiring Elders. When you think of setting up a photo shoot and hiring models, who are the models who come to mind? I'm willing to bet that whoever you pictured was likely someone young. For a recent editorial shoot, I was inspired to challenge these norms and bring in Asian grandmothers to be my models!
Seeing the elderly represented in media is rare, but we're even less likely to see photos of Asian elders because they are often camera-shy. And in my experience, even when I succeeded in getting them to be photographed, they were often fairly stoic. I've photographed this sweet grandma for years and have gotten quite a few pretty and proper pictures of her, so this time I wanted to push the boundaries a little bit and capture more of her personality. Just looking at these pictures brings the biggest smile to my face, and I know her family will cherish these longevity portraits.
With this sweet couple, I wanted to encourage them to step outside their comfort zone and show each other some affection. They were reluctant at first, but I'm so honored that they soon trusted me to document some intimate moments!
Offering Portraits of Longevity was something I've considered for a long time because of my own personal experiences and passions. However, the final push for going forward with this idea came from circumstances outside of myself—the recent escalation in anti-Asian violence, especially towards our elders. I've been horrified and saddened to see our elders targeted due to misplaced blame, their appearance, and the perception that they are weak. I think anyone who knows an Asian elder can attest that they are anything but weak.
Just in these few longevity photo shoots alone, I've heard stories of immense courage and determination in search of a better life for their families. These incredible grandmas may seem sweet and demure now, but they have lived through horrors that I've only read about in history books—fleeing Vietnam by boat in search of refuge from war, watching their house burned down by invaders. Their stories deserve to be told and I feel honored to play a part in bringing awareness to the value and significance of our elders.
We often hire photographers to document pivotal life moments, especially those that signal new beginnings—engagements, weddings, newborns, etc. However, I've realized that some of my most valued photographs are those that include the people I love, even in a mundane moment, because those moments are fleeting. I'd give anything to have another chance to photograph my grandma again. I don't want my kids to have those same feelings about their grandparents, so I made a commitment to photograph them twice a year (whether they wanted to or not!). If you're looking for a way to preserve your grandparents' or parents' legacies, don't let the opportunity pass you by—contact me today to capture their Portraits of Longevity!