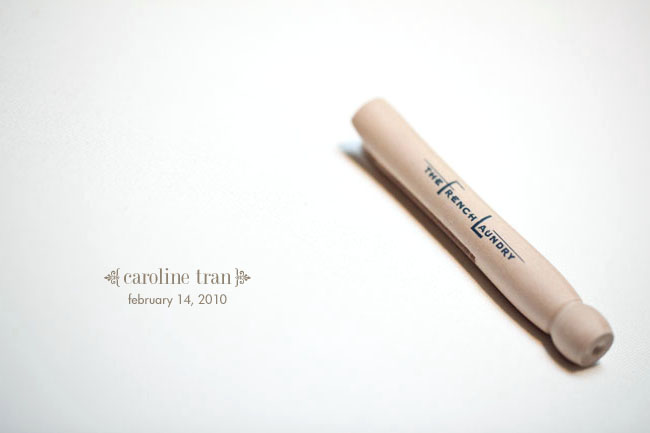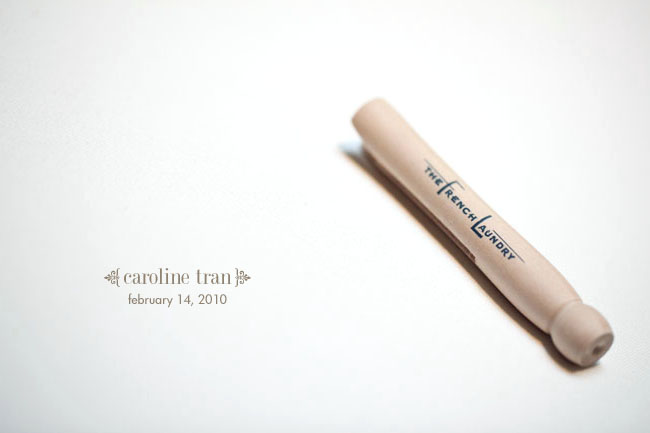 Happy Valentine's Day everyone!  Hope you all had a great one!  I originally was planning to blog a steamy hot boudoir session today, but so many people have contacted me asking how our weekend trip went that I felt I need to blog this now.  Stay tuned for some hot boudoir later this week!
Let me start off this post with saying that no, this is not how we normally eat!  Eating at The French Laundry has been one of the things on our bucket list.  Jonathan was just explaining to me the very few (and difficult) ways of getting reservations – if you're curious, you can read about it here and on the cute gastronomy couple's blog.  We were thinking of trying within the next few years when Ngoc of Sky Box Events announces that she is giving away her reservations!  Jonathan wakes me up one morning last week to tell me that we're going!  whee!  Luckily, I purposely didn't book anything this long weekend (in case we wanted to go snowboarding), so we immediately booked our flights and off we went to Yountville in Napa Valley!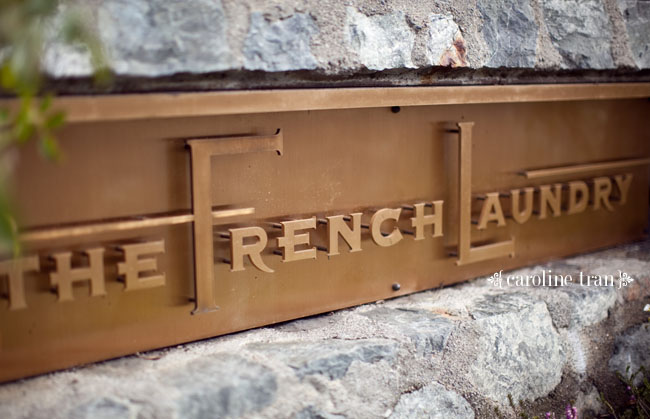 They grow all their own produce in this charming garden across the street.  I love that tree & bench!  We spent a lot of time sitting there before and after our nearly 4 hour meal.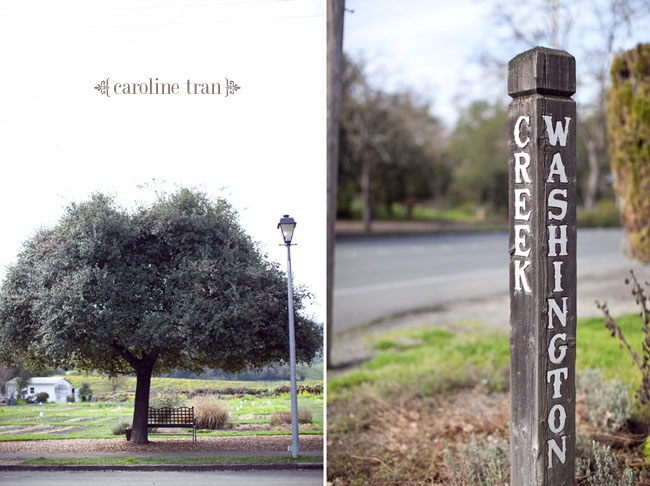 I think garlic was their most abundant crop, which would not be surprising at all.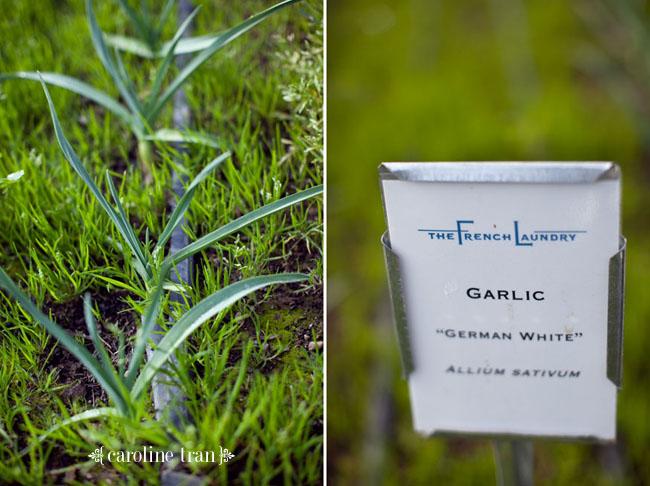 They also have a quaint little courtyard for you to hang out in when you take a break from your meal.  (no joke!)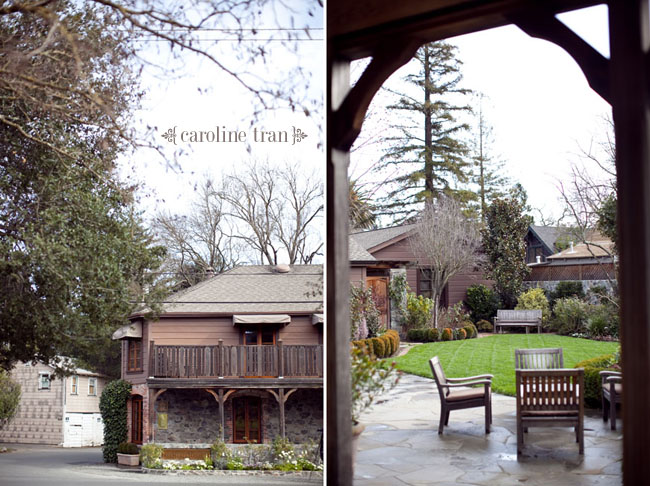 The pretty blue door entrance:  (see us in the reflection?)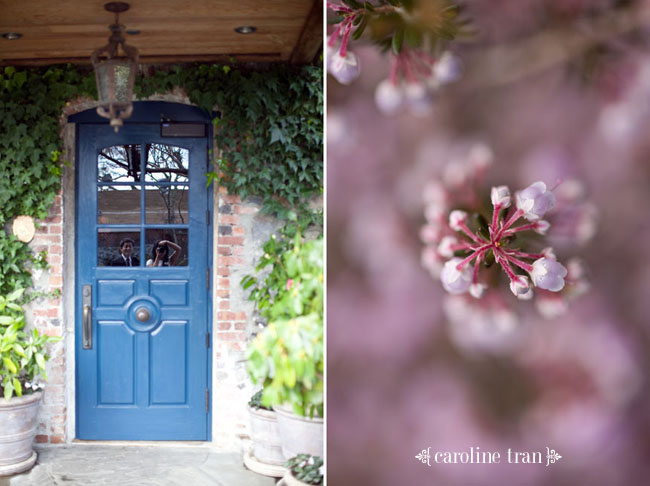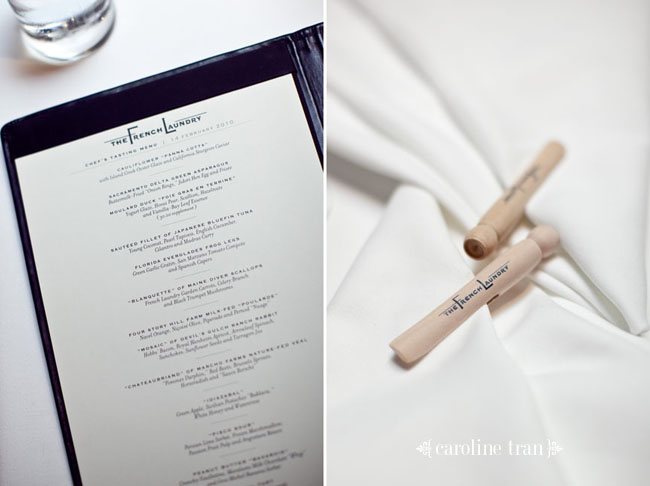 First up were these cheese balls (please excuse me, I don't remember the proper & full names).  They were really warm and fluffy on the inside and slightly crispy on the outside.  Up second was salmon tartare on creme fraiche, wrapped in a cute cone.  The food tastes as good as it's presented!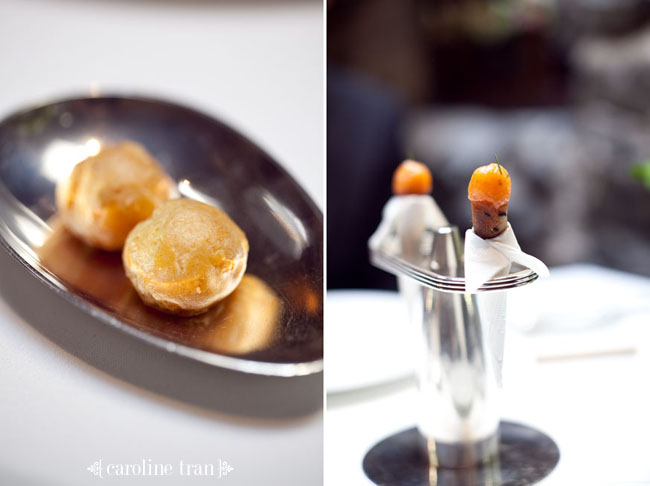 Cauliflower "panna cotta" – with island creek oyster glaze and california sturgeon caviar: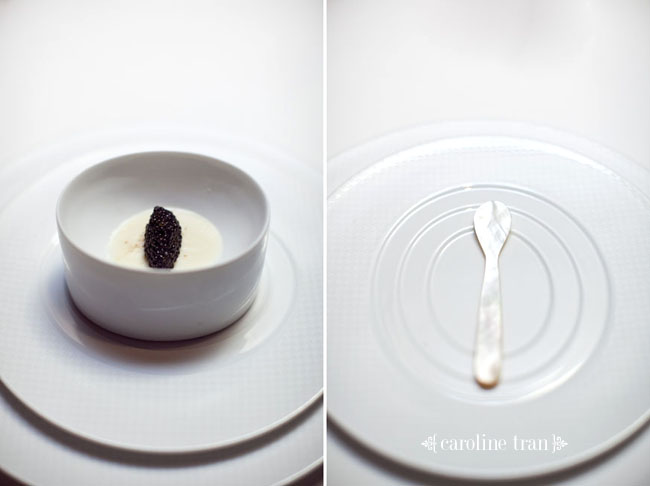 Salty, creamy, and a little sweet!  The cute little spoon (made of mother of pearl?) was the perfect size to enjoy this delicacy.   I LOVE this next photo: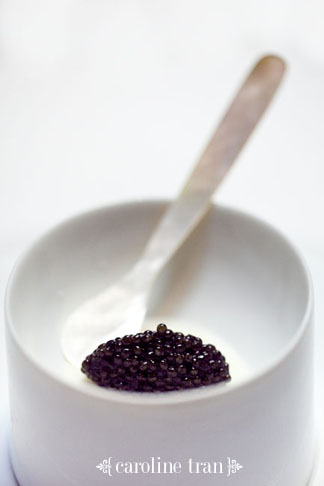 And next, we had bread (from Bouchon Bakery) – it was to die for.  It was crisp on the outside & fluffy on the inside.  Slightly buttery like a croissant.  We were also given two choices of butter:  plain butter locally made or salted butter from Vermont.  Both were good, but I absolutely LOVED the salted butter.  (salted butter in the silver dish.)  I also love this next photo: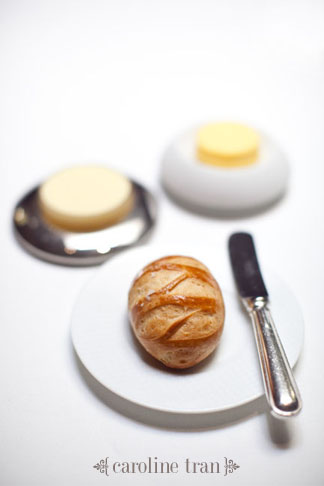 Up until this point, Jonathan and I have had the same thing.  This next dish is where we each got something different off the chef's tasting menu.  I got the Sacramento delta green asparagus:  buttermilk-fried onion rings, Jidori hen egg & frisee: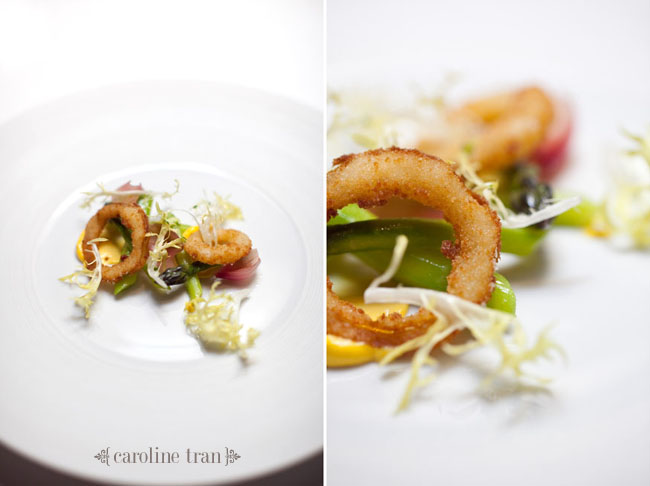 Jonathan got the moulard duck foie gras en terrine – yogurt glaze, hosui pear, scallion, hazelnuts and vanilla-bay leaf essence.  The brioche alone was heavenly!  And the vanilla-bay leaf essence jelly thing was so so good!  The subtle sweetness was incredible.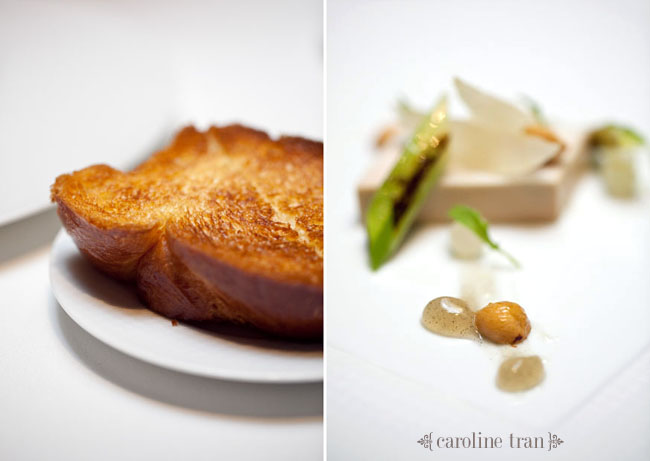 We also got a selection of fancy salts, perfectly presented of course.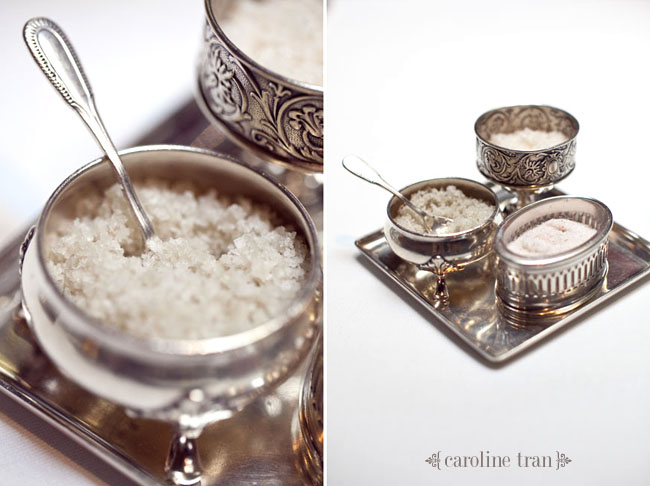 I forget which salt is which now.  From what I remember, one is called Jurrasic.  Maybe it's the one in the oval container?  Really ancient and fine, so it tastes saltier.  The gray one is from deep under the sea, so it has a more mineral flavor.  And I forget what the third is.  Educate me if you know please!
Next I had a sauteed fillet of Japanese blue-fin tuna – young coconut, pearl tapioca, English cucumber, cilantro and madras curry… pictured left: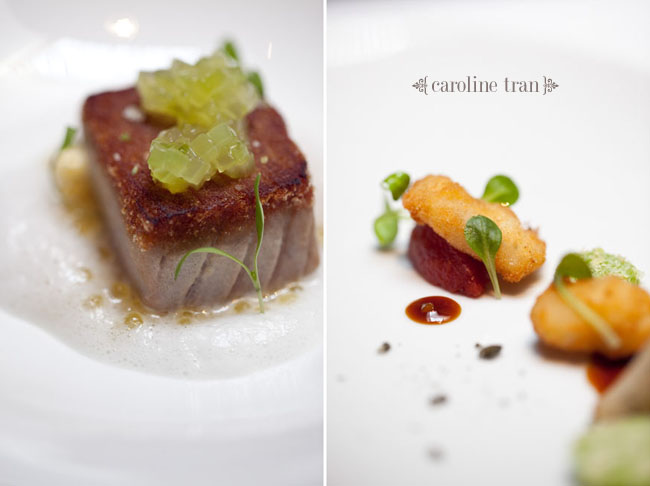 On the right is Florida everglades frog legs – green garlic gratin, San Marzano tomato compote and Spanish capers.  The crispy frog legs were my favorite of the above two dishes.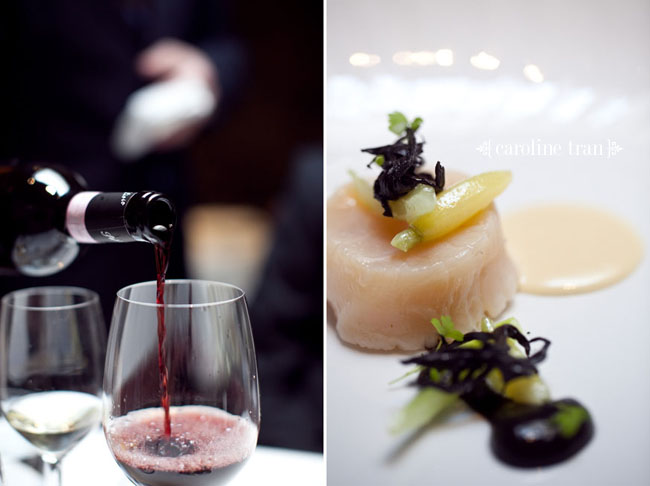 And what you just saw above was an unbelievable "blanquette" of Maine diver scallops with French Laundry garden white carrots, celery branch and black trumpet mushrooms.  I savored every last bite of this.  So so good!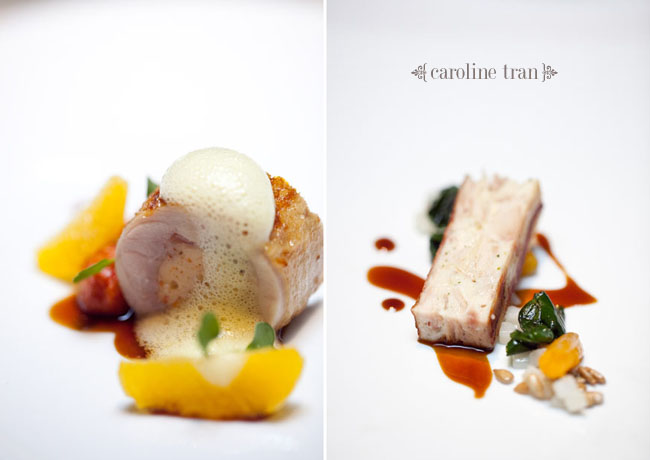 The above left is the four story hill harm milk-fed "poularde" – navel orange, nicoise olive, piperade and pernod "nuage".  Very tasty!  The navel oranges mixed really well.  On the right is "mosaic" of devil's gulch ranch rabbit – Hobbs' bacon, royal blenheim apricot, arrowleaf spinach, sunchokes, sunflower seeds and tarragon jus.  This was a saltier dish compared to the poularde.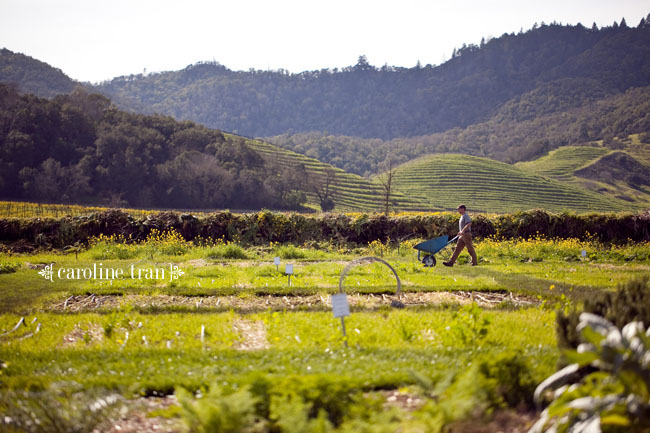 Okay, so why is this random photo of the farm here?  We were starting to get full, so we took a break.  We took a little stroll around their garden and watched them prepare all the vegetables.  :)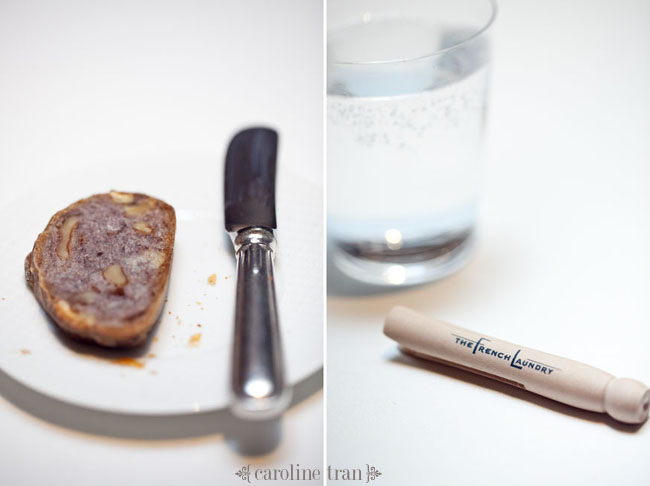 And then we were ready to resume.  The breads from Bouchon was so yummy!  Above is a walnut bread and below is a black currant bread.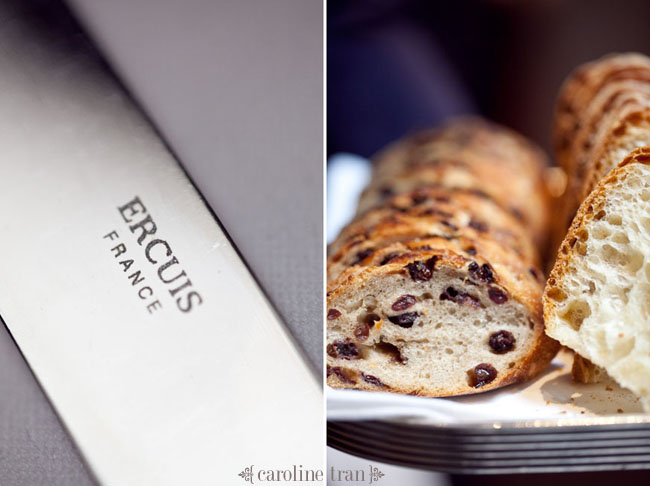 And up next may be my favorite of the main courses.  "Chateaubriand" of Marcho farms nature-fed veal – "pommes darphin," red beets, Brussels sprouts, horseradish, and sauce borscht.  The veal was so tender and juicy.  It came with a little hash brown like thing too that was so crispy and yummy!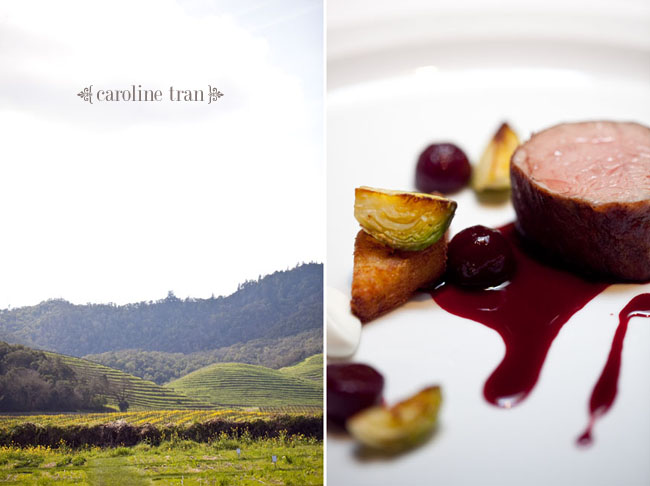 This next one is one of my favorite photos from the day.  It's an "Idiazabal" – basically a baklava with green apples, Sicilian pistachio, white honey & watercress.  I forget what kind of cheese it came with.  Anyone can educate me?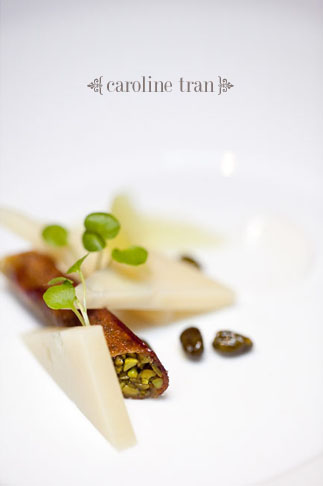 Next is not the most photogenic dish, but it was Jonathan & I's absolute FAVORITE:  "Pisco Sour" – Persian lime sorbet, frozen marshmellow, passion fruit pulp, and Angostura bitters.  It was so refreshing!  Tart, cold, and just divine.  It was the perfect treat to cleanse our palettes to prepare us for the flurry of desserts that was about to come our way!  The first of them being this pineapple tart.   There was cake inside too!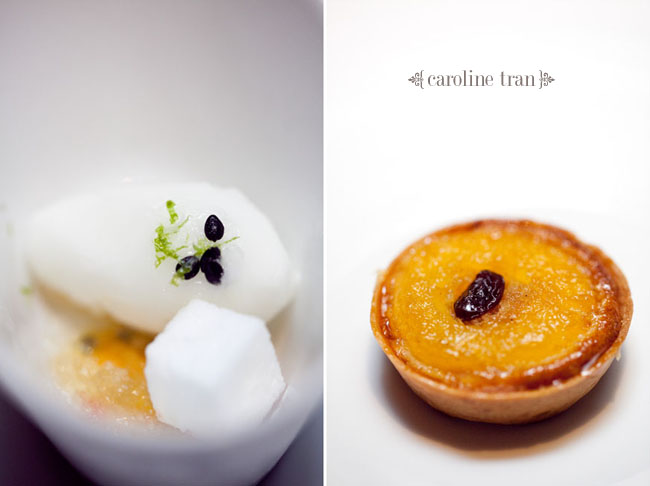 This next one I'll go a little backwards.  On the left is a bakewell tart – huckleberries, marcona almonds and creme fraiche sherbet.  Tart and sweet!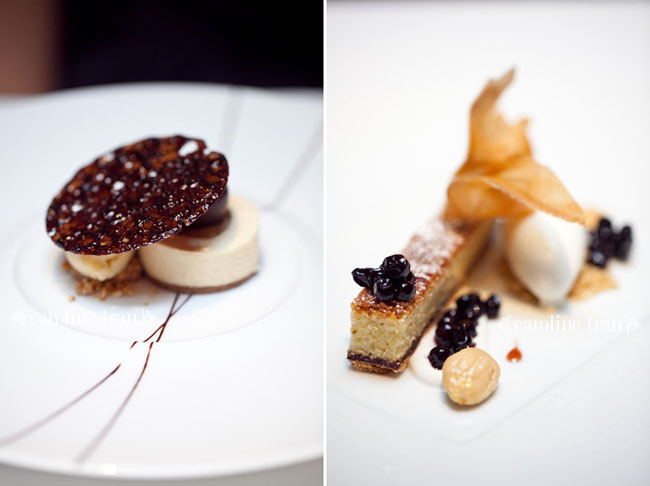 Above left and below is the peanut butter "bavarois" – cruncy feuilletine, maralumi milk chocolate whip & Gros Michel banana sorbet.  Very delicious!  And the inside of the chocolate ball delicately housed two peanuts.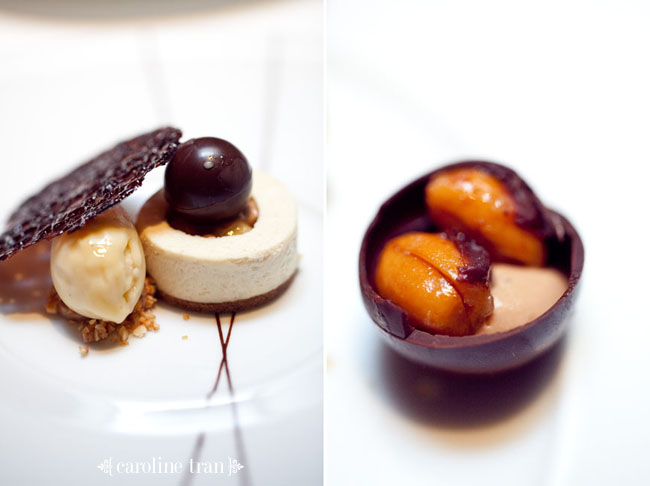 And as if that wasn't enough, they brought out truffles!  Pictured below is a citrus one.  The also had a hazelnut one (to the left) that I really liked and a peanut butter one (centered left) that could send me to heaven.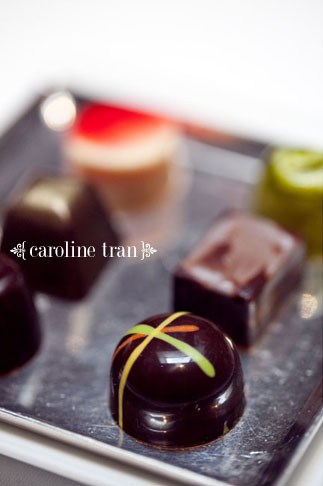 Below is Jonathan's plate at the end… he doesn't like raisins.  My plate was clean!  Sadly, they also gave us these AMAZING toffee covered macadamia nuts but we were too full!  I forced myself to eat two of them because they were so darn good, but my stomach was filled to the brim!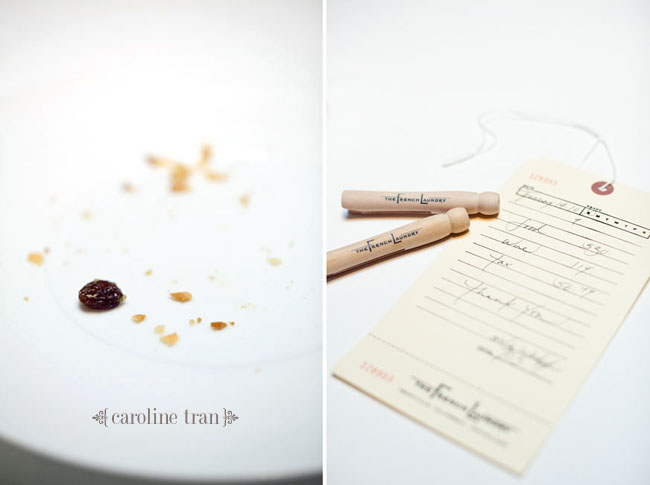 And I love how everything is so novelty there.  Our bill even came as a laundry tag.  Though I must admit, the novelty was ruined a little bit for me towards the second half of our meal, when some VIP regulars ended up sitting at the tables beside us.  We were in a small room with 3 tables, we were one, and the VIPs occupied the other two tables.  The staff and even Thomas Keller knew them and they talked like they frequent The French Laundry quite a bit.  It took the "specialness" out a little for me, but nonetheless, it was still an amazing experience!   I'd do it again!  *looking at Jonathan's reaction*  haha.  And lastly, a self portrait of us.  hehe.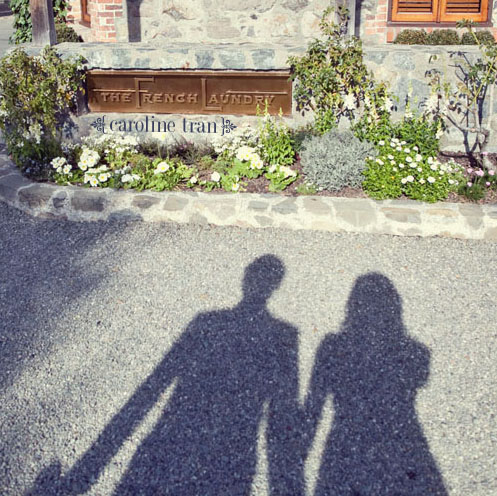 Thanks Ngoc for the reservations!!!