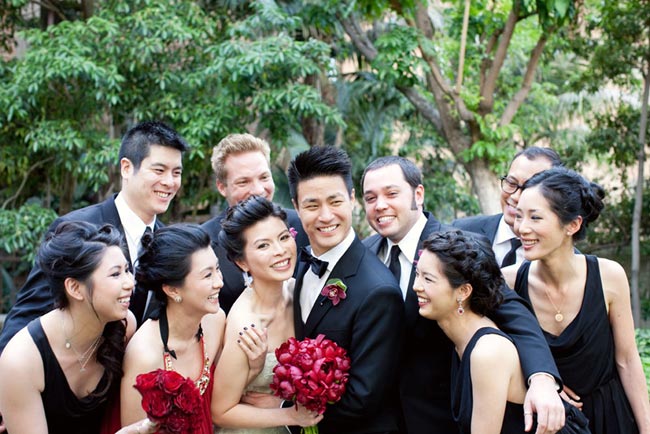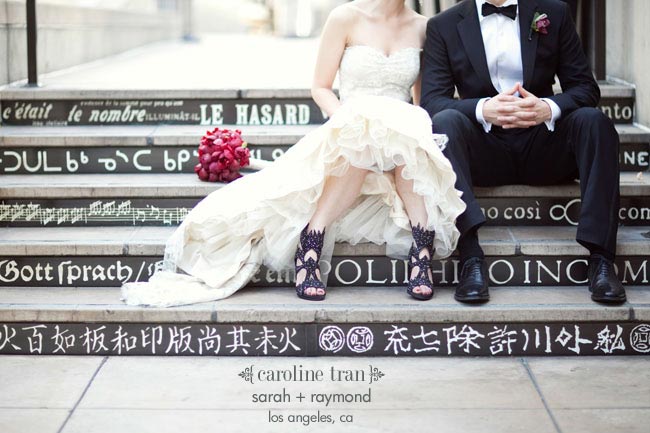 I'm really excited to share with you this LA chic wedding.  This wedding can also be seen as a real wedding on Junebug weddings and featured on What Junebug Loves!  That opening image really says a lot about Sarah & Raymond's wedding – glam, elegant, and with a pop of rock n roll.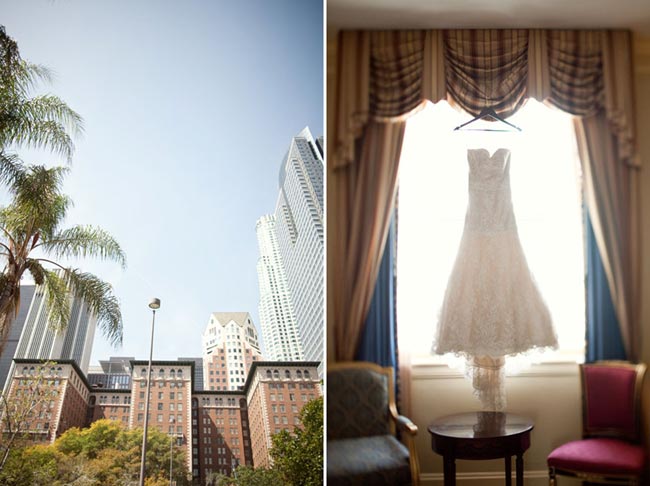 Their wedding took place in the middle of downtown LA.  Sarah had the perfect  Monique Lhuillier dress.
The amazing flowers were created by the very talented Euri & Kendra of Fleuretica. I LOVE the deep red peonies and garden roses!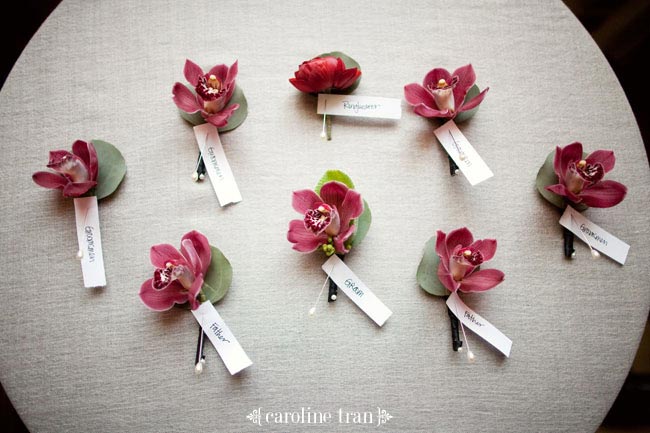 I also love this photo Jonathan got of the guys getting ready: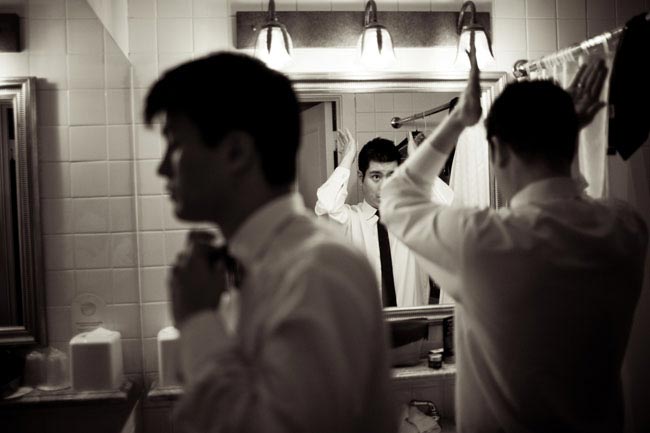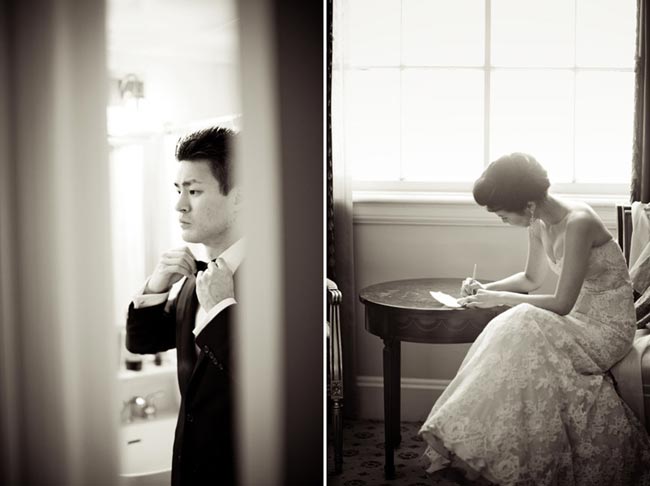 Can you feel the anticipation of Sarah waiting for her day to start: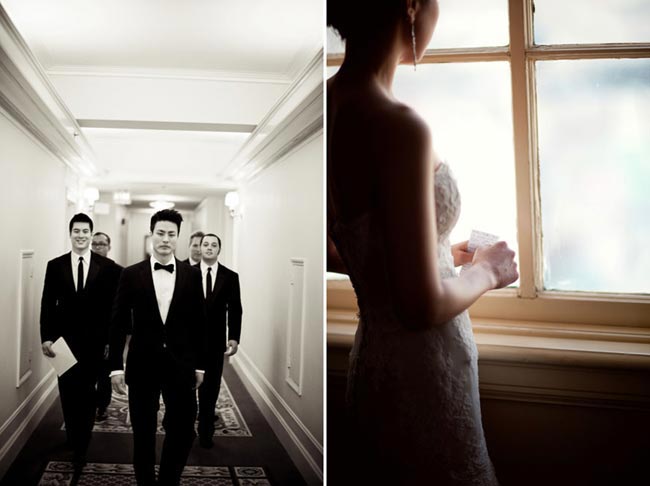 Again, that gorgeous bouquet of red peonies!  And their invites, which was designed by Sarah's cousin (who's still in high school!) and printed in Indonesia, where Sarah's entire family resides:
The black and white, with pops of red is just so classic and elegant.  And I couldn't get over how glamorous Sarah looked.  She was stunning!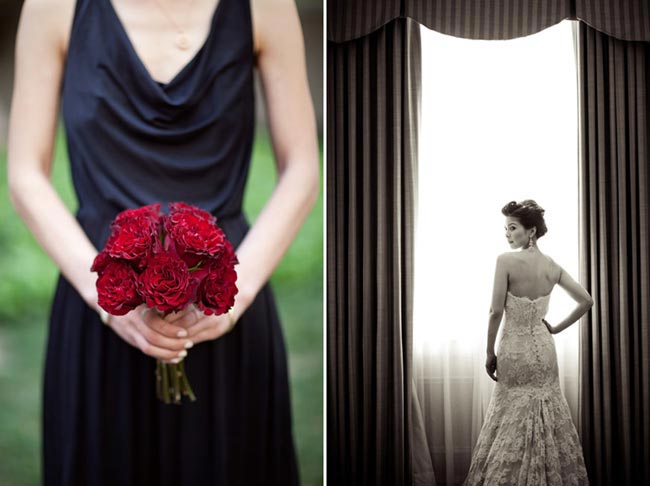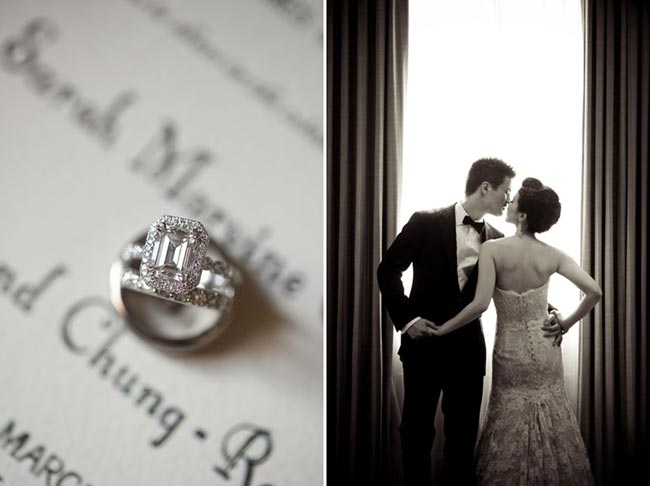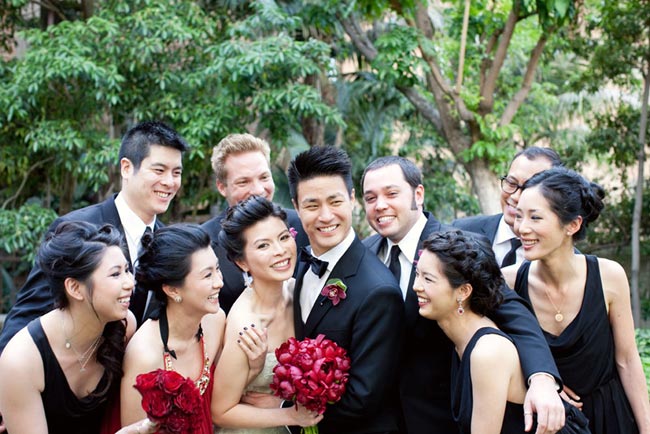 This was an especially emotional day for Sarah's family because they live across the world in Indonesia.  I can only imagine the joy her parents must have felt.
Love this moment: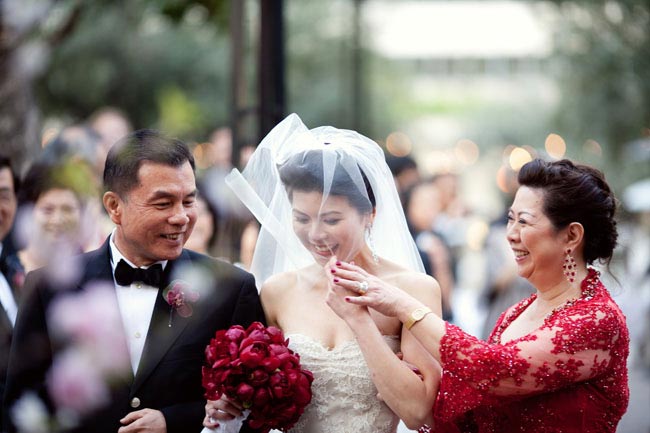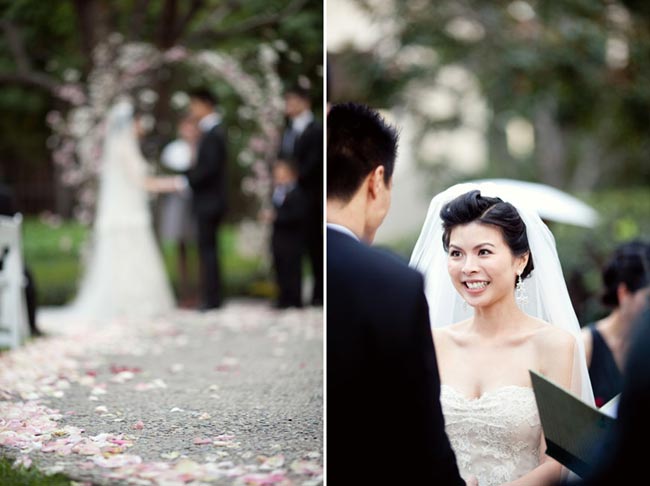 Sarah's little nephew cracks me up in this first kiss photo: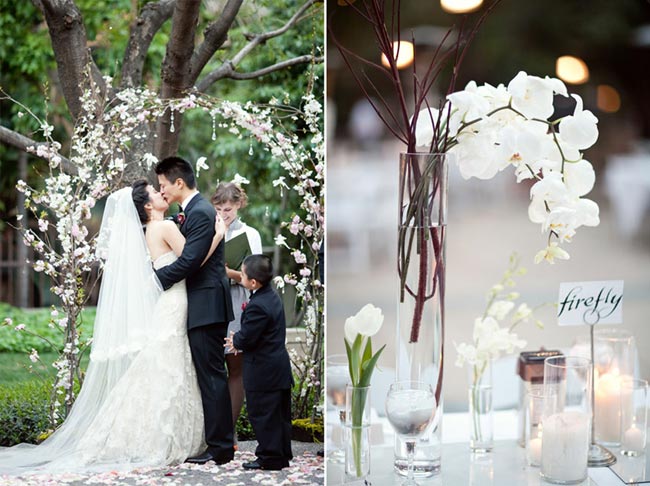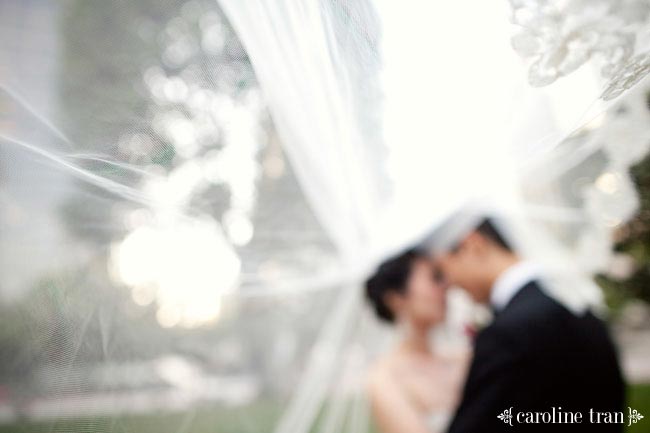 Cocktail hour and reception took place under the stars, right in the middle of downtown LA.  It was gorgeous to see all the tall buildings around us.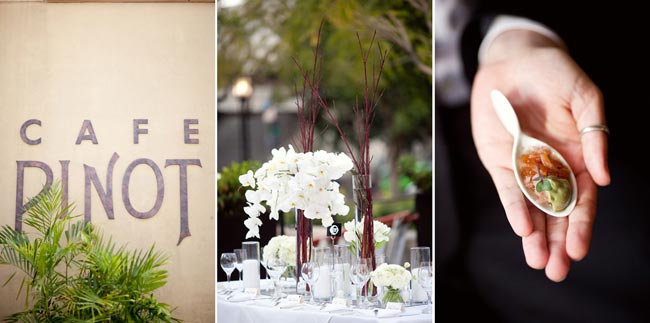 Favors were JJ Royal Indonesian Civet Coffee… yes, brought all the way from Indonesia, and yes, Civet Coffee!  I've been wanting to try Civet Coffee… supposed to be the best & the most expensive coffee!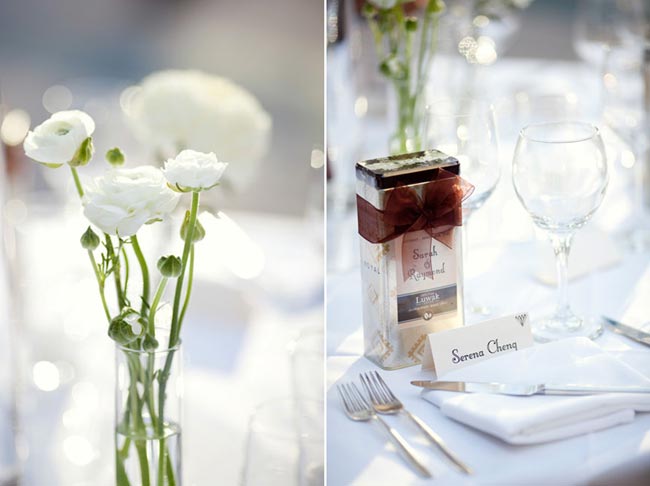 And I've always loved these fingerprint trees as guest sign-in: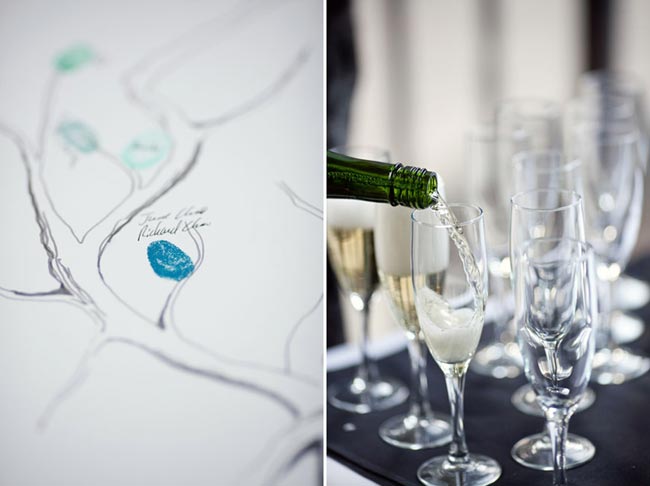 Sarah & Raymond totally rocked their first dance.  Raymond is an amazing dancer!  And so is his dad!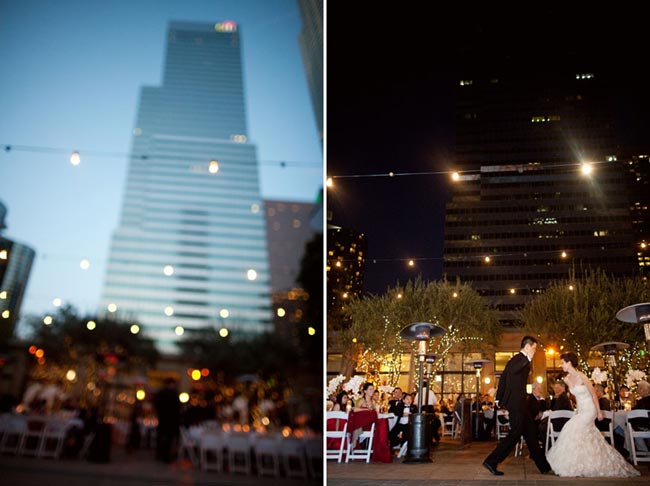 Food was delicious.  Decor was gorgeous.  And there was a photobooth by Photobox LA all night.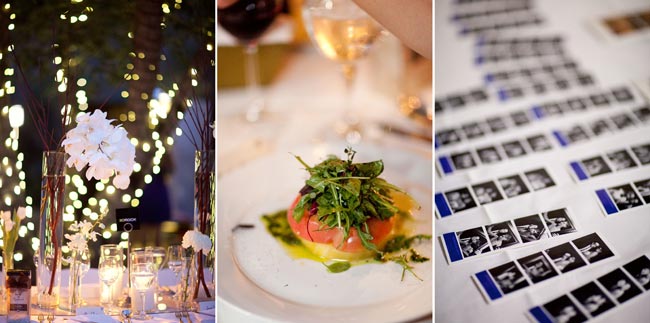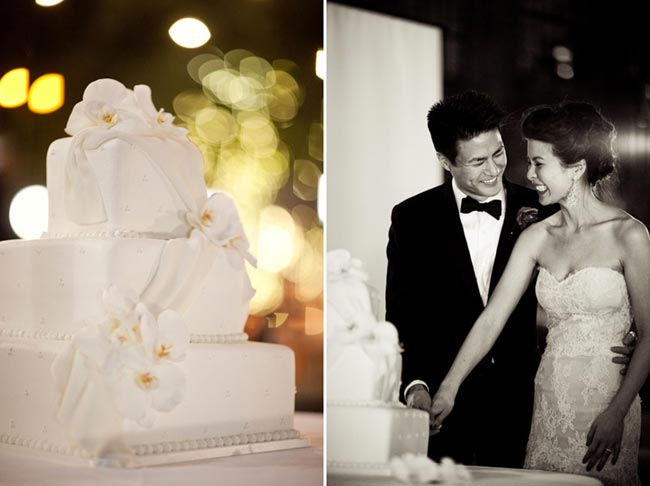 This is the highlight of my night…  later in the night, Sarah changed into her grandmother's dress.  This was the same dress her grandmother wore to Sarah's parent's wedding, and the same dress her sister wore at her own wedding.  Sarah had the whole crowd crying when she talked about her grandmother in her thank you speech.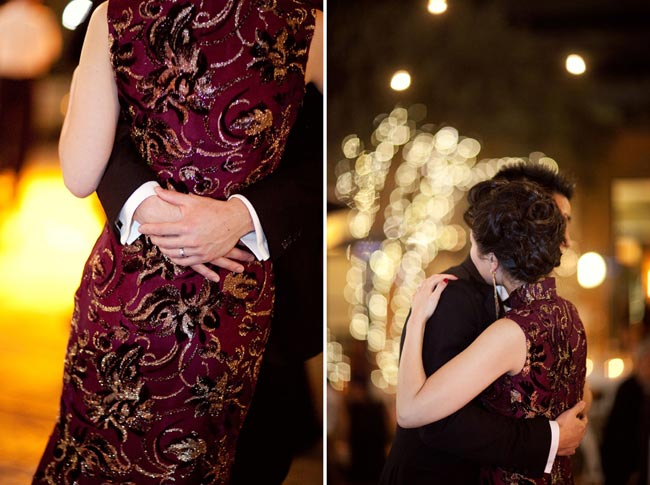 And I have a soft spot for moments between father & daughter: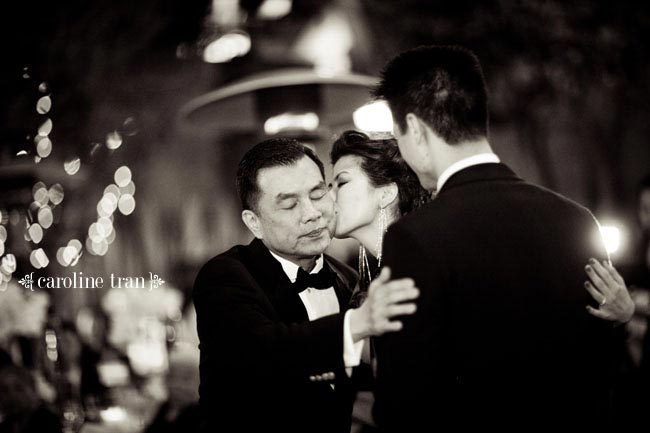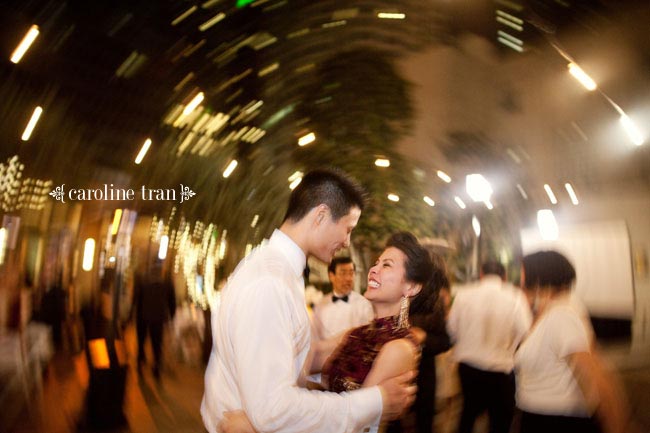 The wedding team included:
Ceremony: Maguire Gardens
Cake: Gigi Bobb
DJ: Ed Tandoc
Favors: JJ Royal Indonesian Civet Coffee
Rings: Eli's Jewelry