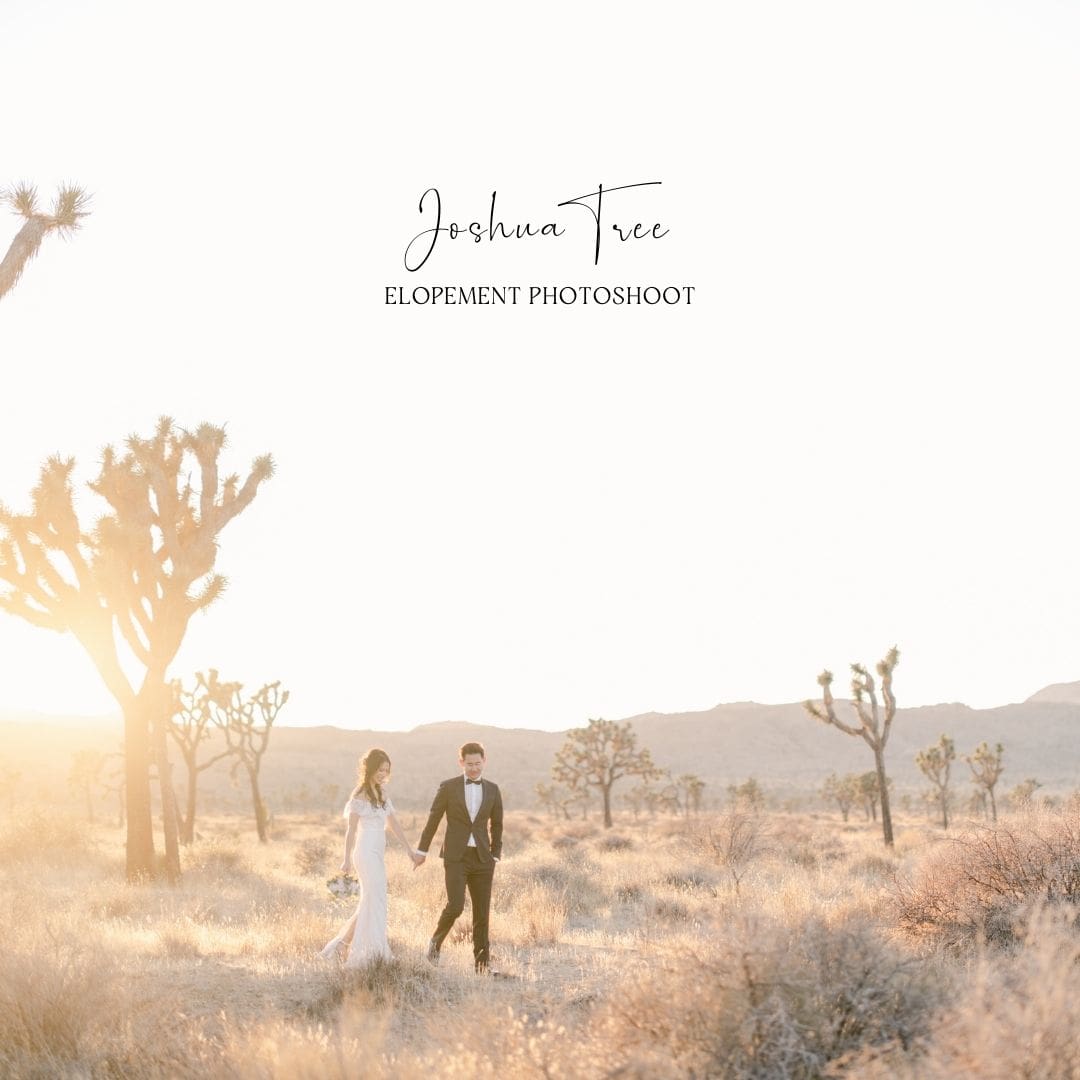 This amazing Joshua Tree elopement photoshoot was a memorable one, but not for the reasons you might think. In lieu of a traditional wedding, Jin and Robert decided to elope and get married at a courthouse. They still felt that their marriage deserved to be documented, so we planned a photo session celebrating their elopement at Joshua Tree, one of my favorite places to shoot. Scroll on to check out more images of their elopement photoshoot!
You'd never know it by looking at these bright and glowing images, but it was freezing and incredibly windy in Joshua Tree that day. I know everyone likes to make fun of what wimps we Southern Californians are about the weather, but at 30 degrees, it was literally freezing while we shot during the golden hour. Jin and Robert were such troopers about it all, but there were specific things I did to make the experience more bearable and even fun.
In order to maximize my clients' comfort and create images that show them in their best light (no red noses from the cold here!), I had to think ahead. We shot in 15 minute bursts, so they would have an opportunity to put on a thick jacket and warm up in between. As soon as the jackets came off, I was ready to go with a clear idea of what poses to do and what I need to do to get the lighting right. If you're a photographer and want to learn how to do this, check out my Pick Up Points posing course. This would be especially useful for any photographers regularly shooting in locales with less-than-ideal weather.
Honestly, shooting in Joshua Tree is not for the faint of heart. The weather can be quite extreme, in either direction, but I always feel that the resulting images are absolutely worth it! The desert light and landscape are truly one of a kind.
Feel free to reach out if you're interested in a session in Joshua Tree for your elopement photoshoot, or really any other occasion (check out Joshua Tree National Park Family Session and Joshua Tree Vow Renewal and Video to see more examples). Congratulations Jin and Robert!