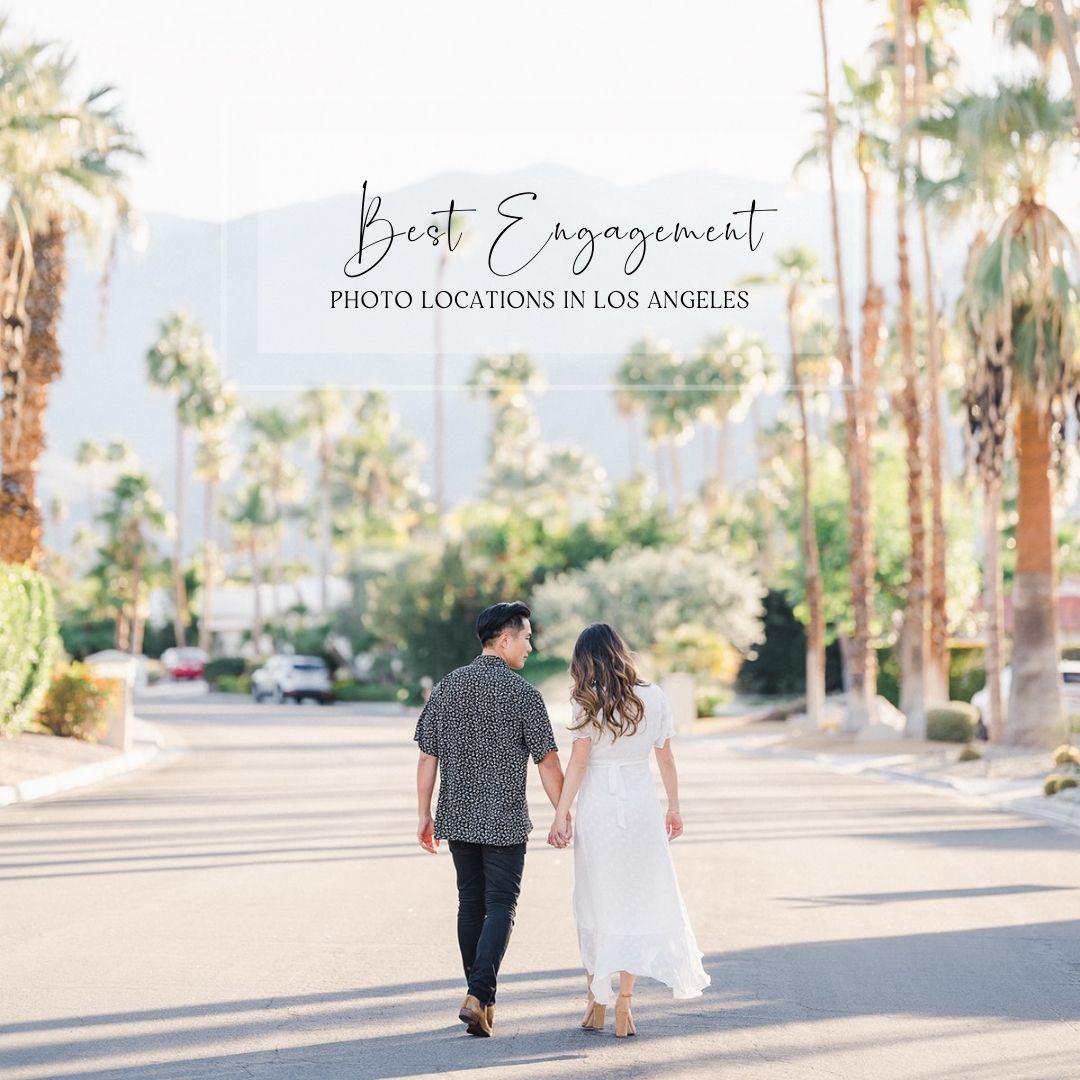 Are you newly engaged and looking for the best engagement photo locations in Los Angeles? Well look no further! Your head must be swirling with all the things you have to do to plan for a wedding. Planning a wedding during a pandemic can be fraught with uncertainty, but you can feel confident in booking an engagement session with me. With so many gorgeous outdoor locations in the greater Los Angeles area, we could easily adhere to all safety protocols. I've shot engagement sessions in countless settings, but here are my favorites:
Beaches are a popular setting for engagement sessions, and Malibu Beach is one of my absolute favorites. In addition to gorgeous lighting, it has some dramatic rock formations that I love framing interesting shots around. Check out this Malibu Beach engagement photography session to see the rocky beach location. Nearby are some romantic meadows that are especially striking when they're in bloom. Check out this Malibu Beach engagement photography sessions to see the blooming fields.
LA Arboretum
The Los Angeles Arboretum is filled with possibilities for various backdrops. There are water features like lakes and waterfalls, a majestic bamboo grove, and wooded areas with trees to climb. There's more than just nature though—they have a fun Victorian-style house, which we used to play with color in this Arboretum couple engagement photography session. This engagement photo location is a great choice if you're not certain about what you want, because we're sure to find something here that you'll love!
If you're willing to drive out a bit, Joshua Tree offers an out-of-this-world backdrop! You'll literally feel like you're on a different planet, with all the unique rock formations and the namesake Joshua trees that look like they came straight out of a Dr. Seuss book. The soft peachy desert colors and amazing light create some dreamy images, seen in this Joshua Tree engagement photography session and these Joshua Tree engagement photos.
Looking for a fun retro vibe? Let's head to Palm Springs! This popular resort destination is famous for its mid-century modern architecture, which makes it easy to create images that are effortlessly cool. To see how we did that (with the help of the cutest vintage car), check out these beautiful Palm Springs engagement photos.
This gorgeous estate is located in the heart of Beverly Hills, but you'll swear you've been transported to Europe. For the elegant couple who wants something a little more elevated, Greystone Mansion would be your ideal engagement shoot location. Check out this Greystone Mansion Wedding for more! Strolling with the love of your life between rows of tall cypress trees, you'll feel like the star of a Jane Austen movie!
---
Whatever your vision, Los Angeles has an ideal location for you—this is the land of Hollywood magic after all! Contact me today to discuss how I can help make your dream engagement session a reality at one of the best engagement photo locations in Los Angeles!