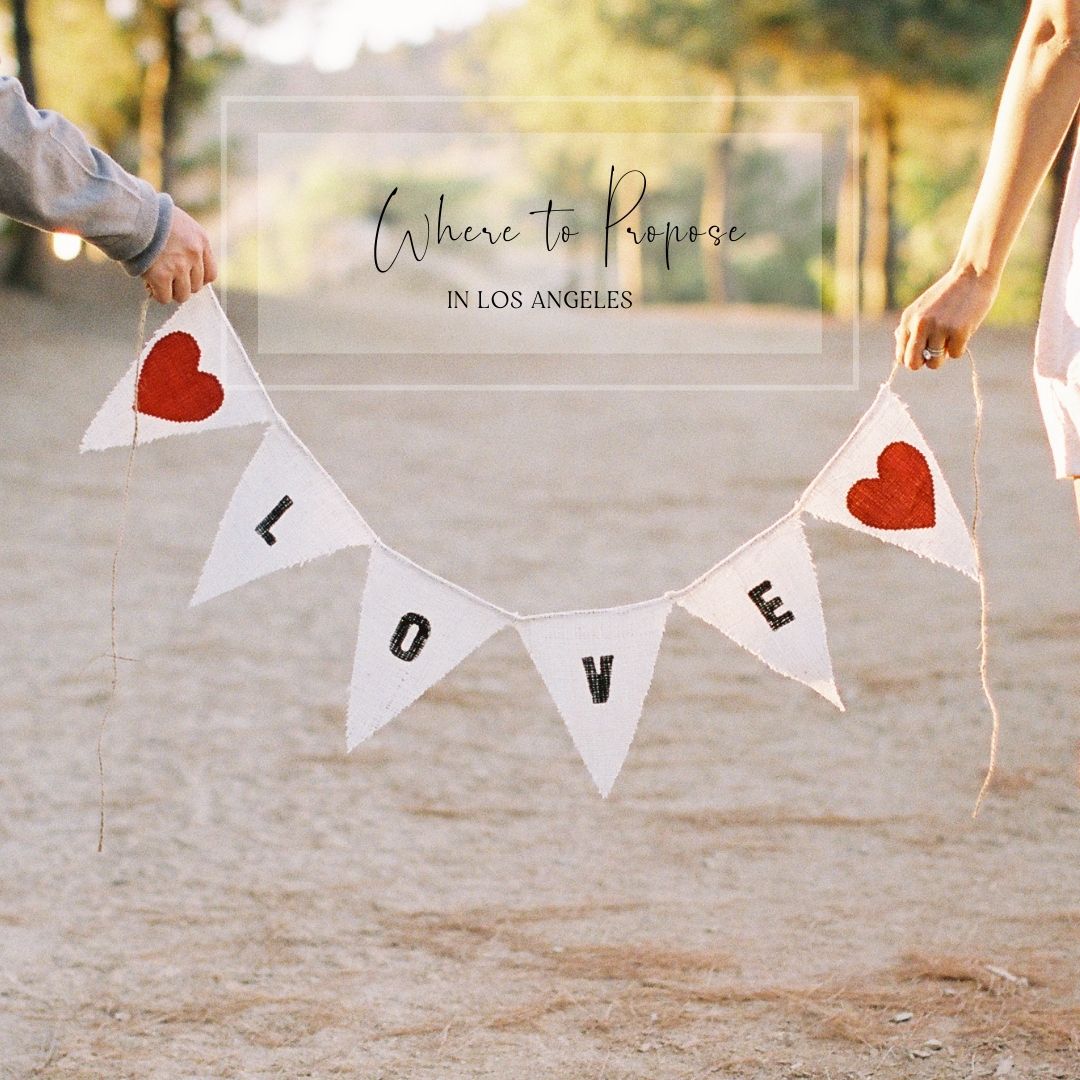 So you've found the love of your life and picked out the perfect engagement ring, but now you're wondering where to propose in Los Angeles. From its picturesque beaches to its historic landmarks, there is no shortage of options here!
Whether you're planning an elaborate wedding proposal (like some of the large-scale, produced wedding proposals that have gone viral on social media) or a more intimate one, it is definitely worth documenting! The wedding proposal is one of the most emotional and important memories for most people. However, you might get so caught up in the moment that you forget many of the details. Having a photographer capture it all will allow you to relive the proposal for years to come. I love photographing proposals because the raw emotion is easy to capture. Of course, the surprise proposals are extra fun, but even if the person being proposed to knows it's coming, there are always moments of disbelief and joy.
Figuring out where to propose in Los Angeles is an important decision to make while planning how you will ask your beloved to spend the rest of your lives together. For a lot of people, their proposal location becomes a significant part of their relationship history—a place they may revisit on anniversaries, and something their kids and grandkids are likely to ask about. Picking someplace epically romantic ensures that the proposal is something to remember fondly.
Read on for my top picks for where to propose in Los Angeles:
With sweeping views of the city, art deco architecture, and nearby wooded areas, Griffith Observatory is a no brainer! Plan to come during the "golden hour," when we can use that gorgeous sunset lighting, and stay to see Los Angeles illuminate before your eyes. Check out my Griffith Observatory engagement photography.
Los Angeles has a ton of beaches to choose from, but if you want a location that offers you both the romance of being close to the ocean as well as the fun that comes from a nostalgic boardwalk, Santa Monica is the place for you! See this Santa Monica beach engagement to see what I mean.
I've shot many beautiful photo sessions at Malibu Beach because it is such a gorgeous spot! Sculptural rocks, plunging cliffs, and crashing waves make a dramatic backdrop for your romantic proposal. Check out my Malibu Beach engagement photography post to see more.
I know this post is about where to propose in Los Angeles, but if you're up for a bit of a drive, Palm Springs has a lot to offer. Namesake palm trees, mid-century modern architecture, resort vibes—it's got cool written all over it! Plan a weekend getaway with your love and throw in a proposal to make it even more special. Then you'll always have an excuse to return! My Palm Springs engagement photos can give you a sneak peak at what to expect.
If you two love the outdoors and exploring nature, Joshua Tree could be the perfect spot for your proposal! Joshua Tree is one of my favorite places to shoot in the greater Los Angeles area because it's so unique and the light is always dreamy. When I'm there, I often feel like I'm on another planet because there's no place else around quite like it. See what I mean with these Joshua Tree engagement photos and my Joshua Tree portrait photography.
Does your significant other love to watch period dramas and dream of sipping tea in a historic European estate? Take him/her on a little trip to stroll the grounds at Greystone Mansion and pop the question in front of a bubbling fountain or between rows of towering cypress trees! Check out some more examples of photos taken here in my posts Greystone Mansion Wedding Photography and Greystone Mansion Wedding.
The Arboretum is such a romantic place to take your partner for a relaxing afternoon walk. Well, relaxing for them because you'll probably be quite anxious waiting for that perfect moment to ask. Luckily for you, those perfect settings abound here at the arboretum—there are great little garden nooks around every turn. From bamboo groves, to giant oaks, to a cute Victorian house—there are so many options! I've done quite a few shoots here (to see some examples, check out my posts Los Angeles Arboretum Engagement Photography and Los Angeles Arboretum Couple Engagement Photography), so I can definitely help you find your ideal proposal location amidst this garden's 127 acres.
Follow Your Interests…to a Tourist Destination
In somewhat of a catchall recommendation, I think it'd be fun to play tourist and propose at one of Los Angeles' many iconic spots. It might sound a little cheesy to think about doing it at Disneyland or Grand Central Market, but if the spot has meaning to you (like if you are super Disney fans or huge foodies), then I think you should go for it! An added bonus is that your partner will be less likely to suspect that something is up if it's somewhere you would likely go anyway, just based on your interests. If you'd like some inspiration, check out a video and photo shoot I did for one couple's proposal in my post, Los Angeles Proposal Photography and Video. Even an old record store can deliver some amazing pictures!
As you try to figure out where to propose, there are places in the greater Los Angeles area that can fit almost any mood or interest you're looking for! Having been a Los Angeles-based photographer for over a decade, I have a fairly good idea of what's out there and can help find a spot that works for you—reach out to me today and let's start planning your dream proposal!
It is such an honor to be invited to be a part of one of a couple's most treasured memories. Now that you have some ideas for where to propose in Los Angeles, contact me today to discuss how I can help plan and document your proposal!